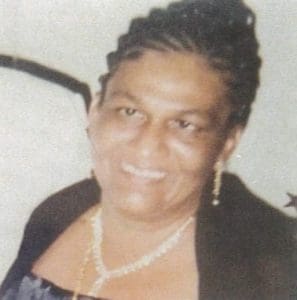 Dianne Mary Jalim of Croixville Apartments transitioned into eternal peace on March 25. She was 55 years old.
She was preceded in death by her son, Martin L. Jalim; brother, Ernest J. Jalim; and uncle, John S. Jordan.
She is survived by her mother, Philippa Joseph; daughters: Juliana F. Harris, Joanna Harris, Carol M. Francois, Carty D. Francois and Joanne D. Harris; sons: Olrick Harris Jr., Julian E. Harris and Joannes Francois Jr.; and grandchildren: Orabella Harris, Kilano Rodriguez, Shanyah Fredrick, Dwayne M. Edwards Jr., Elijah S. Edwards, Anthony A. Edwards, Alyysa A. Edwards, Jayziah J. Harris, Masson J. Harris, N' Vayah V. George, Jahlaya Francois, Ma'lsha-Audain, Cattalyna J. Francois, Athelle M. Harris and Chanelle A. Harris.
She is also survived by her sister, Rachell M. Gilbert-Stanley; brothers: Norbert Gilbert and Sylvester Gilbert; nieces: Rochelle A. Gilbert, Camira C. Ryner, Mekaj D. Jalim, Sylnia Gilbert, Sy'nia Gilbert, Sy'nira Gilbert, Alina Gilbert and Rochelle Gilbert; nephews: Curtis R. Ryner, Rashawn D. Ryner, Sy'koi Gilbert, Emmanuel Gilbert, Jeremiah Cox, Ernest Jalim, Jr., Jayden Gilbert, Trace Gilbert, Gee Gilbert, Rashawn Jalim and Joshua Jalim; great nephews: Alijah Ferrance, Ajahri Ferrance and Rashawn D. Ryner Jr.; aunt, Margie Joseph; and uncles: Harris Jordan and Petter Joseph.
Other survivors include brother-in-law, Oral Stanley; sister-in-law, Zoe Clarke-Gilbert; special friends: Simon Masicott, Liza Peña, Regina Boyer, Mary Masicott, Monica and Cardo, Ariel Acosta, Cleve John, Dwayne M. Edwards, Trevor Williams, Patrick Edmunds and family, Amy Rodriguez, Marisol Almestica, Valence George, Dnise Thomas and Zephanna, Gregory Jackson and the Xavier family; cousins and other relatives: Perinon family, Paul family (St. Lucia), Curtis Paul, Paul Paul and Leapher Gilbert; as well as other relatives and friends too numerous to mention.
Due to the COVID-19 pandemic and public health regulations, masks and facial coverings must be worn at all times.
A funeral service will be held at 10 a.m., Thursday, April 8, at Island Baptist Church. Interment will follow at Kingshill Cemetery.