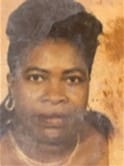 Audrey Melvina Bramble, better known as "Eva," died on March 12.
She was preceded in death by her brother, Kenneth Lewis.
She is survived by her husband, Franklyn Bramble Sr.; six children: Beatrice James, Sandra James-Dalmida, Sharon Jarvis-Scatliffe, Arleen Jarvis, Kimberly Bramble Jean-Baptiste and Franklyn Bramble Jr.; stepchildren: Marvin Bramble Sr., Sharon Richardson and Kenrick Bramble; uncle, Winston O'Garro; and brothers: Peter Howson, Noel Howson, Edson Lewis, Hilroy Meade, Frankie Antione and Alfred Cornwall.
She is also survived by sisters: Mary Lewis Watts, Diane Antoine-Dean, Margaret Antoine-Jasmine and Melanie Maynard Amer; daughter-in-law, Anita Bramble; sons-in-law: Darry Austin Dalmida, Lorry Scatliffe and Junior Jean-Baptiste; 20 grandchildren; two great-grandchildren; special family friends: Samuel "Sam" Sutton, Clifford Jones and Clarence Lindo Sr.; as well as other extended family and friends too numerous to mention.
Due to the COVID-19 pandemic and public health regulations, the family requests that facial masks be worn at all times and social distancing be adhered to.
The first viewing will be from 3-5 p.m., Wednesday, March 31, at Turnbull's Funeral Home. The second viewing will be from 9-10 a.m., Saturday, April 3, at the Cruz Bay Lutheran Church in Cruz Bay, St. John. The funeral service will follow at 10 a.m. Burial will be at Cruz Bay Cemetery, St. John.