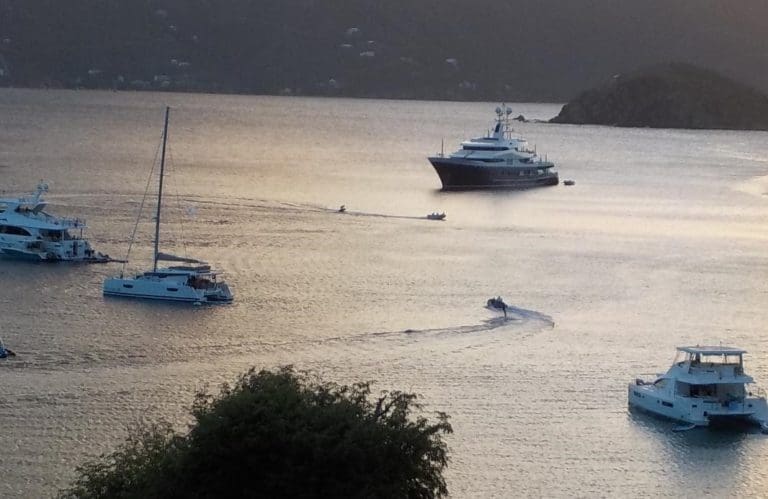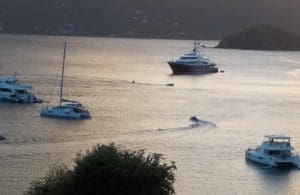 Recent news items have been touting the economic impact of opening up our waters to encourage the growth of marine tourism while most of our Caribbean neighbors have taken a more cautious approach. However, there is another untold story to this massive increase in boats in our bays. With the increase in boats has come an increase in violations of the rules and regulations governing mooring, anchoring and navigation of boats and personal watercraft. Despite its efforts, the Department of Planning and Natural Resources is struggling to keep up and control this behavior. Consequently, we may be seeing unprecedented environmental impacts as well as threats to the safety of divers, snorkelers and recreationists.
Many of the comments below result from documented observations of activities occurring in Round Bay on St. John's south shore adjacent to the historic residential east end where I live.
East end has an interesting history, unique even to the rest of St. John. Because of its remoteness and location in Round Bay, it was a place of freedom long before the official emancipation of slaves. It had its own school, public cistern and successful maritime industry.
Olasee Davis, an ecologist at the University of the Virgin Islands, wrote, "The surrounding waters of Round Bay and other bays in the area of the east end on St. John are extremely sensitive due to their fragile marine ecological ecosystems."
Within Round Bay lies a historic shipwreck named Santa Monica that sunk in 1782 and is registered and protected as a National Historic Place. The federally protected Virgin Islands Coral Reef National Monument borders Round Bay.
Round Bay has been recognized by the Virgin Islands government and the National Oceanic and Atmospheric Administration for its uniquely vast healthy coral cover, seagrass beds and other crucial habitats for a variety of threatened and non-threatened species such as hawksbill turtles and elkhorn coral. It is also designated as a "restricted area," limiting certain boating and waterborne activities (e.g., creating wakes, jet skiing, etc.).  These restrictions and the environmental and safety rationale for them are clearly laid out in the Virgin Islands Rules and Regulations Title 25, Chapter 15.
Because of its teeming ecosystem, Round Bay is also an area where long-term anchoring and mooring are illegal. There are four bays in St. John's territorial waters and many more within the National Park that are designated as mooring and/or long-term anchoring areas, including mooring of big boats.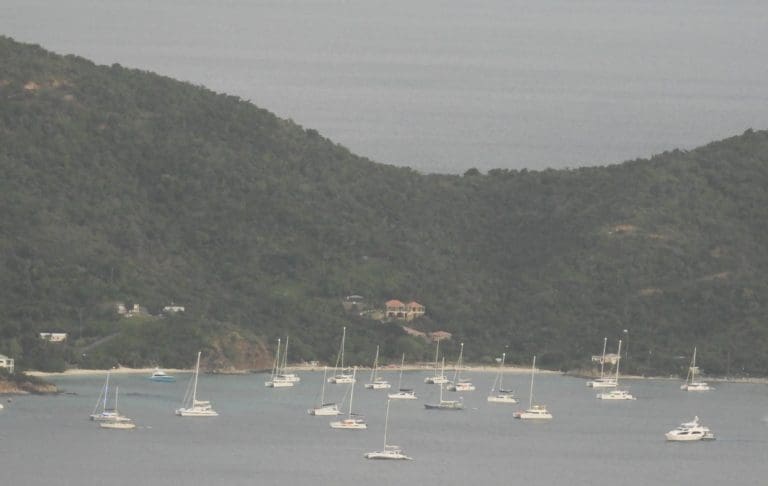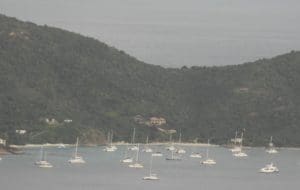 During the past year, boats of all sizes and shapes have poured into the bay, many bringing their Jet Skis, water ski boats and booming sound systems. Several times DPNR enforced the anchoring rules and came out to Round Bay asking boats to leave. This was very much appreciated but has not stopped boats from returning, some almost as soon as DPNR's back was turned.
Residents have witnessed numerous violations causing damage to the Santa Monica, reefs and wildlife areas, posing safety issues for recreationists and interfering with the peaceful existence of the residential neighborhood. Violations (such as dumping raw sewage, creating excessive wake with Jet Skis, water skiing, boats racing over coral reefs, dragging anchors in coral reefs and turtle habitat areas, booming amplified music, etc.) are documented in photos, videos and reports to the DPNR hotline or DPNR enforcement.
Some boat captains have responded positively to reminders of the regulations, but many have not. It makes one wonder whether one can charter without a knowledge of the V.I. rules and regulations and a commitment to obey them. In any case, it is crucial that DPNR issues consistent messages to all concerned regarding the regulations and acts aggressively to cite and fine violators.
One may think that this behavior is unique to Round Bay, but you can find evidence of similar occurrences across the islands described in social media postings. Often these relate to alcohol-fueled reckless behavior that endangers both the environment and the safety of tourists and residents alike.
These and other testimonies may be representative of a more profound and unfortunate change happening in the Virgin Islands tourism product that favors partying and uncontrolled behavior over products that emphasize appreciation and preservation of the profound and rare natural beauty of our resources and the respect for St. John's cultural heritage. Whatever happened to modesty, manners and respect?
We are now experiencing exactly what our government wished for – an explosive marine-fueled economy. Sadly, the negative side effects from an unbridled marine agenda may turn into an ecological and cultural nightmare.
Many residents of the east end envision a plan that will encompass both land-based initiatives, such as a restored schoolhouse that can be used to educate Virgin Islanders and tourists alike of the cultural and historical significance of the east end and the nearby marine environment, with a protected Round Bay that preserves forever the HMS Santa Monica and protects the bay's prolific ecosystem and already threatened species. We hope that the V.I. government joins us in this endeavor.
Ron Vargo is a resident of St. John