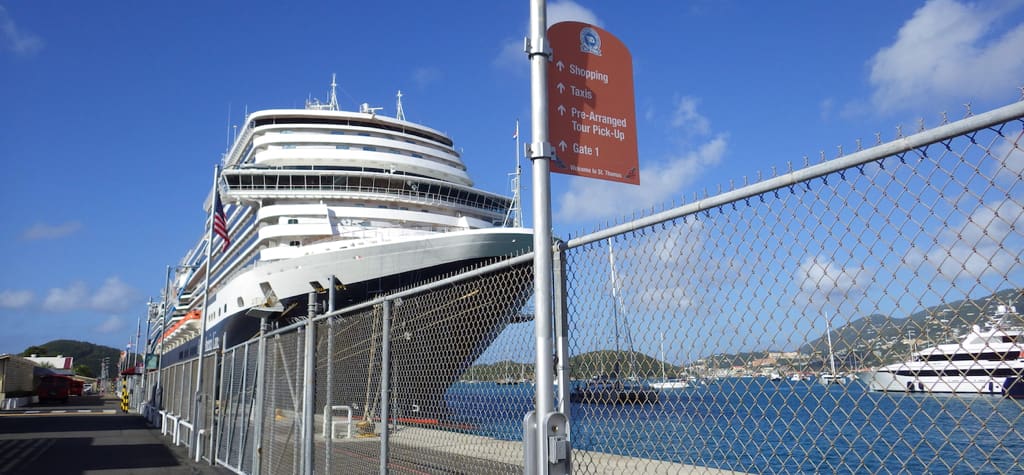 The Virgin Islands Port Authority on Wednesday narrowly approved an agreement with the Virgin Islands Oil and Transportation Company LLC authorizing a long-term fuel bunkering service in Charlotte Amalie.
The agreement must still be approved by the West Indian Company, Limited – which manages cruise ship activities – as well as the U.S. Coast Guard and Department of Planning and Natural Resources.
The proposal, outlined by attorney Vincent Frazer, will give the authority a tenant not dependent on tourism, according to VIPA Executive Director Carlton Dowe.
"We have the possibility of some new tenants that are not reliant on the cruise ship industry," Dowe said.
The Virgin Islands Oil and Transportation Company sought an exclusive deal, offering compensation of a $5,000 annual fee plus a flow fee starting at 10 cents per barrel and a negotiated increase at the fifth anniversary.
The 10-cents-per-barrel rate is based on the Port Authority's marine tariff, or tax imposed on marine services.
"It is established periodically, when the Port Authority decides to change its fee in water tariffs, it then goes through a process and a public hearing and our tariff rates are then changed," Frazer said. "The tariff rate was last changed in 2020."
In a letter from John Thomas, a principal representative of the Virgin Islands Oil and Transportation Company, to VIPA Chairperson Leona Smith, the company executive said, "We are finalizing a purchase agreement with WAPA for a portion of its fuel storage assets and leasing land all within a qualified Opportunity Zone Parcel. We intend to add a fleet of tugs and barges to be berthed between property owned and leased from Property & Procurement and the VIPA."
According to Thomas' letter, regulatory requirements for shipping companies are "increasingly problematic."
"Cruise lines in particular are looking to increase flexibility when looking at fuel options, methods of delivery and competitive pricing," Thomas said in his letter.
The agreement with the Water and Power Authority is for a 40-year term, with the use of two 100,000-barrel petroleum product storage tanks and easement for pipes leading to the barge loading site.
The VIPA board gave the proposal its first approval by a 4-3 vote (Yay – Willard John, Smith, Celestino White, Kevin Rodriguez; Nay – Joseph Boschulte, Derek Gabriel, Lionel Jacobs; and Abstained – Denise George), but a few of the board members expressed concerns.
"I remember a number of years ago we had signed an agreement with Hess Oil Refinery for a certain tariff of a barrel of oil. A barrel of oil then went up maybe three or four times and we were stuck with a low fee. Is this a similar situation?" board member Jacobs asked Frazer.
"In this agreement, we reserve the right to change the fee every three years," Frazer said.
Boschulte, chairman of the board's finance committee, also had concerns.
"If this were a non-exclusive deal and other people could have come on, I would move differently. If you are coming in for 20 years specifically, you have to assure the Port Authority that you can get what you said done. … I did not hear them say what they anticipate the cost of the fuel that they are going to buy. They were beating around the bush with the information."