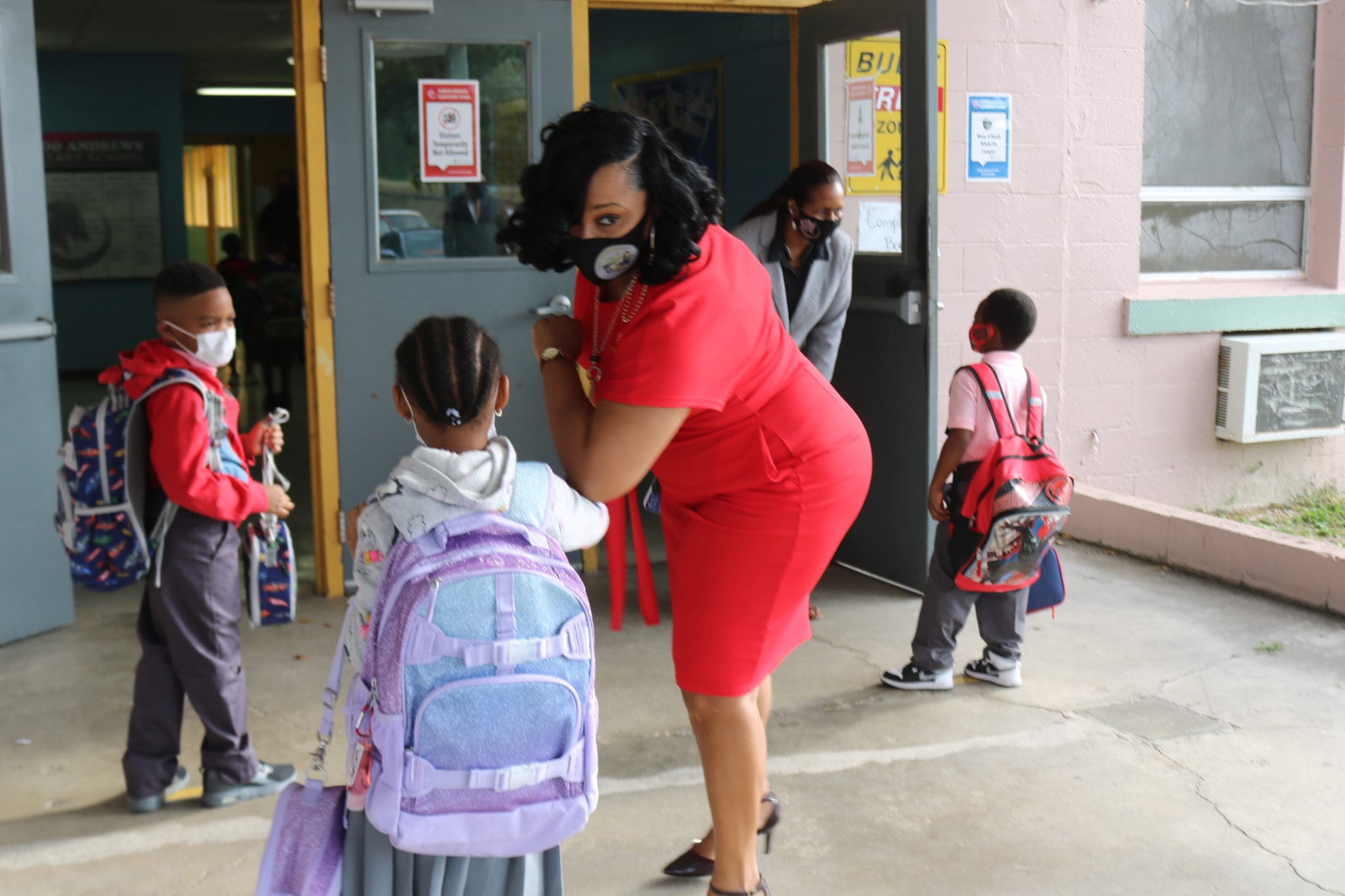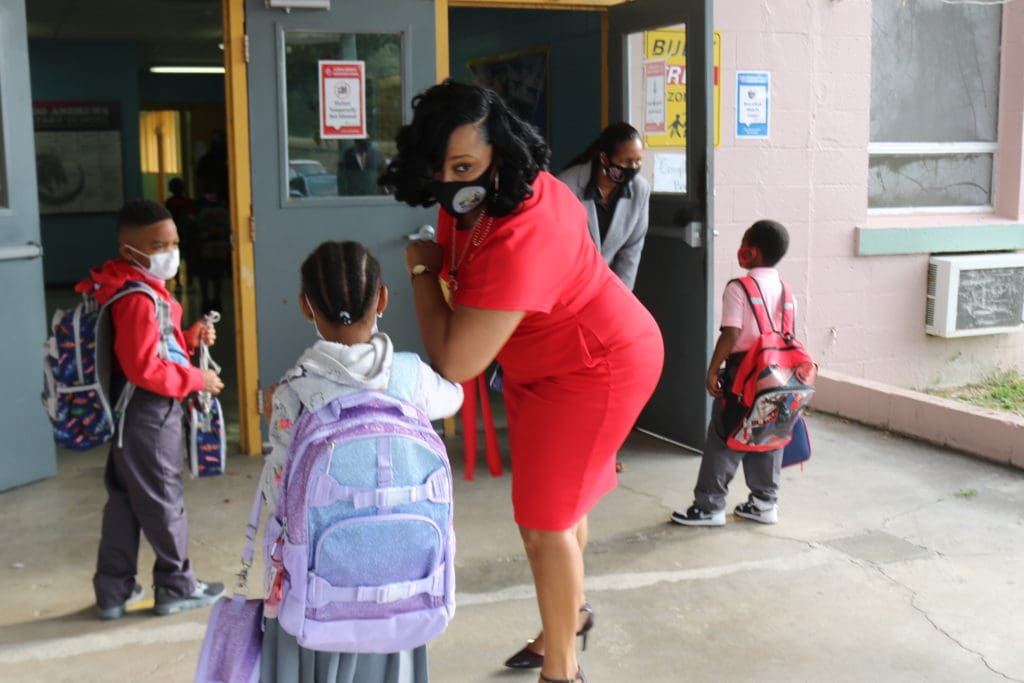 Declaring that "school is in," Education Commissioner Racquel Berry-Benjamin and St. Croix District Superintendent Carlos McGregor hosted Gov. Albert Bryan Jr. for a tour of the Alfredo Andrews Elementary School to celebrate the return of students and staff for the first day of in-person learning at St. Croix public schools on March 2. V.I. schools have been closed for a year due to COVID-19.
The schools are taking an array of precautions to reduce the risk of transmitting COVID-19.  During the half-hour tour, principal Andrea Hobson led the delegation on a visit to kindergarten and first-grade classrooms, which reportedly showed desks arranged six feet apart in compliance with Centers for Disease Control and Prevention social distancing protocols, as well as floor markings indicating boundaries in which students should remain.
"To every person along the way, right down to the custodial workers to the maintenance workers who got these buildings ready, each part of this team is important," Bryan reportedly told staff, according to a Department of Education release. He thanked the staff for "taking that chance to come to school."
Bryan said every student now has a laptop.
The governor acknowledged the fears some parents still have of their children returning to school campuses.
"Parents, I know it is scary for your kindergartner to go to school [during the pandemic], but trust me, we're doing everything we can to keep [them] safe," he said. "I just want to thank you, again, for bringing them to school," he said, according to the release.
McGregor and Berry-Benjamin also spoke, thanking staff.
Berry-Benjamin asked the community to "exercise patience and positively encourage our students to develop a love of learning."
Following the Alfredo Andrews tour, Berry-Benjamin and McGregor visited Ricardo Richards Elementary and Eulalie R. Rivera K-8 School, while Deputy Superintendent Carla Bastian visited the Career and Technical Education Center, where second- and fourth-year certification students were engaged in hands-on coursework in cosmetology, automotive, electronics and culinary arts.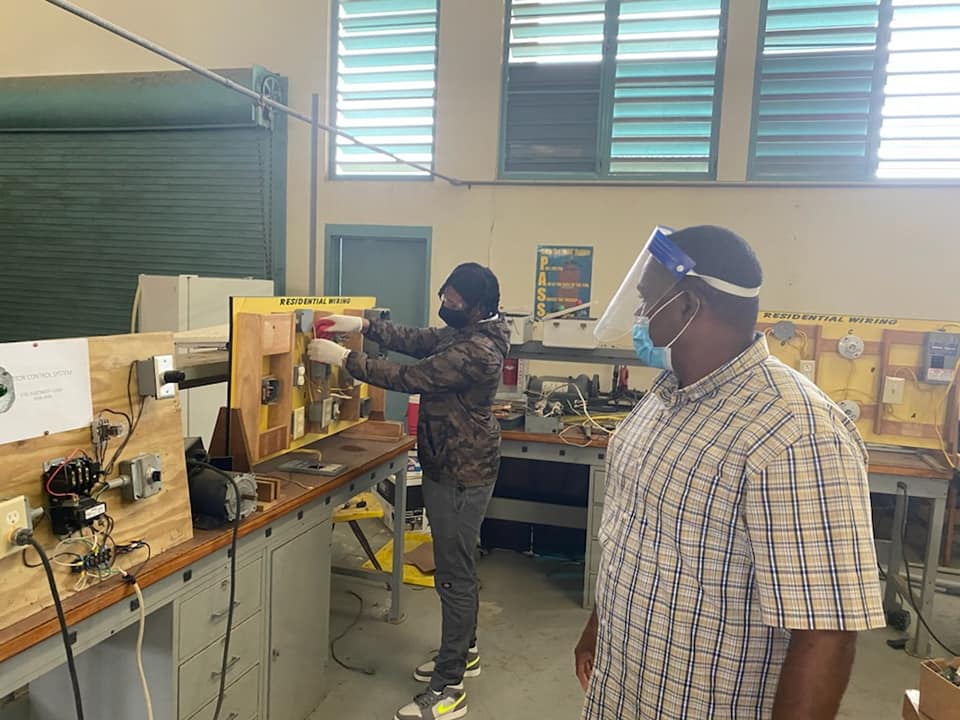 On March 9, students in second and third grades will return for in-person instruction in the St. Croix District.
Dates for the return to in-person instruction in the St. Thomas-St. John District will be announced soon.