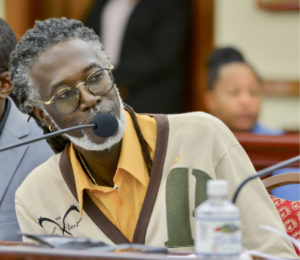 Lacking a quorum, the Virgin Islands Hemp Commission could not conduct commission business at its meeting on Monday, rendering the panel unable to act on an applicant seeking to become a part of the territory's hemp industry.
Had there been a quorum, the commissioners could have acted on the territory's second hemp-related license application, that of Green Point Research seeking a seed distributor license. The license would allow the Florida company to ship certified hemp seeds into the territory. It is one of the three types of licenses offered by the Hemp Commission.
"We are ready to work and start bringing seeds into the USVI upon approval. I look forward to doing whatever we need to do to get a quorum and put this thing through," Green Point Research Chief Executive Officer David Hasenauer said.
The seeds have been verified as sub-tropically and tropically suitable. Green Point Research is following established guidance from the United States Department of Agriculture and the agricultural authority of the nation of Colombia in Latin America.
Unable to vote on Green Point Research's license request V.I. Department of Agriculture Commissioner Positive Nelson dissolved the commission's hearing and opened an unofficial public meeting.
Sen. Genevieve Whitaker, who attended the meeting, said she had a strong interest in the industry and was drafting legislation related to the cannabis industry, but didn't provide much detail. Whitaker contacted the Source later and said "the Legislative Rules do not permit me to go into detail until my bills go through the process."
"When it comes to bill drafting, I want to get enough stakeholder input before I put it to the floor," Whitaker said. "I am definitely looking for your support and even through partnership efforts so that we can craft it and amend it and go through a process with stakeholder commitment."
Virgin Islands Department of Licensing and Consumer Affairs Commissioner Richard Evangelista used the public hearing as an opportunity to remind CBD retailers that they must have a license.
"There is a license for the retail sale of hemp containing less than 3 percent CBD," Evangelista said. "I am aware there is a cry that there are some persons who have the license and many persons who do not. The enforcement team was aggressively a part of that until they got absorbed for the COVID-19 task force," but to avoid fines retailers must have a license.
The Virgin Islands Hemp Plan and a step-by-step guide to hemp licensing can all be found on the department's website under the tab labeled the Virgin Islands Hemp Program.
The next public meeting for the Hemp Commission has not been scheduled. Nelson said the commission meets on an "at-need basis" based on applications and weekly, or monthly, meeting times have not been established.
Editor's note: This has been updated to correct a quote by changing the word "mend" to "amend" and to add a clarification from Sen. Genevieve Whitaker on why she provided little detail on her bill. Green Point Research also clarified the guidance it follows to verify seeds are suitable for the local climate.