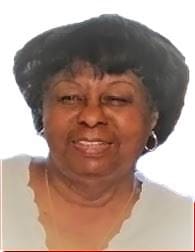 On Thursday, Jan. 28, Betty Jean Vanterpool Dawson, loving mother, sister, aunt and grandmother, passed away at the age of 83.
She was the daughter of the late James Theodore and Agatha Adela Vanterpool, and was married to the late Senator Eric E. Dawson Sr. for 50 years until his death in January 2017.
Betty is survived by her sons: David Dawson and Eric Dawson Jr.; daughter, Diane Romulus; daughter-in-law, Luisa Dawson; grandchildren: Vanessa Romulus, Olivia Romulus, Jamel Dawson and Elena Dawson; brother, Viggo (Miller) Vanterpool; and numerous nieces, nephews and cousins.
There will be a memorial service at 2 p.m., Sunday, Feb. 7, at Bliley's Chippenham Chapel in Richmond, Va.
In lieu of flowers, memorial donations may be made to the Michael J. Fox Foundation, P.O. Box 5014, Hagerstown, MD, 21741-5014, or the website: https://www.michaeljfox.org/donate to support the fight against Parkinson's Disease.