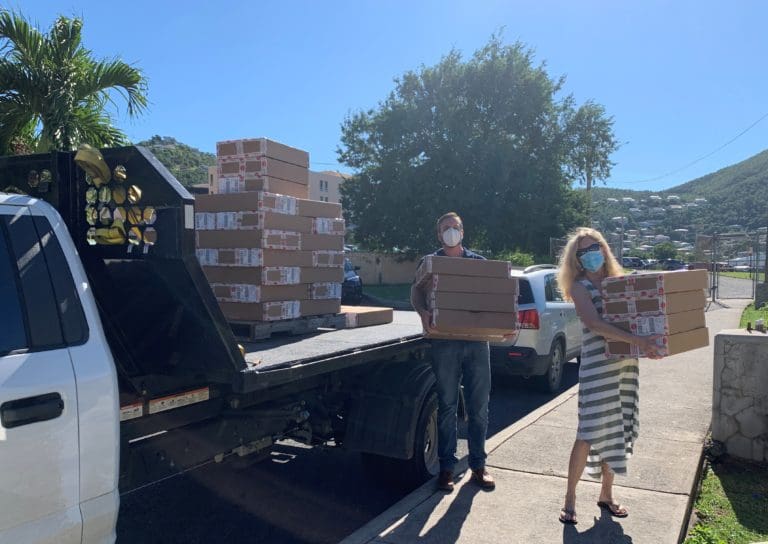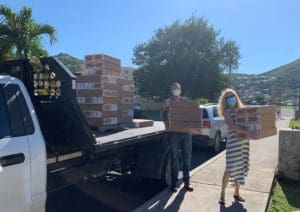 The doors of Lockhart Elementary School and Addelita Cancryn Junior High School on St. Thomas recently swung open to welcome the donation of more than 100 Chromebook laptops, touch-screen compatible XP-Pens, headphones and backpacks to store the gear.
The gift, to help students in need of remote learning technology for online classrooms, came courtesy of the St. Thomas Board of Realtors. In addition, a local EDC company joined forces with the realtors when demand exceeded the board's philanthropic budget.
The educational needs of students across the United States endured a jarring and costly change when COVID-19 forced teachers and students to stay at home. Schools have been overwhelmed with trying to find and pay for the technology necessary for students to participate in the online learning format.
Since December and concluding this week, the St. Thomas Board of Realtors delivered 52 Chromebooks, XP-Pens, headphones and backpacks to Lockhart Elementary, a quantity the school's administration said would mean that every child at Lockhart now has the necessary technology to learn remotely.
While unloading the goods at Lockhart, which sits just yards from Cancryn, Board of Realtors President Scott Newland and former president Barbara Birt encountered Lisa Forde, the principal of Cancryn, who stepped out of her office to see what was going on.
"When she saw us making the delivery to Lockhart, she made a plea," said Newland. "I couldn't say no. I knew we'd find the funds somehow."
Newland went back to the board to try to secure funding toward the purchase of 60 additional Chromebook packages for Cancryn, and Birt went to her partner, Stephen Evans-Freke. Evans-Freke, along with Peter Corr, who are the managing directors of Auven Therapeutics, were eager to help and a check was cut.
"As we pondered what needs truly stood out this year, the challenges posed by COVID were undeniably in the forefront," said Newland, who explained that the donation helps fulfill the annual commitment by the island's 155 realtors to collectively and substantially support the community they serve.
The technology is expensive, approximately $350 per student, but it's critical to students' ability to learn in this COVID environment and will continue to be used by the schools, even when in-person classes resume.
Chromebooks for Cancryn have arrived, but it could be a few weeks before the supporting equipment gets here. The nationwide demand for these items is so great that it has taken the Board of Realtors Chief Operating Officer Kasima Hodge weeks of searching, bargaining and ordering to secure and then ship the devices to St. Thomas.
Contact Numbers:
Scott Newland: 504-810-5283
Lisa Forde: 2340-44-1407
Barbara Birt: 340-690-9995
Maria Melendez-Tirado: 340-626-2015
Stephen Evans-Freke: 646-401-4541 (assistant principal of Lockhart)