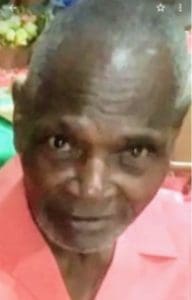 With humble acceptance of God's will, we announce the passing of William James Harris. William passed away Thursday, Dec. 31, at Jackson Memorial Hospital in Miami, Fla. William James Harris, husband of Enid Agatha Harris, was born March 3, 1942, on the island of St. Kitts.
He was the oldest child of the late John and Maude Lewis. William worked at the Point Pleasant Resort and Frenchman's Reef Hotel where he resigned after many years on the job.
He is survived by his wife, Enid Agatha Harris; his sons Wilton (Gebu), Winston (Lenny) and Pedro Harris; sons-in-law: John Mulley, Codett Marsham (Rocky), Duke Este I and Moses Bastien; adopted son, Elmo Henry (Charles); and daughters: Rosetta Mulley, Valerie and Starleen (Mel) Harris, Shirley Marsham, Bernadette Este and Melinda Bastien.
He is also survived by daughters-in-law: Oraine, Shirley and Marsha Harris; grandchildren: Chelsey Harris, Sabrina Phipps, Lynette Harris, Leshea Harris, Samuel, Stephanie, John Jr., Amber and June Mulley, Natasha, Eugene, Nakisha and Kareem Mills, Natisha, Akeem and Raheem Harris, Tameka Christopher, Irving Mitcham III, Jeaneil Huggins, Andre Gabriel, Caprisha, Crystal and Shenell Marsham, Daishea Boland, Dequan, Deshaun and Destiny Este and Skye Mills; and adopted granddaughter, Daniella Ellington.
Other survivors include great-grandkids, Shadorn, Noah, Ariel, Briya, Tanaja, J-mya Rose, I-mya Sage, Paige, Natalya, Emily, Jerome, Inayah, Iyanah, Jahmara, Jahmaree, Kierra, Kayden, Tracey, Tizhani Demming, Chedelcia Dasent, Afghani Webster, Keranje Martin and K'zone Phipps; adopted great-grandson: Kaden Peter; sisters: Mary (Panga) Turnbull, Orvis Mills, Madjeska (Mow), Vanta and Madeline (Nanny) Lewis; brother, Bryan Lewis; special friends: Logic Rouse, Degu and family, Charlie Wolluck and Ras; as well as numerous nieces, nephews, extended families and friends too numerous to mention.
A viewing will be held at 9 a.m. followed by a funeral service at 10 a.m., Thursday, Jan. 28, at Turnbull's Funeral Home. William's final resting place will be at Moravian Church in Parsons Village, St. Kitts.