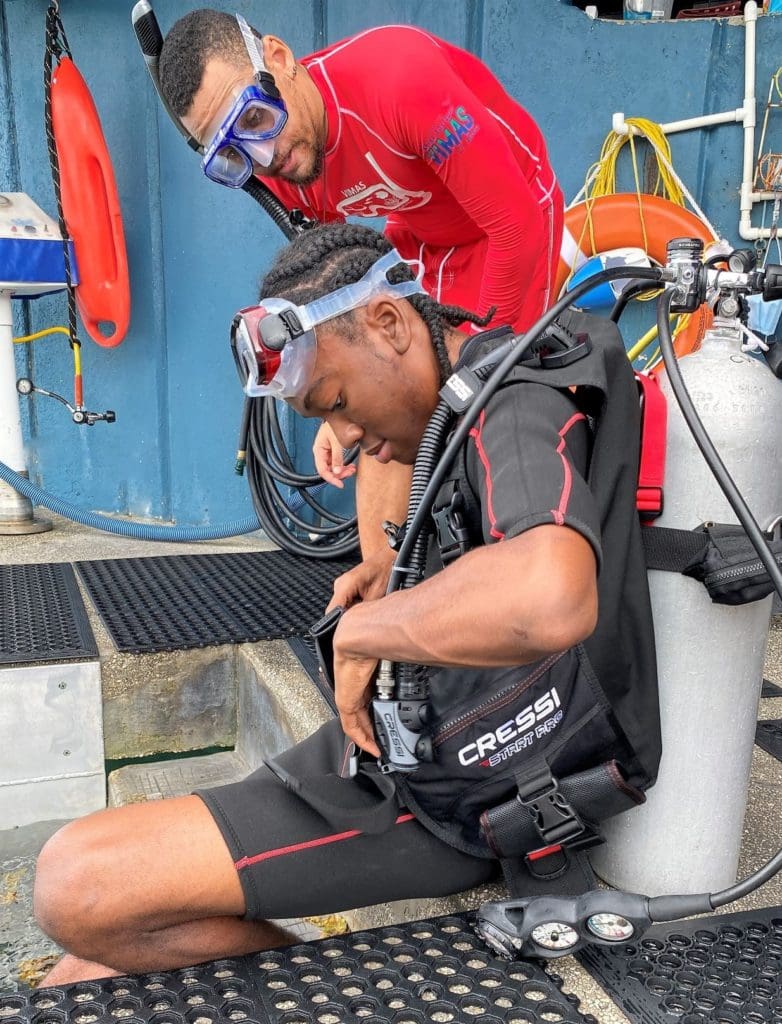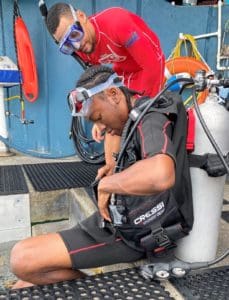 Teaching in the time of coronavirus has been very challenging, to say the least, but that has not stopped Michealrose Ravalier, an Ivanna Eudora Kean High School teacher, from finding creative ways to engage her students. Ravalier knows that learning is more meaningful if students can relate and interact with their environment. She wondered, "How can I adapt a lab about fruit fly behavior so that it would be more culturally relevant for my students? Our real world is right here in our own backyard, in this case, in our coral reefs."
Last year, she led students on field trips to Coral World to study corals, marine ecosystems and the human impact on Earth's oceans. That experience led her back to Coral World.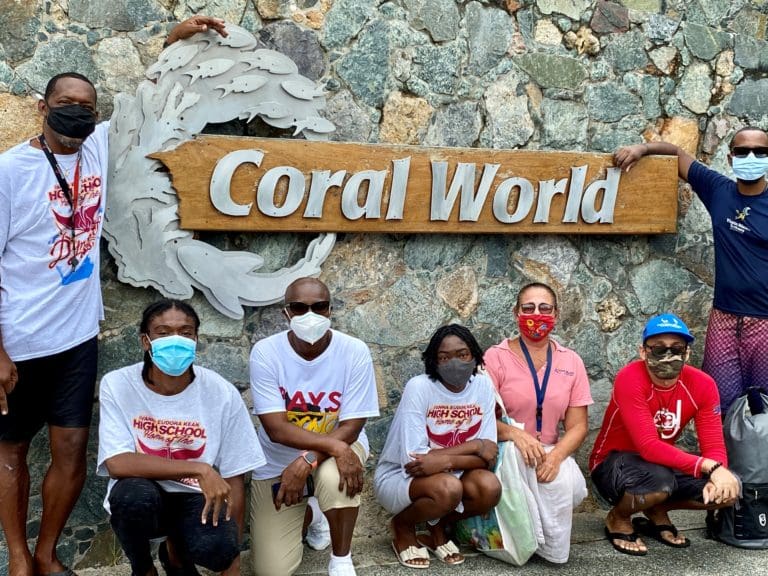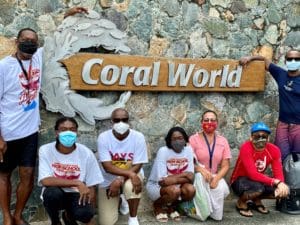 Valerie Peters, marketing director of Coral World, quickly agreed to the use of the park as the location for a virtual lab. Peters, who is passionate about bringing the private and public sectors together for the benefit of environmental education and has brought ECO-Schools to the U.S. Virgin Islands, looked forward to working on this project.
Peters said, "These types of collaborative efforts are key to engaging students in meaningful project-based learning and to encourage them to be part of finding the solutions to the many sustainability challenges we face. This project is a perfect example of what we can do when we work together."
Howard Forbes Jr., a Virgin Islands Marine Advisory Service coordinator at the University of the Virgin Islands, assisted with filming a 360-degree video of the coral reef at Coki Point. He and Jarvon Stout have been involved with monitoring Stoney Coral Tissue Loss Disease primarily through capturing videos or photos of the disease to be used in classroom presentations.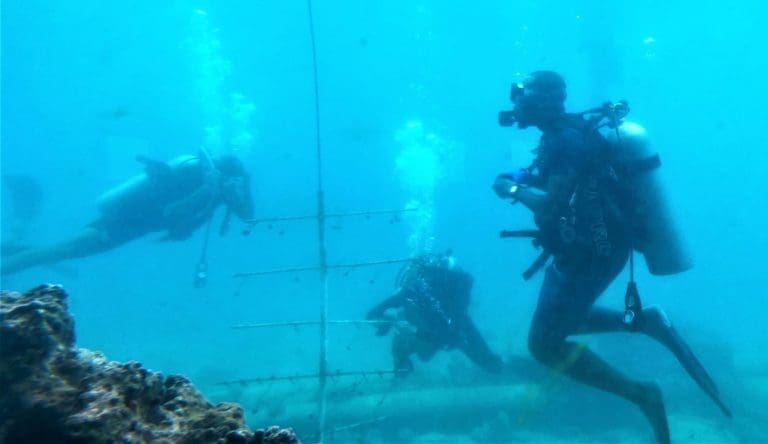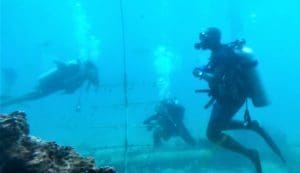 Forbes explained the benefits of the 360-degree camera. "The use of 360-degree cameras helps to make standard photos come to life by making them more immersive and giving the viewer the feeling they are actually there. The benefits of this technology are far-reaching as it can be paired with virtual reality goggles/headsets to bring hard to access environments such as the ocean and guts to a classroom setting."
The "Virtual Field Trip to the Coral Reef" provided the opportunity for students to study coral behavior in response to environmental changes. Students experienced firsthand the impact of how warmer marine waters affect corals. As ocean temperatures increase, corals bleach and can suffer from infections. The virtual field trip video will be available for other students to learn about coral reefs.
Students Candace Wade-Franklin and V'Andre Rochester served as the data collectors for this outdoor laboratory project.
Wade-Franklin said, "The whole day was filled with excitement and support. I enjoyed every second of the day."
Rochester said, "I got to see beautiful fish interact with each other in their natural habitat and learn about some of the challenges corals face because of climate change."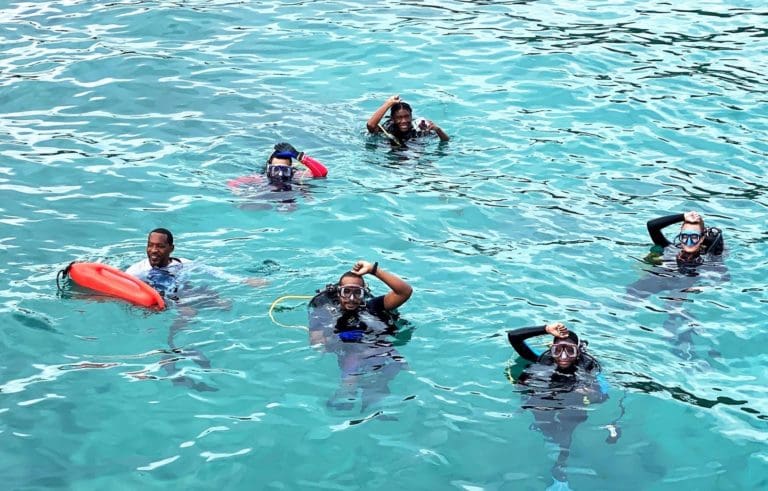 In addition to making observations, they were able to assist Logan Williams, research and education coordinator at Coral World, in the cleaning of the Coral Tree (nursery). As a member of the Virgin Islands Coral Disease Advisory Committee, Coral World Ocean Park is engaged in the management and mitigation of the SCTLD in the Virgin Islands. Williams, a former graduate student at the University of the Virgin Islands, College of Marine Science, leads the effort and research at Coral World to find solutions for restoring corals damaged by SCTLD.
Williams said, "It is so important for this next generation to claim ownership of our coral reefs – these ecosystems are vital for our tourism, our local fisheries, our shorelines and our welfare. I hope that I can inspire these students to pursue a career in local coral reef conservation, restoration or research so that we can preserve these incredible ecosystems for future generations."
Ravalier said, "I cannot thank our partners enough for collaborating to provide such an amazing hands-on learning experience for students. Dr. Lawanda Cummings of  VIEPSCOR/STEM for her insight to coordinate the initial collaboration team, Forbes and Stout for conducting the underwater filming and creating the 360-degree Virtual Field Trip video to the Coral Reef; Coki Dive Center for providing diving gear and equipment, Mr. Vincent Henley of IEKHS for serving as a chaperone and lifeguard, and of course Coral World for allowing Williams and Peters to share their professional expertise and allowing the use of their facility to complete this lab. Also, thank you to the Ivanna Eudora Kean High School administration and VIDE family for their support, I do believe that it truly takes a community to educate a child. It is my hope that this project will inspire other educators and students to explore new frontiers right here in our Virgin Islands."