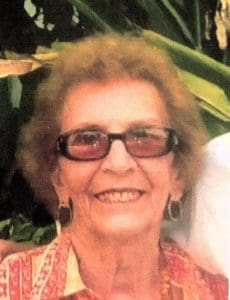 Marion Langer Bressi died on Nov. 24 at the age of 95.  She was born in Dazey, North Dakota.
She was preceded in death by her son, Dodson Bressi; sisters: Agnes Langer, Emma Langer Kupfer, Frances Langer Cuddy, Rosella Langer Mays and Eleanor Langer Eskstrom; and brothers: Johnny Langer and Raymond Langer.
She is survived by her son, Rodger Bressi; daughter, Bettina Bressi; and grandson, Julian DiPersio, who was the apple of her eye.  She is also survived by her sister, Magdeline Walgren; daughter-in-law, Shane Reardon Bressi; as well as nieces, nephews and many friends.
At the age of 18, Marion's adventurous spirit took her from a small town in Minnesota (pop. 198) to Washington state.  During WWII, Marion and her good friend 'Auntie Dunay' helped in the war effort (as one of the Rosie the Riveters).  She lived in San Francisco for a time and then Marion journeyed to Shanghai, China, with some girlfriends and then on to Guam.
She eventually ended up in Las Vegas where she lived and worked as a secretary at Nellis Airforce Base by day and at night as a cigarette girl in the Flamingo Casino for Bugsy Siegal.  Her customers were the likes of Howard Hughes and other such icons of that era, not to mention the mob bosses she always talked about.
While in Vegas, she met Rodgers P. Bressi Sr., an officer and fighter pilot in the U.S. Air Force during the Korean Conflict.  They were married in Las Vegas, then drove across the country in his Austin Healy.
For a couple years they lived in the suburbs of Philadelphia where two of their three children were born.  In 1961 Marion and Rodger and their two small children moved to St. Croix – site unseen.  This was another adventure for this amazing woman.  St. Croix ended up being home for almost 60 years.
Marion was a mother and homemaker until 1972 and then worked in retail at the Gold Shop, Little Switzerland and Sonya's until 1995 (at the age of 70) when she purchased The Royal Poinciana Gift Shop on Strand Street in Christiansted.  The shop was well known for its wide selection of gift items, including soaps, local spices, jams, hot sauces, puzzles, cards, picture frames and so much more.
Marion loved St. Croix.  She loved her customers and always greeted everyone who came in the store with a warm smile.   She was a hard worker and was in her shop six days a week until health issues forced her to close in March 2016.
Marion spent her last three and a half years at The Turning Point Senior Care in Estate Glynn in the loving care of Cindy Joseph and her dedicated staff.  We are so grateful for the many kindnesses she received there.
A memorial service will be announced at a later date.