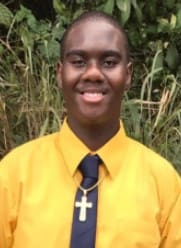 Dulajuwan Percival has died.
The first viewing will be held from 3-5 p.m., Thursday, Nov. 5, at Turnbull's Funeral Home. The second viewing will be held at 9 a.m. followed by the funeral service at 10 a.m., Friday, Nov. 6, at Turnbull's Funeral Home. Interment will be at Western Cemetery No. 1.
He is survived by his father, Malvon C. Percival Sr.; mother, Dahlia D. Daniel-Percival; sister, Mahlania M.D. Percival; brothers: Malvon C. Percival Jr. and Kobe Percival; grandfather, James A. Daniel; nephews: Malvon Na'Kyi and Matteo Ma'Kyi Ayden Percival; and uncles: Nigel Daniel, Basil Pascal, Leston Carey, and Ivin, Vallen and Steve Browne.
He is also survived by aunts: Beverly Francis, Joanna Daniel, Lois White, Nzenga Hyman-Daniel, Persha Riley, Selene Monsanto-Hansen, Sharon Christian, Prudencia and Jacqueline Freeman, Dorina Freeman-Nibbs, Marlene Rogers, Shani Thomas and Claire Browne; and special cousins: Dellani, Dulani and Dulijah Hill, DeNyiah Jones, Denoi Smith, Kareema, Karena, Kijahni and Zion Daniel, Kareem Blash, Brandon Ross, Demani Mc Dowell, Judah and Jade Daniel, Josiah and Jahseriah Morton.
Other survivors include goddaughter, Azuri Reed; godparents: Warrington O. Tyson Sr., Sally Petty, Keith Merrifield, Eboni Miller-Sewer, Alicia Callwood, Dianne Joseph-Smith, Tasha and Malvern Williams; and special friends: Imai Demming, Amira James, Jahnyra Scatliffe, Ohemmaa Lambertis and Caylah Charleswell.