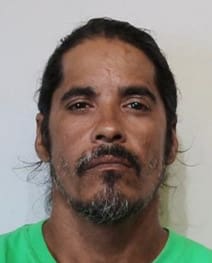 The Virgin Islands Police Department is asking for the community's assistance in locating Fernando "Bravo" Santiago, a 43-year-old Crucian, who is wanted by the department's domestic violence unit.
According to police, Santiago is a Hispanic male, 5 feet 5 inches tall and weighing approximately 165 pounds. He has two tattoos; "Shenel" on his left hand, and "Lily" on his right wrist. He is reported to frequent Williams Delight, Aureo Diaz Heights and Gateway Service Station.
Police urged anyone who knows Santiago's whereabouts to call 911, the domestic violence unit at 340-712-6094 or Crime Stoppers USVI at 1-800-222-8477 (1-800-222-TIPS).