November 4 marked the end of an era on St. John and the beginning of a new one. It's the day that Cid Hamling, the owner of Connections, officially signed the papers transferring ownership of the Cruz Bay business to Trista Sigler, a long-term part-time employee.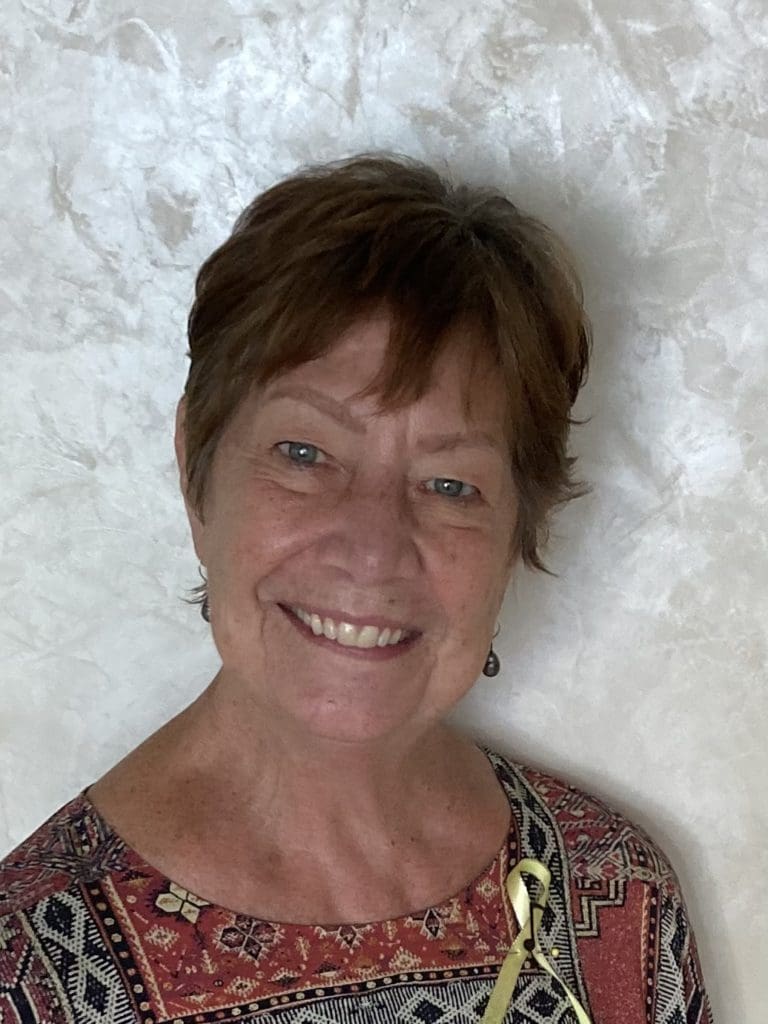 After 37 years of running St. John's main communications hub, Cid was ready to retire, and the onset of the COVID-19 pandemic brought stresses and changes that confirmed her decision.
She said she felt that she and her employees, known fondly as "Connectoritas," could no longer safely stand behind a counter handing out mail, making copies or processing Western Union transactions to the dozens of people who walk through the door every day.
They adapted by erecting a tent in the small yard in front of the Moorehead Building where Connections has been located all these years; now customers wave at the staff through the glass doors, and the Connectoritas in masks come outside to serve them.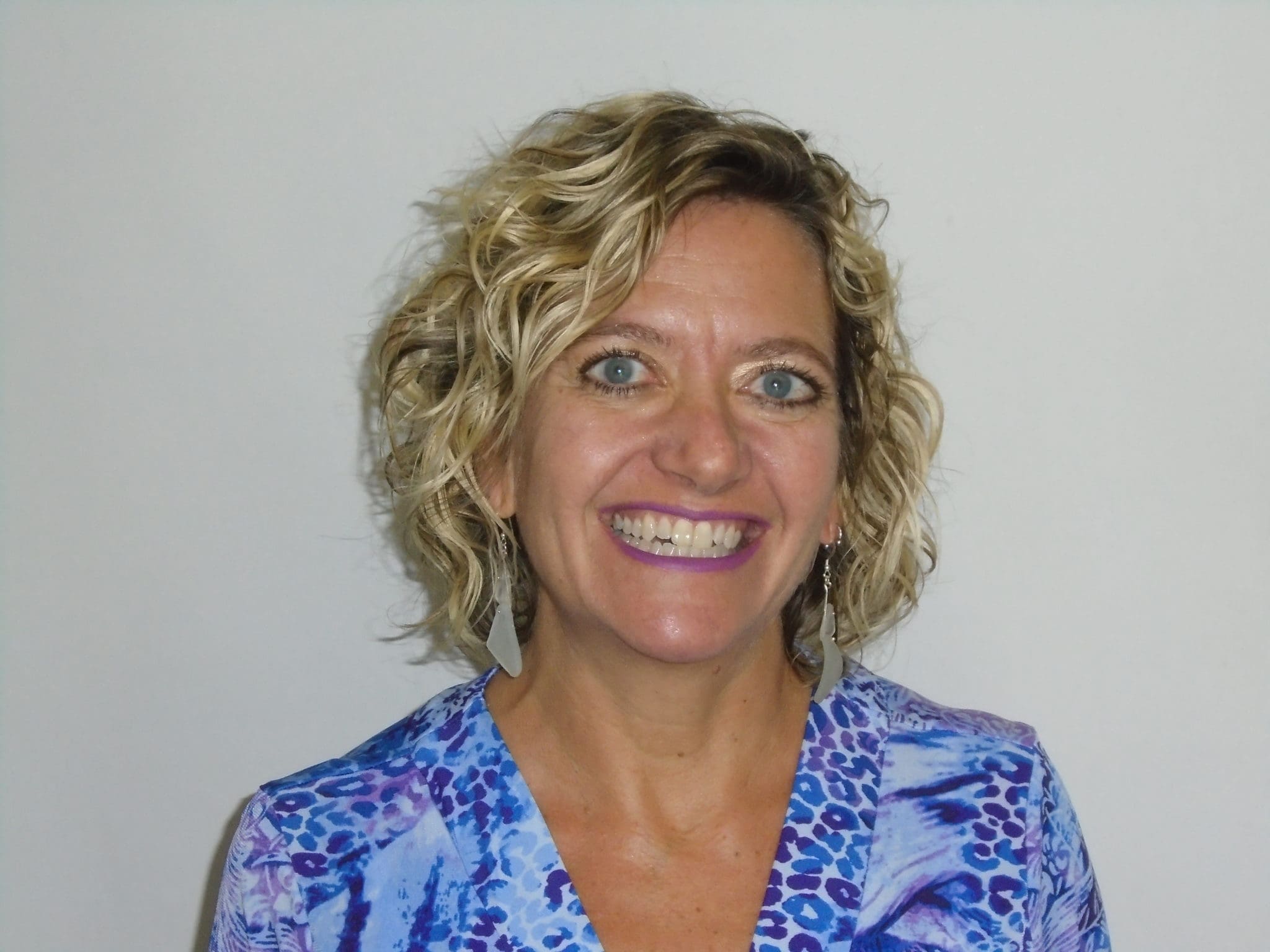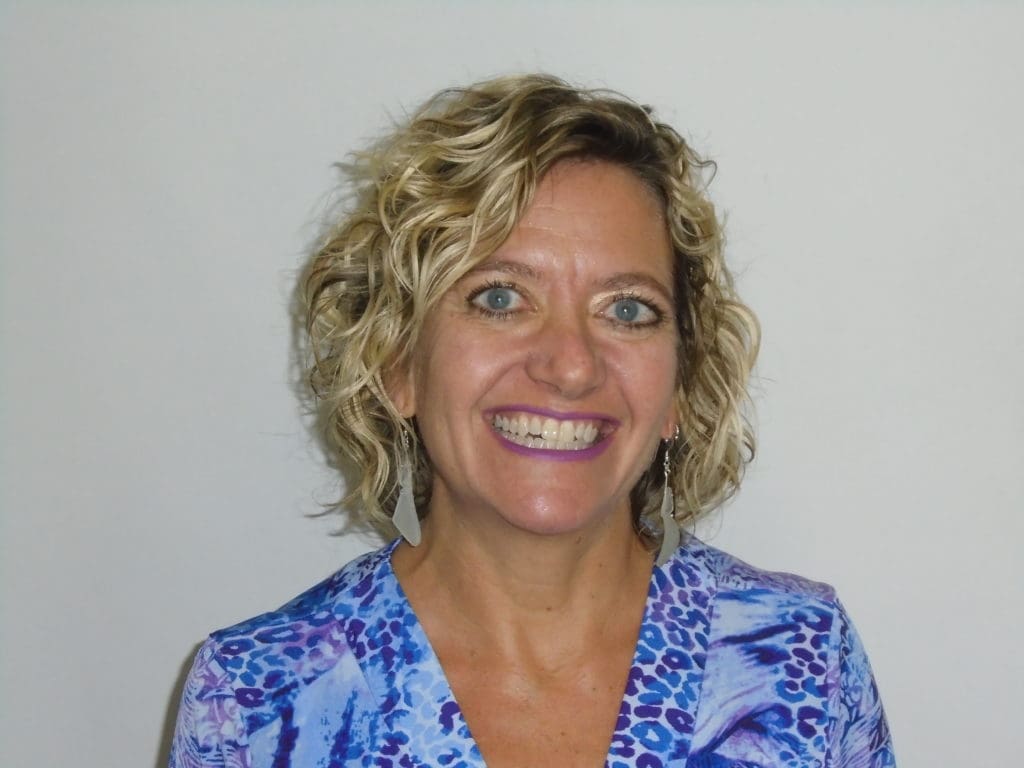 Trista, who had been working primarily in property management and real estate, decided to return and help out at Connections last summer. That's when Cid approached her about taking over. "The owner has to be someone who gets enjoyment out of helping people, someone community-minded," said Cid, explaining her choice.
When a silent partner offered to assist with the financing, Trista said yes, and the transition began.
She has more than a business to carry on. Connections has become a community institution.
Connections has expanded to offer nearly 30 different services over the decades. Need to book a charter? Get a document notarized? Take a passport photo? Laminate a medical card? Wire money back home? Store your luggage? Locate a set of lost keys? Send a fax? Buy a newspaper? Use the internet? Print an itinerary? Circulate a petition? Reserve a ticket to the Reichhold Center? Get a package delivered from a seller who won't ship to a post office box? Or simply find out what's going on around town? Connections has always been the place to go.
Its bulletin board is legendary, the first stop for people looking for a job, car, apartment or finding unused toner cartridges donated by someone who has replaced a printer.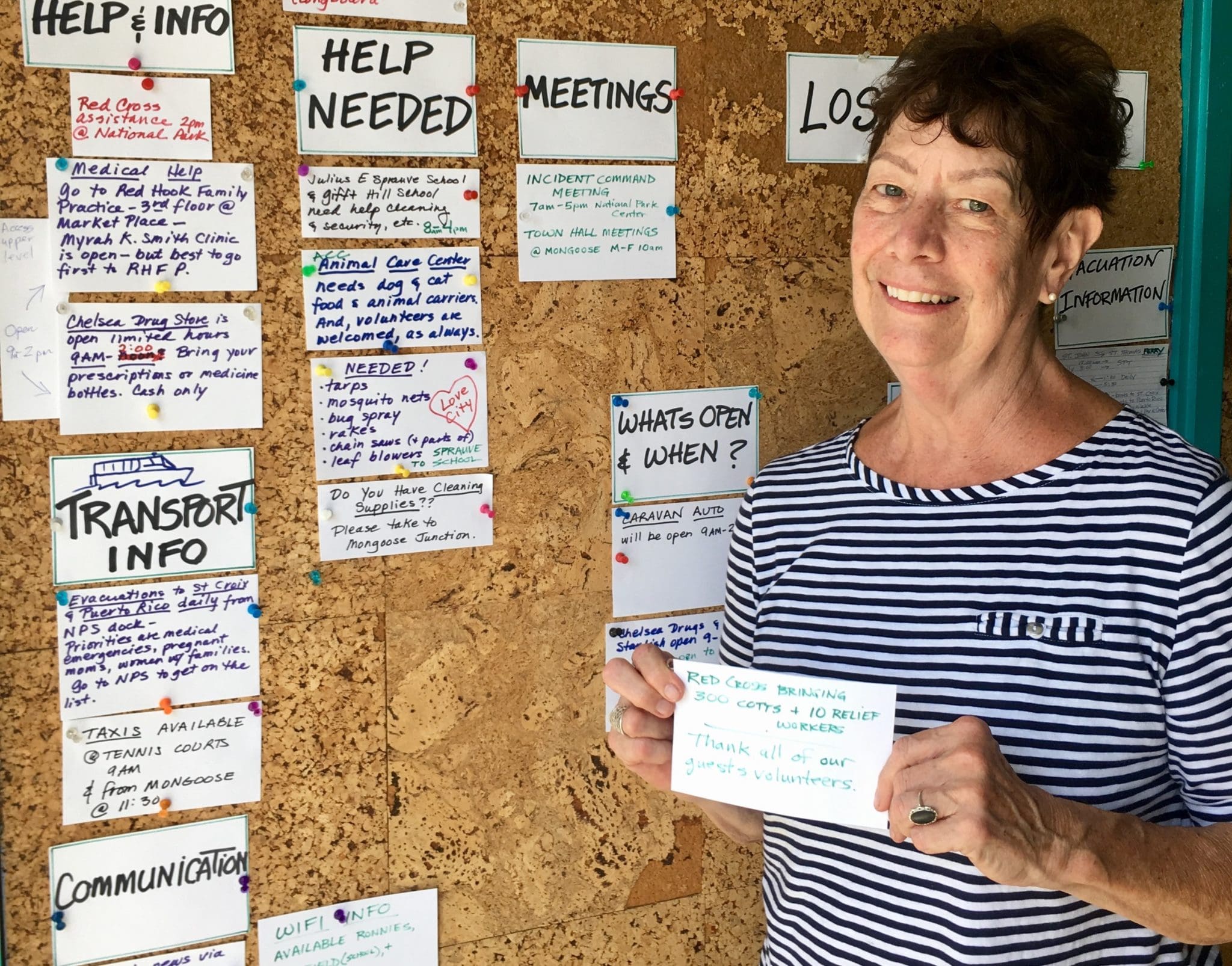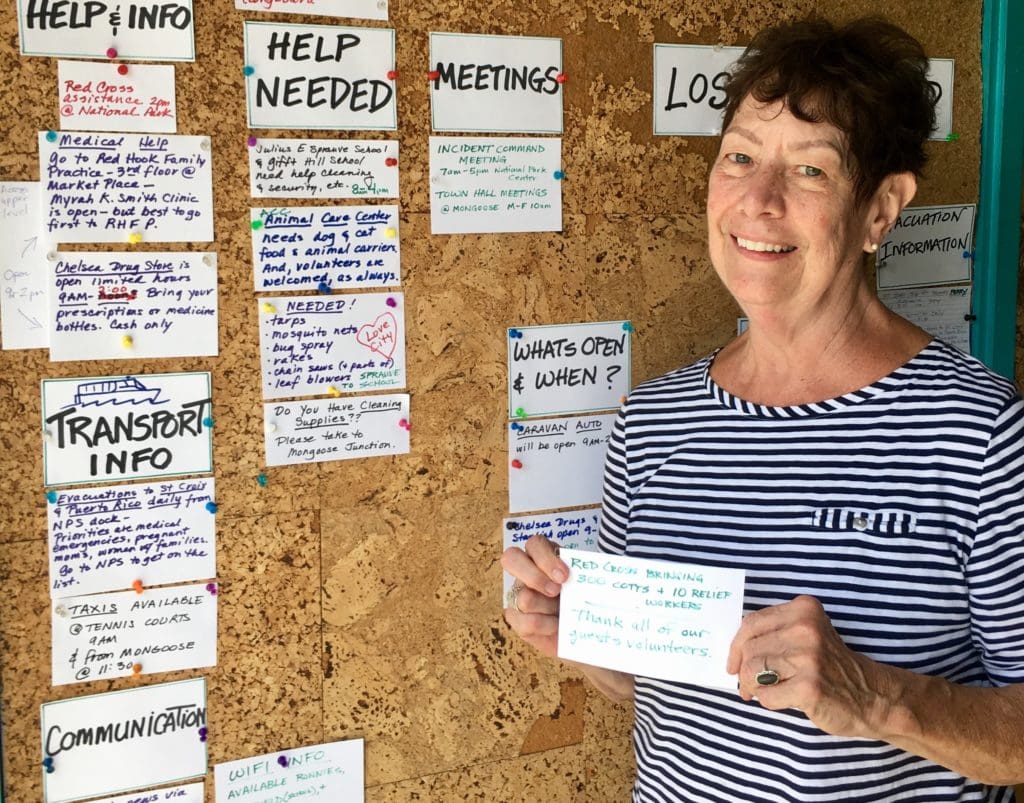 "Connections has always lived up to its name and Cid's vision of giving the people of St. John a way to communicate with each other and to keep in touch with those off-island," said Jenn Robinson, a long-time St. John resident who wound up buying (in 2015) Connections East, Connections' satellite office in Coral Bay.
"For many islanders, Connections is the heart, the pulse of island life, especially after hurricanes like Hugo, Marilyn, Irma and Maria left devastation in their wakes," Robinson said. "It was the lifeline to the outside world, helping to make 'connections' big and small, far and wide. St John is so fortunate Cid is careful to ensure, as she passes the torch, that the person who carries on will maintain her spirit of community that drives the business."
Trista had her hands full this week as she took that torch, dealing with power outages, wire transfer glitches and construction work to better handle the workflow necessitated by the COVID era.
Among the changes she's making is installing a teller's window to serve Western Union customers. On a busy payday, 40 or more people queue up for money transfers. Trista is putting in a "huge awning" to shelter them from the sun and rain as they wait in line for the teller.
She's also renovating the entire interior to allow more social distancing and to provide another service that is presently lacking in Cruz Bay: small workspaces where independent entrepreneurs can meet with clients.
When people are allowed to gather together safely, she plans to offer the front yard space to small business owners to meet community members and promote their services on Friday afternoons.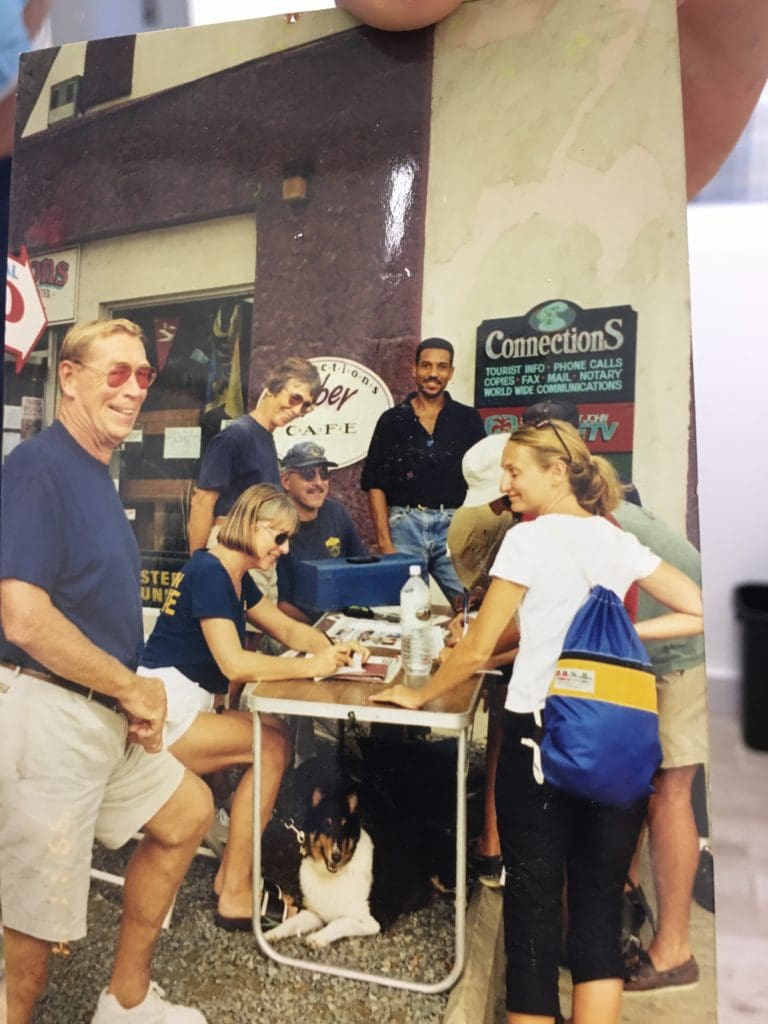 All this means Connections will not look the same as it did for decades when customers are finally allowed back in. Gone will be the artwork by local artists that Cid collected throughout the years. Cid said she has been enjoying handing out pieces she can't fit on her walls at home, including her famous "Baby Boom" photos showing the year's crop of infants and toddlers lined up with their parents on the beach.
It's organizing events like a baby boom photo shoot that have made Connections such an integral part of island life, residents remember. "When I think of Cid, I think of the word 'community,'" said Lani Clark, who served the business as a financial advisor. "Cid created a community hub on St. John. She has helped an endless number of people in need and done it at times when it created a personal sacrifice to herself. I've always admired her for that. She will be missed, but believes Trista will continue and improve the legacy."
"Central to Cid's character is her need to give," said Vicki Rogers, another veteran Connectorita. "As a result, Connections evolved into a vehicle for her to do that every day. And because of this philosophy, her faithful employees derived a lot of job satisfaction doing the same."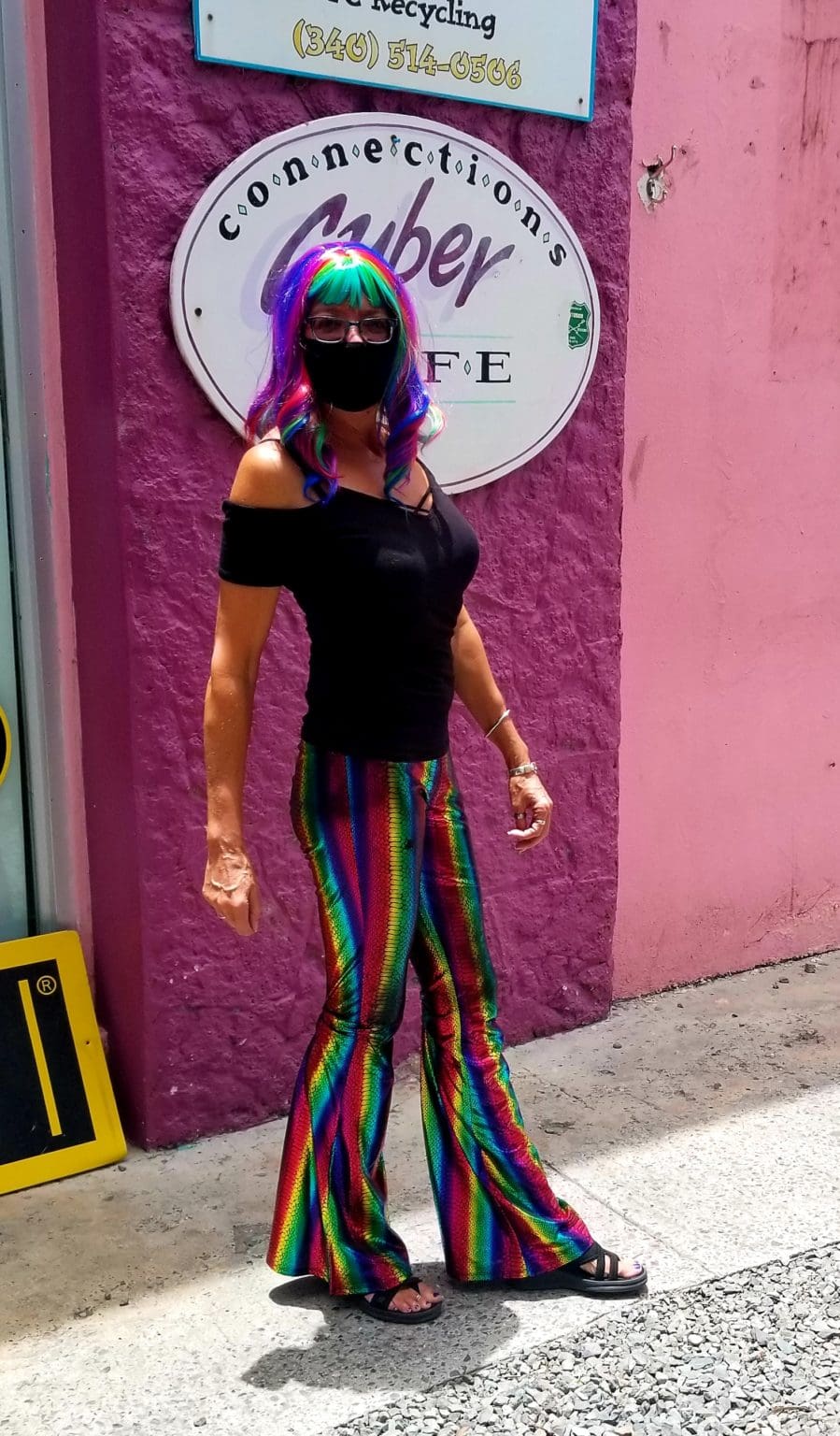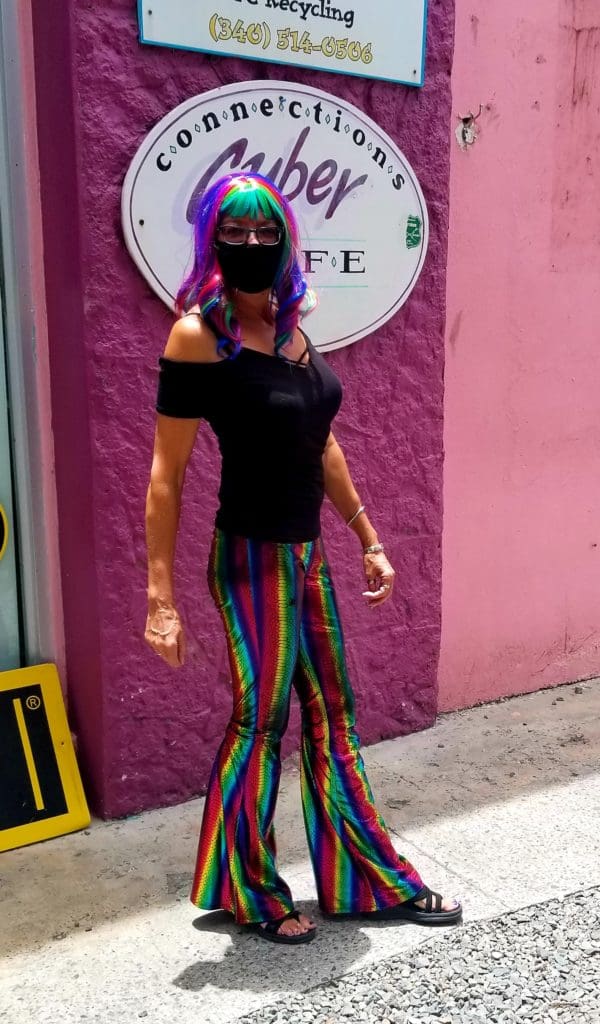 The spirit of fun at Connections is almost always evident even in these challenging times. Trista has been keeping it up by dressing up in whimsical costumes.
Cid arrived in the Virgin Islands on a sailboat after obtaining a master's degree in social work, and her tendency to want to help others "never left the office," according to Keryn Bryan, a long-time Connectorita.
Connections' origin story has been told many times. After working as a waitress, bartender and cook for a couple of years, Cid felt a lack of fulfillment. One day she sat at a table chatting with Forrest Fisher, an island entrepreneur.
"I'm tired of working for others and making them rich with my energy," she complained. Fisher asked her what she would do instead. Cid reflected on the frustration she felt when she arrived by boat on the island and there was no marina office to get mail or messages. "What this island needs is a good answering service," she declared.
Now, when practically everyone has a phone in their pocket, it's difficult to imagine 40 years back when landlines were scarce. If you didn't have a phone – or know someone who did – you'd have to wait your turn to use one of the three outdoor pay phones near the ferry dock in Cruz Bay. Most of the time, at least one of those phones didn't work.
Fisher happened to have an office upstairs in the Moorehead Building with a landline, and he let Cid set up shop there in exchange for answering his phone. When he retired, Cid installed private phone booths and started an ad campaign: "Call your mother!" Several years later, she moved downstairs to the current location. She kept up with the technology, offering fax services in the 1980s and internet services in the 1990s.
Now that she's retired, Cid is relocating her service as a notary. (People can still reach her by calling 340-643-6066.) She's also taking with her the management of the St. John Revolving Fund, a community-funded lending service to island residents facing emergencies.
Trista, in the meantime, will expand her own initiatives. "I'm licensed with American Paradise Real Estate," she said. "I plan to connect buyers and sellers through Connections, using my skills as a realtor, and do lots of other things using all the skills in my back pocket."