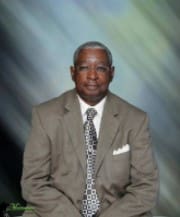 Ervin Dorsett Sr. has died. He was born in Bronx, N.Y., on Nov. 30, 1943.
He is preceded in death by his mother, Frances Dean-Dorsett; and father, George H. Dorsett.
He is survived by his daughters: Cheryl Dorsett-Broadie, Danielle Dorsett-Smith and Monique Dorsett; son, Ervin Dorsett Jr.; grandchildren: Madisyn Smith and Camryn Smith, Ervin Dorsett III, Khaaliq Henry, Brianna Dorsett, Anthony Broadie, Eve Carty-Connor, Khala'Nae Henry, Jessette Carty and Azai Carty; sons-in-law: Melvin R. Smith and Elvet Carty Connor; and daughter-in-law, Gail Samuel-Dorsett.
The first viewing will be from 3-5 p.m., Thursday, Oct. 29, at Turnbull's Funeral Home. The final viewing and service will be from 9 a.m. to noon, Friday, Oct. 30. He will be cremated.