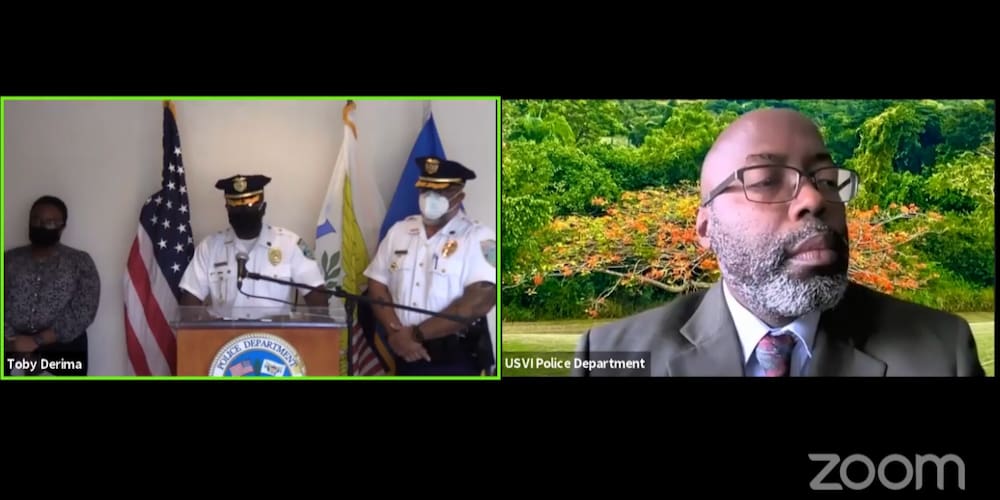 More Virgin Islands families were affected by gun violence over the weekend, and St. Thomas/St. John District Police Chief Steven Phillip said, "We need to stop the killing."
Phillip spoke as part of a virtual news briefing Monday morning to discuss shootings that took place over the weekend. The officials also reprimanded owners of rental villas who have allowed large parties despite Gov. Albert Bryan Jr.'s executive order to curtail such activities in the face of the novel coronavirus.
At 4:34 a.m. on Saturday police were called to the Four Wings Plaza Shopping Center in reference to shots fired. At the scene, a man later identified as Joseph Andrew, 29, was found shot to death.
The police were notified of an additional four people who had been injured by the gunfire and taken to the Schneider Regional Medical Center, where they were treated for their injuries. The victims told police they were in the Four Wings Plaza Shopping Center when they were shot, but all told police they had no idea who had shot them or why they had been victims.
The condition of the four hospitalized victims was unknown as of Monday afternoon.
Also Saturday, at 10:49 a.m., police were alerted to shots fired in Smith Bay. Phillips said patrol units were sent, and they were able to apprehend Armari Smith, 36, who was placed under arrest for assault, reckless endangerment and possession of an unlicensed firearm.
Virgin Islands Police Department Commissioner Trevor Velinor said the shootings over the weekend bring the territory's violent crime incidents this year up to 43*. Most of them involved a firearm.
Police Warn Villa Owners
Also during the briefing, police admonished owners of vacation villas owners who, perhaps unknowingly, have been providing short-term rentals to those looking to host parties.
But knowingly or not, the owners of the buildings might find themselves held liable for violations of the governor's executive order limiting social interaction during the pandemic.
Phillips said it was up to the villa owners to be aware if these large parties were happening in their residences. If they aren't, they could be fined.
"That's a new trend we are now seeing," Velinor said about individuals renting villas for the sole purpose of hosting parties. "We are going to shut those down. We are telling you it is not acceptable. We are telling you it is not consistent with the executive order from Gov. Albert Bryan Jr."
* The Source homicide list is based on police reports but, because the police list includes suicides and vehicular homicides, the numbers vary. The Source homicide list shows 40 murders.