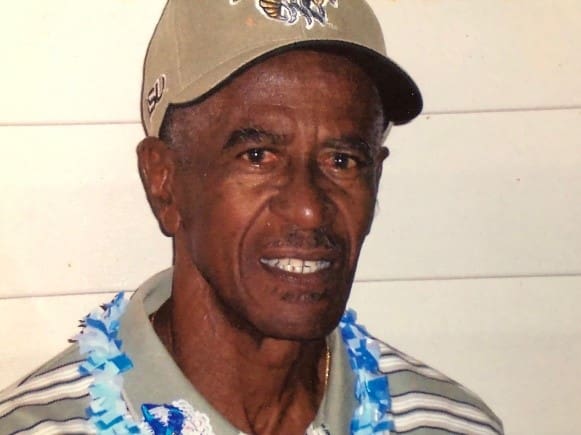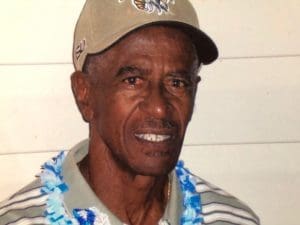 Eugene Augustine Thomas, also known as "Genix," of Estate Two Brothers, Frederiksted, died on Sept. 23. He was 83 years old.
He was preceded in death by his mother, Maria Nicholas-Thomas; father, Henry Thomas; son, Dwayne "Yogi" Thomas; sister, Nathena Thomas-George; brothers: Victor Thomas, Francis "Franco" Thomas, Henry "Skippio" Thomas and Edwin H. "Bassman" Thomas Sr.; and nephews: Ray "Ray T" Thomas and Randall A. James.
He is survived by his spouse, Erma Williams-Thomas; daughters: Ibia Thomas-Jackson and Xina Medene Thomas-Joseph; sons: Kai Thomas, Eugene "Sean" Thomas and Rhydel Robinson; and grandchildren: Rainia Thomas, Shaina Thomas-Jarvis, Raenell James-Vallarde, C'Mone Thomas, Jamaal Thomas, Jahleem James, Khyra Thomas, Kaielle Thomas, Malachi Robinson, Francisco Nazario, Raekwan Joseph, Hezekiah Joseph, Shamika Blake, Aquino Jarvis, Shamoya Henry and Terrance Jackson Jr.
 He is also survived by great-grandchildren: Neja Thomas, Maleah Thomas, Kelsey Thomas, Kately Thomas, Malia Brewster, Larry Williams III, Mehki James, Elise Vallarde, Dwayne Jarvis and Caleb Thomas; nieces: Maria Thomas-Lewis, Debra Thomas-Henry, Enid Dowling-Lettsome, Joyce Thomas, Edna-Mae Thomas-Garcia, Diane Thomas-Seales, Silia Thomas-Brown, Judith James, Laurie Thomas-Jacobs, Sandra Thomas, Diedre Thomas, Vanessa Thomas-Barrows, Genista and Ladeisha and Tysha Henry; and nephews: Eric Thomas, Mario Thomas, Lee Thomas, George Thomas, Carl Thomas, Victor Barry, Daryl George, Edwin Thomas Jr., Henry Thomas, Dean Thomas and DuJuan.
Other survivors are daughters-in-law: Nikki Thomas and Terelle Patrick-Thomas; sons-in-law: Earl Joseph and Terrance Jackson Sr.; sisters-in-law: Ann M. Vicars-Thomas and Dorette Rawlins; brothers-in-law: Kamal, Vincent, Trevor, Cecil, Leroy, Clavis, Rudy and Joel; special friends: Camille Macedon, Lorne Dawson, Rodney McIntosh, Sr. and Family, Gladys Miller and family, Marilyn Fawkes and family, Hodge family, Vincent Doward and family, Marion Motta, Aquita Sarauw and Elroy Henderson.
Other surviving friends include Raffy Russell, Donald Petersen, Rael Sackey and family, Ivor James, Wayne Hurley, Tahemah Edwards and family, Corine Messer, Glenice Williams-Thomas, Christina Herbert and family, Sarah Drake-Ferrol and family, Sheila Gore and family, Armorel Guishard, Velma Farrelly-Dunbar, Keno Walcott, Delly Harris, Patricia Wright, Samuel Braffith, Marilyn Hodge, Rudolph Simmonds and family, Betty Wilson and family, Ann Soffes and family, Olivia Henry, Mario Robles and family; as well as other relatives and friends too numerous to mention.
A viewing will begin at 9 a.m. followed by a funeral service following at 10 a.m., Wednesday, Oct. 7, at Island Center for the Performing Arts.  Interment will follow at Frederiksted Cemetery.
The family respectfully requests that attendees wear a face mask and adhere to the social distancing requirements.