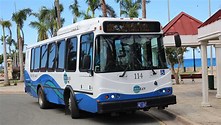 VITRAN's Americans with Disabilities Act (ADA) paratransit clients on St. Thomas and St. John can now join those on St. Croix in utilizing Routematch, the department's new trip management technology platform. Routematch was launched in the St. Thomas-St. John District earlier this month and on St. Croix in June of this year.
As per usual, certified ADA clients can call to schedule a pickup, but now VITRAN's Routematch dispatcher can see where vehicles are in route in order to better schedule the appointment. VITRAN's ADA paratransit bus operators then schedule pickups via their tablet after being linked to nearby clients.
"This helpful tool for scheduling and dispatching of vehicles will allow the department to be more productive and work smarter," said Deputy Commissioner of Transportation Karole Ovesen-McGregor.
The system can now accept same-day reservations to help fill in lost time in individual driver trip manifests resulting from no shows and late cancellations. "Routematch will also offer our ADA clients a higher level of service with greater outcomes for on-time performance," said McGregor.
Follow DPW on Facebook, Instagram and YouTube. People can log on to www.dpw.vi.gov and www.vitranvi.com to stay abreast of all things concerning V.I. Public Works.