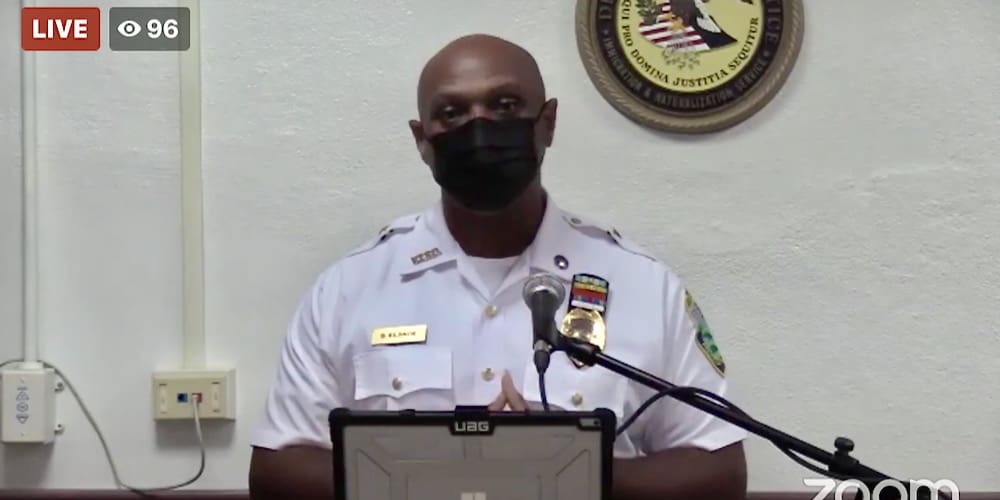 A recent homicide victim on St. Croix was hunted by someone intent on them doing harm, V.I. Police Commissioner Trevor Velinor said on Monday at a livestreamed news conference.
On Sept. 13, 20-year-old Reynisha Rivera was driving on the Melvin Evans Highway on St. Croix when she was shot and killed. Rivera "was being tracked by someone who wanted to do her harm, and they succeeded in doing her harm," Velinor said. "They shot and killed Ms. Rivera."
Velinor acknowledged Chief Sydney Elskoe and the Chief of Detectives Lt. Naomi Joseph, who he saw firsthand as they worked the scene of the crime and spoke to family members.
"They wanted to ensure that Ms. Rivera's voice could be heard because we needed to know, who did this crime," he said.
The VIPD arrested 23-year-old Effrail Jones and 21-year-old Estefani Rodriguez on Saturday after they confessed to shooting and killing Rivera. The arrest took place at 7:09 a.m. and they were charged with first-degree murder, first-degree assault, third-degree assault, carrying a firearm openly or concealed during the commission of a crime of violence, possession of ammunition and discharging or aiming a firearm. Bail for Jones and Rodriguez was set at $1 million each. They were unable to post bail and were turned over to the custody of the Bureau of Corrections pending their advice of rights hearing.
Elskoe confirmed that at 3:40 a.m. on Saturday VIPD "executed search warrants, which resulted in the arrest of two individuals and the seizure of a firearm, along with ammunition." The individuals were identified as Jones and Rodriguez. "The war against crime is not over," Elskoe said.
Chief of Detectives Joseph confirmed that the motive of the killing was "a fight that occurred and the answer to that was revenge."
She pleaded with the community for help in other cases.
"We still have a lot of unanswered questions in other homicides and we need your help. Policing is not just what the VIPD does, but what you do as well, and it can't be done without you. I'm asking that you please use Crime Stoppers and use the VIPD tip line."
Callers to the Crime Stoppers line will be issued a confidential PIN and are encouraged to check back frequently for reward eligibility. Information that leads to the resolution of a crime can qualify the caller for an anonymous cash reward.