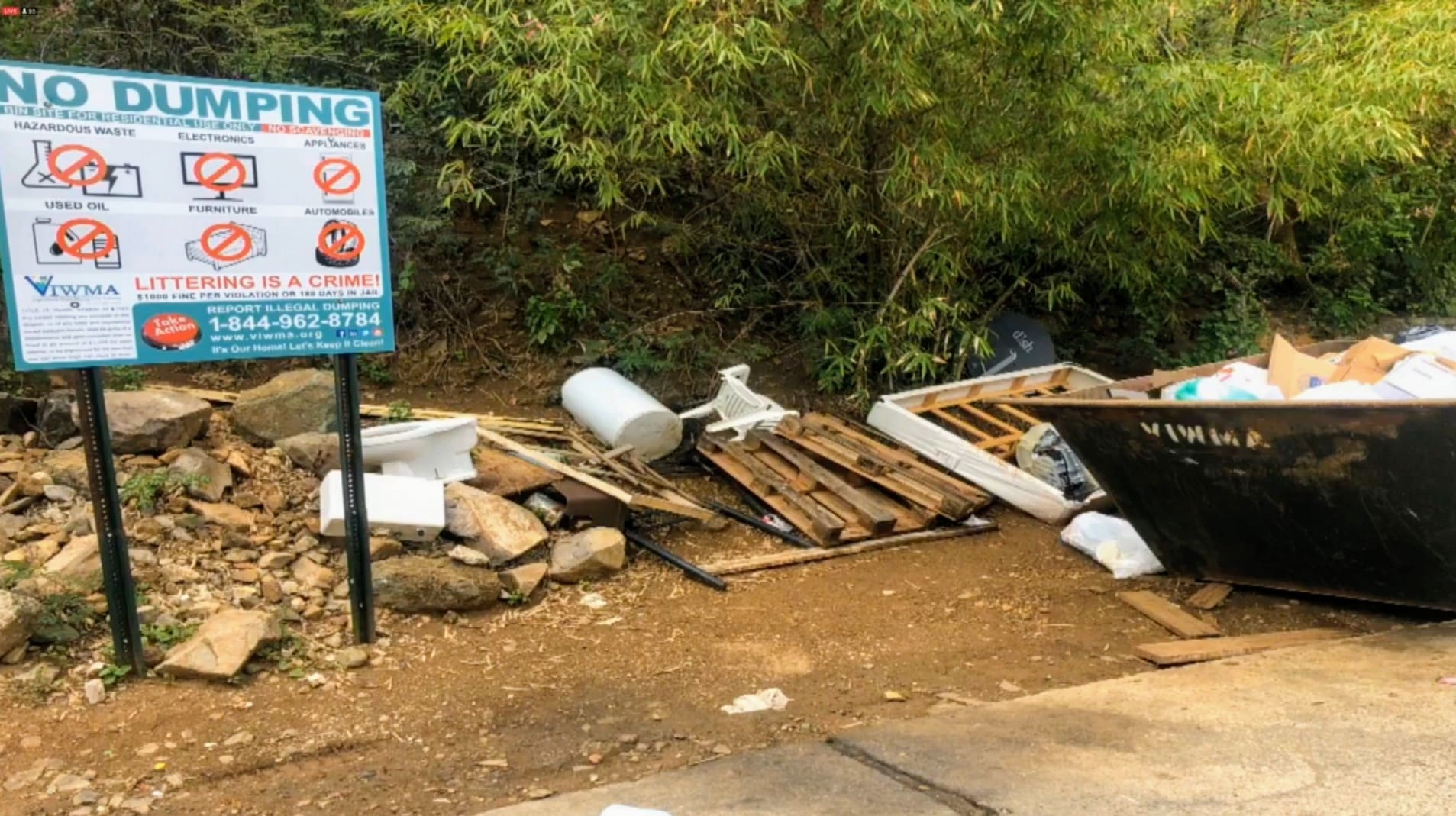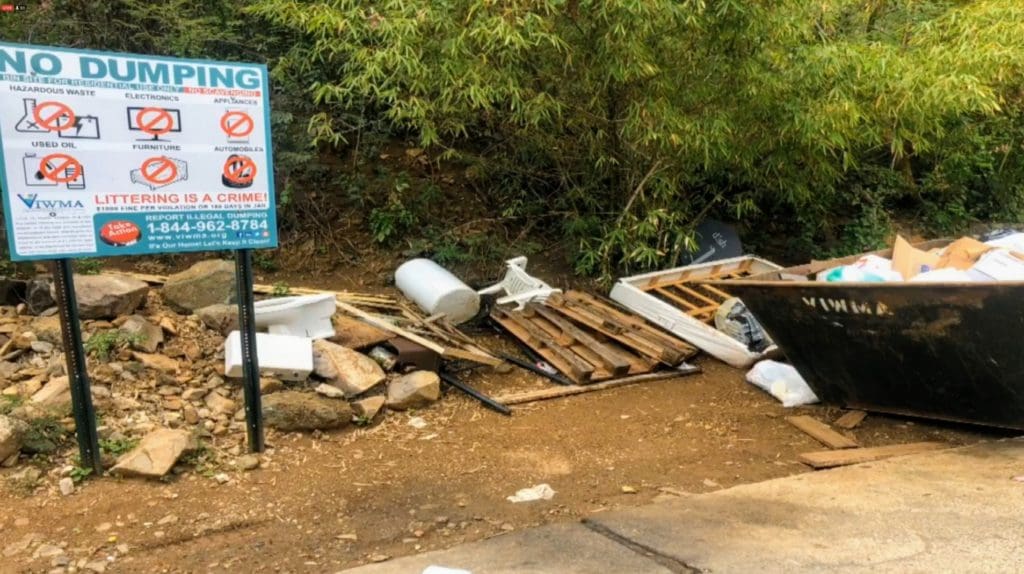 Although Senators' main action at Thursday's Finance Committee hearing was to advance a bill appropriating $15 million to the Waste Management Authority for outstanding debts to waste haulers, lawmakers also took the time to address the public about keeping the U.S. Virgin Islands clean.
"There are ways to reduce, reuse and recycle, but we are too nasty," said Sen. Janelle Sarauw. "As you walk the town, we are just throwing trash everywhere. There was a 14-year-old who was killed in [Tutu] valley because they went to clean up peoples' trash because we were dumping trash on the ground. So yes, the waste haulers need to be paid … but I am appealing to the people of the U.S. Virgin Islands, America's paradise. You cannot treat your paradise the way that you do."
Sarauw was not alone in her sentiments. Non-committee member Sen. Myron Jackson came armed with photos of trash bin sites where individuals had been dumping furniture and appliances.
"We have allowed the worst to be the practice of the day," Jackson said. "We have allowed our Virgin Islands to steep into a deplorable state."
Sen. Donna Frett-Gregory said that what islanders and legislators have demonstrated to others who have moved to the territory is that "as you make mess, we clean it up."
"They say 'When you are in Rome, do as the Romans do.' So we keep our place clean and we have to put out the message that that's what we do," Frett-Gregory said.
While members of the committee criticized the general populous for not cleaning up after themselves, lawmakers also disparaged the Waste Management Authority for what they said is a lack of transparency about their outstanding debts.
"How do they sleep at night," Frett-Gregory said, "when they can't even tell you how much money is owed?"
"It is known that the Virgin Islands Waste Management Authority has struggled for years to be solvent and to make payments to its contractors on a timely basis," said Office of Management and Budget Director Jenifer O'Neal. "This has led to strikes and other forms of expression of dissatisfaction from the haulers in particular, which has also negatively impacted the general public overall through the non-collection of trash at numerous bin sites. What is not immediately known, however, is the actual amount and total of bills outstanding to not just the haulers, but to all of the authority's creditors."
O'Neal testified that she had reached out to Waste Management Authority officials in preparation for the hearing, but her request was not fulfilled.
Using the last report received in July, O'Neal said the Waste Management Authority has roughly $47 million in outstanding debts to all vendors and that nearly $30 million of that is classified as owed to the solid waste service providers.
When speaking to Waste Management Authority Executive Director Roger Merritt Jr., non-committee member Sen. Athneil Thomas said, when someone steps on your toes and you say nothing, it is likely to happen again.
"We are asking you, your responsibility, to deny others from stepping on the toes of the pride of the people of the Virgin Islands and keeping the way this island and this territory looks. You are going to be on the front line for ensuring that … the appearance of the territory is improved right away," Thomas said.
Sens. Kurt Vialet, Donna Frett-Gregory, Janelle Sarauw, Marvin Blyden, Oakland Benta, Allison DeGazon, and Dwayne DeGraff were present for the budget hearing.