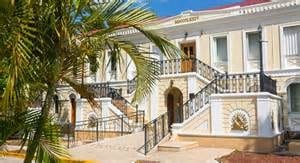 There can be little doubt that USVI is in a financial crisis. In such a situation, when the Government's revenues and funds are insufficient to cover expenses, priorities must be clearly set as to who gets what. And those priorities must have the well-being of residents and retirees of USVI at the top of the list. Last week, the Legislature passed a bill that (a) fails to recognize the state of USVI's finances and (b) fails to recognize that the Government's first duty is to its citizens, not to non-resident investors in USVI bonds.
On August 11, Governor Bryan announced his administration's proposal of Bill No. 33-0363 to refinance and restructure approximately $1 billion of bond debt that is purportedly secured by the Matching Fund Receipts (aka rum cover-over revenues) that USVI receives from the federal government. The Bill envisions a new structure whereby a separate corporation would be created, called a Special Purpose Vehicle (SPV), and the USVI Government would purportedly "sell" to the SPV its right to receive and control the Matching Fund Receipts for the next 20 years (a stream of perhaps $5 billion). A version of the Bill was approved by the Legislature last week.
The Bill, however, requires the U.S. Treasury to agree to deliver the Matching Fund Receipts directly to the SPV and acknowledge the SPV's "ownership" of those funds. Reportedly, the U.S. Treasury has declined to do so. As a result, it is quite possible that the Governor will try to amend the interest-rate cap under the Bill and seek approval from the Legislature again, before October 1.
In anticipation of another Legislative vote early next week, Government Retirees United for Fairness (GRUFF) and St. Croix Government Retirees (SCGR) respectfully urge Government retirees and other USVI citizens to reach out to your Senators – immediately (before they consider an amended Bill later this week or early next week) — to demand that they vote against the amended Bill. At a time when USVI's finances are in a dire state, this Bill seeks (reserving all legal arguments as to its efficacy) to take one of USVI's most precious assets and place it in the control of creditors who do not live, work, buy goods and services, or pay taxes in USVI and to insulate those creditors from bearing any of the burdens of reconstructing USVI's finances. USVI's citizens and retirees should not bear the brunt of decades of financial mismanagement by the USVI Government while investors are protected.
The Bill's Illusory Benefits to USVI
Interest payment savings. In exchange for transferring to bondholders control of roughly $5 billion of Matching Fund Receipts over the next 20 years, the Governor's team touts that the Government will realize a mere $44 million in interest-payment savings during this timeframe. This $44 million is simply not material, in light of the enormous $2.4 billion of public bond debt of the Government and approximately $4 billion of debt owed to the Government Employees' Retirement System (GERS), the massive capital investment needed to overhaul and modernize WAPA, and the even more massive need for reinvestment in the USVI economy generally. And if the Governor needs to amend the Bill and seek reapproval from the Legislature, it is likely that even these savings will have diminished or evaporated under the amended Bill.
Access to Capital Markets. It has been stated that this refinancing will restore USVI's access to the capital markets. This is not accurate. The deal merely refinances an existing debt, and it does so in a way that purportedly improves the creditworthiness or investment rating of the bonds, resulting in a short-term reduction in interest expense for USVI. It does not, however, restore USVI itself to a healthy credit rating and enable it to borrow new money.
The Fundamental Problem
An undeniable pattern has developed over time in the financial practices of USVI – of operating with structural budget deficits (and, in earlier years, borrowing to fund those deficits). These structural budget deficits arise because, notwithstanding a budget process each fiscal year that produces a budget in which total expenses purportedly match the expected revenues, the fact is that the budget does not account for all of the actual and truly expected expenses, and in reality, the expenses exceed the revenues. That means that cash reserves must be drawn upon or, in the absence of reserves, bills do not get paid. Or the Government borrows more money.
This practice means that the finances of USVI are actually getting worse year over year. This routine can cause people to lose sight of the difference between borrowed money – which is debt that must be paid back – and revenues of the territory, in the form of tax revenues, fees, government program revenues, and the like. A truly balanced budget requires total expenses – including necessary funding of pensions and other essential services, expenses of critical infrastructure projects, as well as debt service — to not exceed revenues. USVI is not operating within a balanced budget.
The Way Forward: Living Within a Truly Balanced Budget and Developing a Long-Term Business Plan for USVI
At the Aug. 25, 2020, special session of the Legislature, I stated that in order for USVI to resolve its complex financial issues, it must develop a long-term, viable business plan, with a balanced budget at its foundation, that considers the breadth of its stakeholders, creditors, and investment needs. But this legislation is not part of a long-term business plan that addresses the needs of all stakeholders. It does not offer a solution to the long-term liquidity problems of the territory. It does not create a dedicated and substantial long-term source of revenue for GERS to support the payment of pensions.
Instead, this bill merely seeks to prefer and protect a set of bondholders at the expense of USVI's residents and retirees. This is inequitable, unacceptable, and unnecessary.
To be clear, USVI's financial challenges are the result of many years of financial mismanagement and are not the creation of this Administration or Legislature. On the other hand, this Administration and Legislature must effectively address these issues here and now, and this Bill is a big step in the wrong direction.
Call to Action
So, what to do? We respectfully urge you to call your Senators – immediately (before they consider an amended Bill later this week or early next week) – and ask them why the Legislature would approve this Bill. Ask them what the benefits to the citizens and retirees are from this Bill (and you now know that interest savings and access to the capital markets are not among those benefits). Ask them how – and when — they expect to fix the $4 billion underfunding at GERS, unburden the territory from its massive public debt, and overhaul and modernize WAPA (and do so without raising utility rates). Ask them why they are working so hard to accommodate the financial demands of bondholders who do not live, work, buy goods and services, or pay taxes in USVI, while having no concrete solution to help USVI and its residents.
USVI is at a critical financial crossroads. As public servants charged with safeguarding the well-being of the community, USVI's public officials must be able to provide clear and compelling answers to these questions, and citizens and retirees should accept nothing less.
Editor's note: Robert Gordon is a financial restructuring attorney and partner in the New York office of Jenner & Block LLP. He currently serves as lead counsel for the Official Retirees Committee in Puerto Rico's restructuring proceedings, and he served as lead counsel for the two Detroit retirement systems in Detroit's landmark bankruptcy case. The opinions stated herein are not intended to and do not constitute legal advice to a client and are not intended to address by inference, analogy or otherwise any matter other than Bill No. 33-0363.