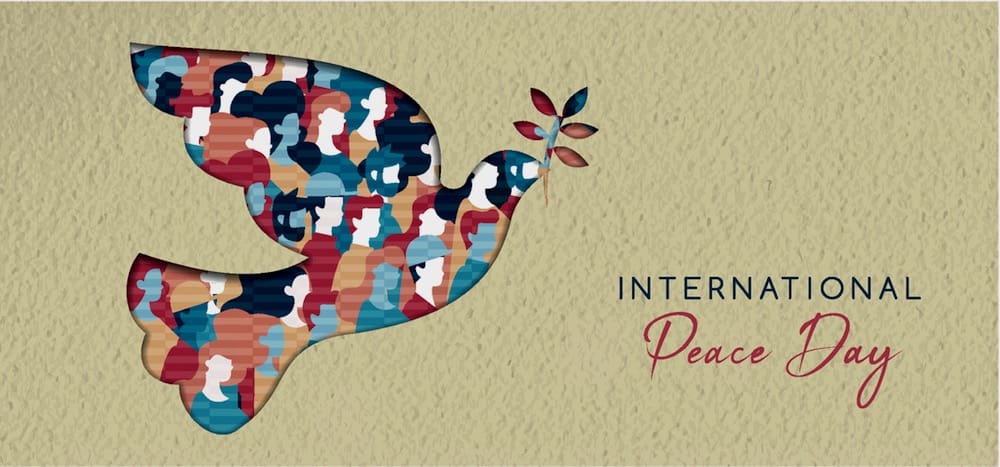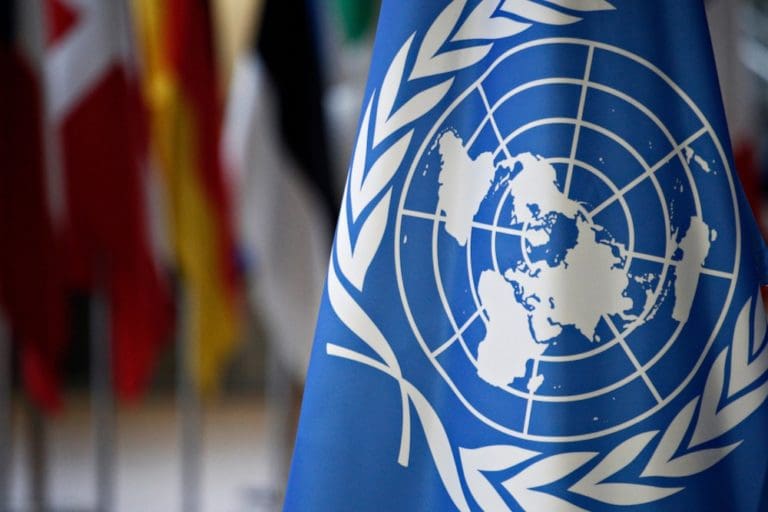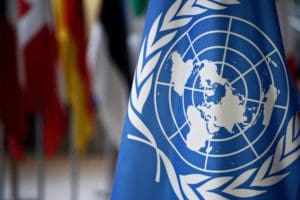 In 1962, when I was in seventh grade, and 19 years before the United Nations International Day of Peace was established and held each year since on Sept. 21, I was chosen to make a trip with a busload of similarly aged students from various Binghamton New York city schools to the United Nations in New York City.
It was a three hour drive. I still can feel all these years later the thrill I felt at being in that huge cement shrine to the ideal of a united world. It was dark and cool in the balcony above the General Assembly. I was shrunk by its enormity and later moved in that goose bumps kind of way of a kid, by the myriad colors and designs of the flags flying in the breeze as we walked around the plaza outside. The United Nations was the world brought together under one roof with a goal to unite it.
I believed in it and in my country back then – in that goose bumpy kind of way we get when listening to a big brass band playing the national anthem.
It is difficult to say which national trauma or world wide disaster changed my goose bumps to shock, confusion and rage. I can't say what day it was that I understood Albert Einstein's assessment, "We cannot solve our problems with the same thinking that created them."
It was only a year after that trip to New York that the unthinkable happened in front of our eyes: John F. Kennedy was assassinated. It was on my 14th birthday. Then Martin Luther King Jr.; then Robert Kennedy, Malcolm X, Black people in our own country being clubbed on television, murders of Civil Rights protesters, My Lai, American interference or involvement in all kinds of violence across the globe. The assassinations that our own leaders plotted and ordered carried out against other world leaders. The times we interfered in the affairs of other countries that we shouldn't have, and the times we looked the other way, like Rwanda, where we did nothing because the tiny, landlocked country had nothing materially that we wanted. No oil, minerals or strategic position for our military concerns.
Those realities came later and slowly as it became harder and harder to hide our transgressions.
Meanwhile, I was brought up to believe in my country and I clung to my childhood version of patriotism longer than some in my generation. And yet in secret (because nobody cared what I thought) I harbored a dream of a world government. Even as a child it was the only thing that made sense to me. Borders, even when I was that young, didn't. They still don't.
And my dream was borne out by the travel I have been graced to experience. I have glided over borders on five continents. I have been met on the other side of these transient lines on a map by people with whom I share evolution, ideas, and most importantly the immediacy of love and mutual respect which is our common language.
As the ravages of climate change have relegated the idea of borders to the annals of ancient history while sending its refugees to be held in horrifying conditions in these liminal spaces between what was and what is yet to be, it is time to stop thinking in terms of nations and the "other." It is time to turn ourselves inward where we might find there is no "other."
The corona virus crisis recently triggered U.N. Secretary-General António Guterres to call for an immediate global cease-fire. On March 21 Guterres said, "Our world faces a common enemy: COVID-19. The virus does not care about nationality or ethnicity, faction or faith. It attacks all, relentlessly. Meanwhile, armed conflict rages on around the world."
The purpose of this day, when it was first established in 1981, was to "strengthen the ideals of peace both within and among all nations and people."
In today's world that goal has never been more important, but the thought that somehow the armed conflicts too numerous to count raging around the globe in this moment, are suddenly going to cease because of a proclamation is as naive as was my early childhood brand of patriotism.
It is worth noting that in the same 1981 document was the intention to also create a United Nations Month and Year of International Peace. A web search using U.N. Month of International Peace turns up only a dozen references to this one day – Sept. 21.
The 1981 U.N. resolution states "Since wars begin in the minds of men, it is in the minds of men that the defenses of peace must be constructed, that a peace based exclusively upon the political and economic arrangements of governments would not be a peace which could secure the unanimous, lasting and sincere support of the peoples of the world, and that the peace must therefore be found, if it is not to fail, upon the intellectual and moral solidarity of mankind."
The United Nations statement is not inconsistent with the widely used challenge, inaccurately, as far as I can tell, attributed to Gandhi, "Be the Peace you want to see in the world."
Whomever actually said it, or even if no one did, the universal truth of it lies within most all spiritual tenets.
In a lecture by Franciscan sister and American theologian and scientist Ilio Delio on April 20, 2017, at Saint Mary's College in South Bend, Indiana, Delio, who holds numerous degrees in theology and science said, "If we want a different world, we must become a different people."
In the nearly hour-and-a-half lecture she held forth that we cannot evolve fast enough to physically adapt to the damage we have left in our wake, that the only hope, as was suggested in the U.N. resolution establishing this International Day of Peace and by Einstein, lies in solidarity of mankind and a change in consciousness.
I would add we must find that solidarity with all living things – not just our species, and connection with some Power greater than ourselves.
Because of my birth into privilege as an American born, white woman from a middle class family, I have also been given space and support for spiritual searching and time for contemplation. And I have the means to act on behalf of those people on the margins in my small way. Sometimes that acting is simply to witness what is happening in this world. To stay informed. Sometimes it means not reacting, but breathing and being silent. Sometimes it means speaking out, risking not being liked or even worse, being wrong and having to admit it.
The lofty notions that created United Nations International Day of Peace have dwindled to this in 2020. "The U.N. General Assembly has declared this as a day devoted to strengthening the ideals of peace, through observing 24 hours of non-violence and cease-fire."
The declaration also calls for us to "Celebrate the day by spreading compassion, kindness and hope in the face of the pandemic. Stand together with the U.N. against attempts to use the virus to promote discrimination or hatred. Join us so that we can shape peace together."
I have struggled with writing this. There is so much more that could be said about the desperate need right now to get on the road to a peaceful world. Strategies, brilliant ideas and plans to be investigated and carried out, quotes to be quoted, personal spiritual history to share, but in the end, I offer only this one final truth for consideration from Yogi musician Krishna Das, whom I had the great privilege of studying with. If we were to live by this one thing, we might be far more aggressive in our search for the peace within and universal solidarity without.
After three days of chanting with a few dozen people and connecting through breath work and song, hearing dharma talks from this man who studied in India with Hindu guru Maharaj-ji Krishna Das's final words were, "In the end there is only One of us."
Imagine that.