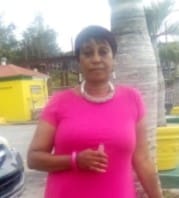 Medina Hercules-Henry died on Aug. 31.
Funeral Services will be held at 10 a.m., Friday, Sept. 18, at Turnbull's Funeral Home and Crematory Services. Interment will be at Western Cemetery No. 1.
Medina Hercules-Henry is preceded in death by her father, Mr. William J. Hercules.
She is survived by her mother, Ms. Julia S. Hercules; daughter, Tichelle Georges; grandson, Jahiel Todman; sisters: Susannah Hercules-Lake, Cynthia, Keisa, Linda and Miriam Hercules of Scottsdale, Ariz., and Viola Gardiner Norford; brothers: Arthur and Ivan Hercules, Pastor John Johnson of Trinidad, Norris D. Dickenson of Bronx, N.Y., Eldered Carty of Miami, Fla., Elroy and Steve Carty of St. Kitts, and Levi Gatewood of England;
She is also survived by nephews: Jacob Lake of North Carolina, Coy Gumbs, Leonard Gumbs Jr. of Rhode Island, Arthur Hercules Jr. of St. John, Robert Lewis Jr. of Virginia, Shawn Dickenson, Jasper Carty, Leslie Hercules, Denroy, Shaquan, Juiquon and Justin Carty, Jumannie Francis of St. Kitts, Meshach Alford of St. Kitts, Jamourne Alford of St. Kitts, Xavier Stapleton of Scottsdale, Ariz., and Joseph and Delvis Gardiner; and nieces: Kaiesa Peets of Jacksonville, Fla., Hannah Lake of Boston, Mass., Jessica Lake of Ariz., Hadessah of the British Virgin Islands, Ke-Ann Creque, Naomi Hercules and Alicia Hercules of Jacksonville, Fla., Ebony, Joy, Kalicea, Micah, Alicia, Shernel Carty and Sherissa Carty, Diane Fleming, Nadelia Stapleton of Scottsdale, Ariz., Sherry-Ann Johnson, Crystal Gardiner, LaShana, Tasha, Beverly and Whitney Johnson of St. Kitts.
Other survivors include brother-in-law, Vernon Lake; sisters-in-law: Fransteen and Monica Hercules; cousins: Elmona and Kirsteen Richardson of St. Kitts, Blanche Silcott, Avalyn Hercules-Warner, Winston Gardiner and family, Margaret Browne and family; Sarah Whyte and family to include Wingrove Maynard, Verna and Elzeva Hercules and family, Shirley Murraine and family, Ilva Phillip and family, Calmetta Prentice and family, Kurt Rogers, Tshayi Trina, Zanele Hercules, Elias and Irad Hercules of the United Kingdom, Dennis, Lennox, Delphilia, Nathalie Hercules, Mavis, Glenford, Jason, Lentina and Ramona Hercules; as well as special friends: Blaine Claxton and Elric Fahie.