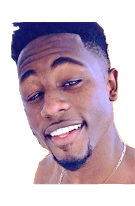 Moquannie "Quannie" Ojari Springer died suddenly on Saturday, Aug. 8, at the age of 25.
He is survived by his mother, Brendalee "Brenda" Simmonds-Springer; father, Floyd "Monys" Springer; grandparents: Theresa Simmonds, Helen Sealey Thompson and Lloyd Springer Sr.; companion, Ysatis  Fenner; aunts: Yolanda Anthony, Gwendolyn Thomas, Sandra Simmonds, Deborah Prentice, Elita Williams, Margarita Thompson, Monique Smith, Jacqueline, Eartha and K'Shante Springer; uncles: Ronald and Cortwright Thomas, Gustave Simmonds, Roy Henry Sr., Melvin Williams, Eugene and George Thompson Sr., Lloyd Jr. and Urick Springer; great aunts: Dorene Rivera, Rita Vallard, Joan Sealey, Brenda Petrus-Bastian and Sarah P. Ross; great uncles: James Jr., Warren Sr., Dale, Richard, Owen and Wayne Petrus; godmothers: Verna Garcia and Olive Fergus; and godfather, Elroy Charles Sr.
He is also survived by cousins: Ronald Jr. and Aljami Thomas, Henderson and Wendy Wheeler, Marissa F. Williams, Mandisa Thomas-Whitfield, Cerissa, Latricia and Rashawn Thomas, Tamara, Shauna, Renika, Abasie, Ajarie, Rianna, Kiswana, Shalisma, N'Qwanda, N'quarie, Kijante, Shadiqu and Z'kijah Williams, Kishawnie, Tahyesha, Halima, Jahmilah and Henry, Terron Petersen, Magdalene Andrews, Nikima St. Juste, Vernon Prentice, Tamika Rose, Natalie Phipps, Daphne Cayetano, Renee, Shanida, Jareese Thompson, Starr St. Jan, Tashorna, Abba, Ima, George Jr., Shamoya and Oniqua Thompson, Latysha, Ezekiel and Shanice Holder, Shandel, Shanda Graham, Kenneth and Nykeia Knight, Akeem, Jahmali and Elijah Johannes, Jamila, Sharifa and Adrianna Springer, Solomon and Symone Smith.
Other survivors include close friends: Tachonda and Tashaira Fergus, Kayshaw Galimore, A'ron Tyson, Onaje Donadelle, K'andre Dorival, Malik Morton, Bruce Parrilla, Richael Phillip, Khaleed, Shaleed & Jahleed Tonge, Isaac Torres, Javon Elliot, Everton Rutherford, Kareem Alexander, Irvin Pierre, Charisma and Dave Julian Sr., Imari C. Julian-Ward, Dave Julian Jr., Marla Moolenaar, Anitra Mason, Romani Hansen, Rodney Smith, the GSI family, Coach Andre Titus Jr., Ashaunti Hodrick, Sam Newman, Jordan Rawlins, Jareem Tutein, George Gervin, Delroy Jr., Delita and Delicia Bates, Allanise Johannes, Evalise Calderon,  Anisha, Mona, Omari and Akeem Stanley, Kylah and Shakielah Frorup, Keiana Elliott and Mahleelah Frett; as well as other family and friends too numerous to mention.
Funeral service will be held at 1 p.m., Friday, Sept. 11, at James Memorial Funeral Chapel. Interment will follow at Kingshill Cemetery. The family respectfully requests that attendees wear a face mask and adhere to the social distancing requirements. Attendees are also encouraged to wear festive colors.