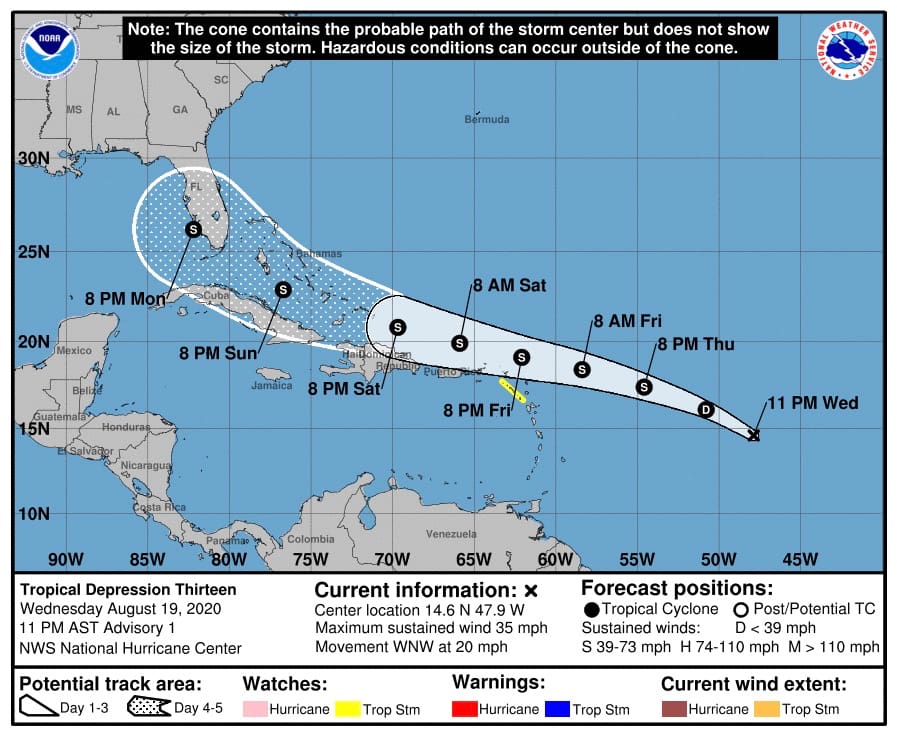 At 11 p.m. Wednesday the tropical weather system known as Invest 98-L was upgraded to Tropical Depression 13, the National Hurricane Center reported.
At the 11 p.m. update, Tropical Depression 13 was about 1,145 miles east-southeast of the Virgin Islands. The depression, with top winds of 35 miles per hour, is tracking west-northwest at 20 miles per hour. Tropical storm watches could be issued for the Virgin Islands on Thursday.
Satellite images indicate that the low-pressure system is becoming better defined, and the associated showers and thunderstorms are showing signs of organization.
"Interests in the northern Leeward Islands should closely monitor its progress as tropical storm watches could be required as early as this evening," the NHC said.
The meteorologists at NHC gave the system a 9 percent chance of tropical formation in the next five days.
On the current predicted track, the depression is expected to move near or just north of the northern Leeward Islands by late Friday, and near or just north of the Virgin Islands and Puerto Rico on Saturday.
Current projections put the center of the depression approximately 89 miles north-northeast of St. John at 3 a.m. Saturday as a tropical storm with top winds of 50-60 miles per hour.
Gradual intensification is forecast, and the depression is expected to become Tropical Storm Laura by late Thursday. The weather system has the potential to produce one to three inches of rain with isolated maximum amounts of five inches through Friday night over the northern Leeward Islands and Puerto Rico.