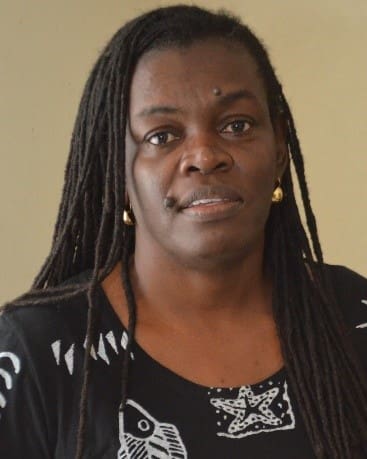 Beverly C. Henry-Richards died on Sunday, Aug. 9. She was 58 years old.
She was preceded in death by her mother, Loretta Edney-Henry and father, Clarence Henry Sr.
She is survived by her spouse, Usie R. Richards; daughters: Nneka Henry-Richards, Nailah Browne and Amarae R. Wheatley; grandchildren: Jaylah Browne and Micah E. B. Wheatley; sisters: Leona Smith, Marlene Henry and Olive Fergus; brothers: Clarence "Kaie" Henry Jr. and James Henry; nieces: Sheniqua Henry, Kamaria Henry, Anaya Henry, Tachonda Fergus and Tashaira Fergus; nephews: Clifford Smith, Clifton Smith, Zaire Henry, Careem Smith, Masoy Henry, Marcus Richards and Askia U. Richards; and great-nieces: Anirah Smith, Alayrah Smith, Ashlynn Smith and Zahria Greene.
She is also survived by great-nephews: Kane Richards and Akia Richards; aunt, Magdeline Edney; sons-in-law: Brandon Davis, Joshua Browne and Milton Wheatley; brothers-in-law: Bennett Smith and Dwayne "Masik" Fergus; sisters-in-law: Bernadette Richards, Shelet Greenidge and Juanita Iles Richards; godchildren: K'Nori Watts, Jahnai Peter and Kahn Pope; and special friends: Xiomara Aquino, Olive Barnes Cyrus, Cedelle Petersen Christopher, Monica Thomas, Marva Bedneau, Jacqueline Vitalis, Jeselle Cruse-Peter, Eleanor Latimer, Delores Edwards, Stephanie Nielsen, Errol "Diamond" Moore and Benjamin "Benji" Mitchell.
Other survivors include cousins and other relatives: Annette Parris-Delgado, Velma Parris-Hankins, Norma Parris-Bruce, Winston Parris Sr., John Parris Jr., Ludvig Parris, Marjorie DeLugo, Monique Macedon, Edna Joseph, Leslie Edney, Winston Parris Jr., Sharna Parris, Aisha Williams, Kanika Pennyfeather, Sasha Green, Tehran Parris, Dejah Parris, Amiyra Parris, Evelyn Amantine, Elijah Parris, Paul Gaymon, Takoma Gaymon-Coleman, Chaniqua Gaymon, Yolanda Rojas, and the Andrews, Barbel, Edney, Henry, McIntosh, Milligan, Parris and Petersen families; as well as other relatives and friends too numerous to mention.
The funeral service will be held at 10 a.m., Friday, Aug. 21, at Island Center for the Performing Arts. Tributes will begin at 9 a.m. Interment will follow at Kingshill Cemetery.
Due to the coronavirus pandemic restrictions, attendance will be limited to family, close friends and colleagues. The family respectfully requests that attendees wear a face mask and adhere to the social distancing requirements. Attendees are also encouraged to wear festive colors. We thank you for your understanding.