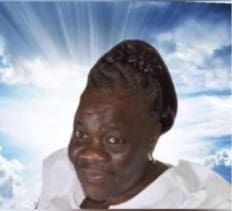 Jeannette Maybel Huggins-Webster died on Sunday, July 19.
Jeannette was preceded in death by her parents: Alfredo "Fredo" Huggins and Lilian "Rose" Prentice-Huggins; and nephews: Antonio "Tonce" Callwood, Cecil Huggins and Mario Huggins.
Jeannette is survived by her husband, Stephen "Lyle" Webster; children: Glenroy Huggins (Diane) Orlando, Fla., Tessa Huggins (St. Thomas), Sharon Warner (Davin) Nevis, Larrell, Steven (Kimberly), Mitch and Atoya Webster (St. Thomas); sisters: Violet Somersall, Joan Huggins-Gomez (Todd) (Orlando, Fla.), Claudette Prentice and Joycelyn (Yvette) Huggins (St. Thomas), and Genevieve Prentice-Thomas (Aldrick) New York; and brothers: Junior Huggins and Alfred "Copter" Prentice (St. Thomas), Miller Huggins (Tampa, Fla.) and Wendell Huggins (Atlanta, Ga.);
She is also survived by aunts: Lillian Prentice (Nevis) and Christina Hicks (St. Croix); and grandchildren: Glenroy Jr., Trevon, Carlton, Kimesha, Deborah Huggins (Florida), Akeem Paris (Missouri) and Jovanty Paris (England), Shayniqua and Steven Webster Jr. (St. Thomas), Mac-Keda Smith and Shelston Davis (Nevis), Khamari and Ka lea Jarvis, and Alexis Wood (St. Thomas).
More survivors are great-grandchildren: Noah, Nylah, Emmanuel Huggins, Kymoni Laningo and Rylee Paris ( Fla.); nieces: Charmaine George-Monsanto (Alcello) Delaware, Roxanne Callwood, Francesann Somersall (Orlando, Fla.), Yvette Huggins (New York), Celine Huggins (Tampa, Fla.), La Toya Huggins-Hendrickson, Jeneva and Michelle Callwood, Precious Huggins (St. Thomas) and Lene Huggins (Atlanta, Ga.); and nephews: Olsen "JunJun" Christian Jr., Miller Huggins Jr., Alverne Emmanuel (Atlanta, Ga.), Thomas Somersall Jr., Jamal Gomez, Anselmo Callwood (Orlando, Fla.), Wendell Huggins Jr. (New York), Kadeem Huggins (Cleveland, Ohio), Gregory Huggins, Ira Callwood, Alvino Emmanuel and Terance Somersall (St. Thomas).
Other survivors include brothers-in-law: Maclean Webster and wife Zelma (Anguilla), Leander "Bull" Bryan and wife Veronica Bryan (Anguilla); sisters-in-law: Genevieve Thompson and husband Derek Thompson (St. Thomas), and Zelmera Valasquez and husband Carlson Velasquez (St. Martin); Jeannette is also survived by a host of family members that include the Webster, Huggins, Prentice, Callwood, Somersall, Francis, Stapleton families and many friends and family in Nevis, St. Kitts, Anguilla, New York and Canada; as well as nieces, nephews and cousins too numerous to mention.
The first viewing will be from 3-5 p.m., Friday, Aug. 14, at Turnbull's Funeral Home. The second viewing will be held at 9 a.m. followed by a service at 10 a.m., Saturday, Aug. 15, at Turnbull's Funeral Home. Interment will be at Western Cemetery No. 1.