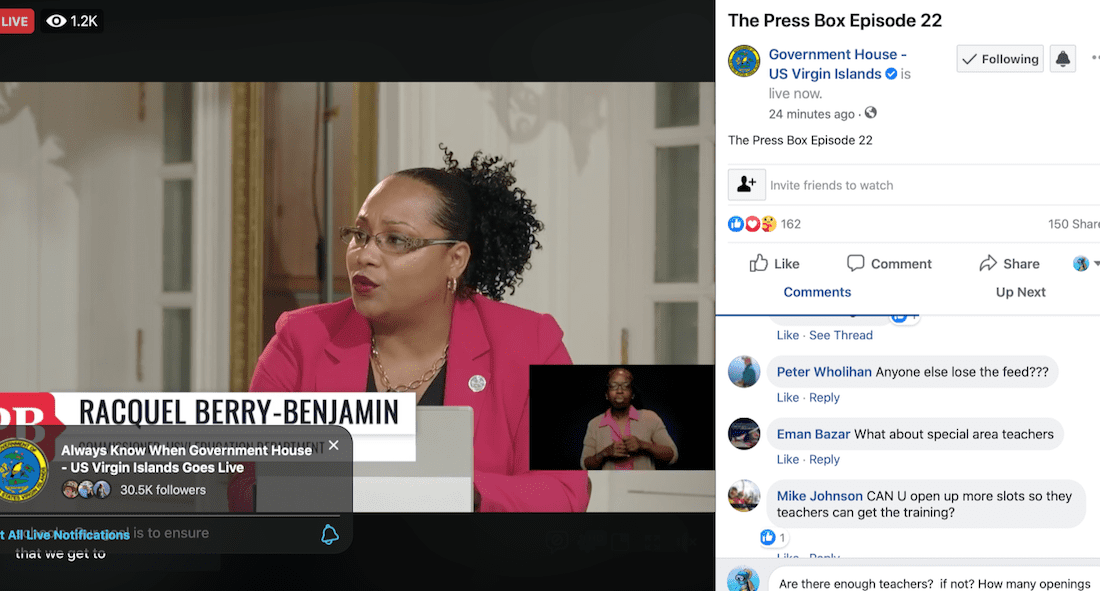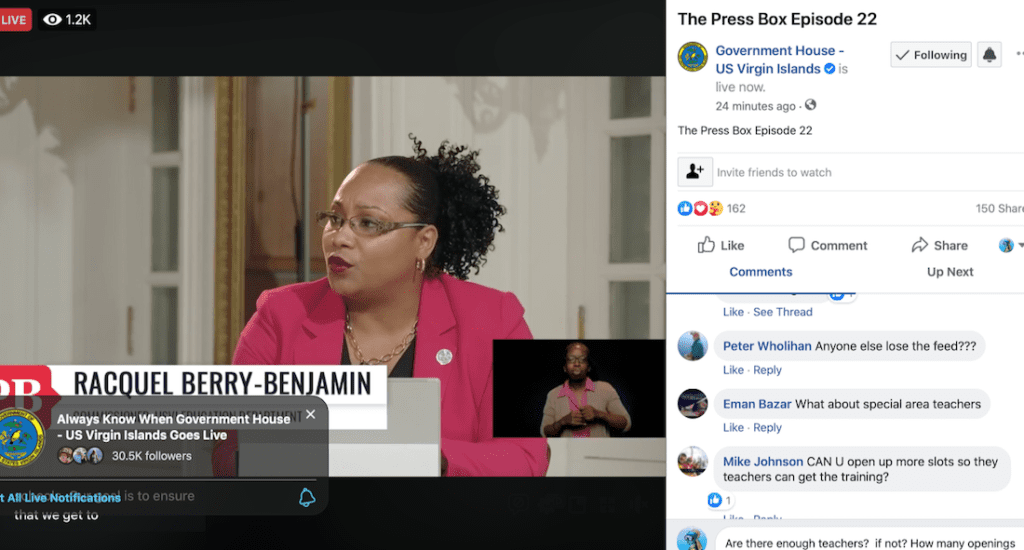 The V.I. Department of Education is once again shifting plans for the start of school following Gov. Albert Bryan Jr.'s announcement Thursday afternoon that all non-essential government workers will be working from home in response to the increase in COVID-19 cases.
Bryan's announcement Thursday means teachers, counselors, and support personnel can expect to deliver their services online from their homes rather than online from their classrooms when school begins Sept. 8.
The governor announced a new set of stricter stay-at-home measures after test results showed that the number of active COVID-19 cases in the territory jumped from 128 on Monday evening to 197 on Thursday morning.
"Let's remember to remain flexible," said Education Commissioner Racquel Berry-Benjamin on the "Press Box," the VI Government's Thursday night public information program which is televised on the Government Access Channel and live-streamed on Facebook.
Berry-Benjamin presented the newly revised plan on Thursday's show after a public briefing scheduled for the morning was canceled. She appeared along with St. Croix District Superintendent Carlos McGregor and St. Thomas-St. John District Superintendent Stefan Jurgen.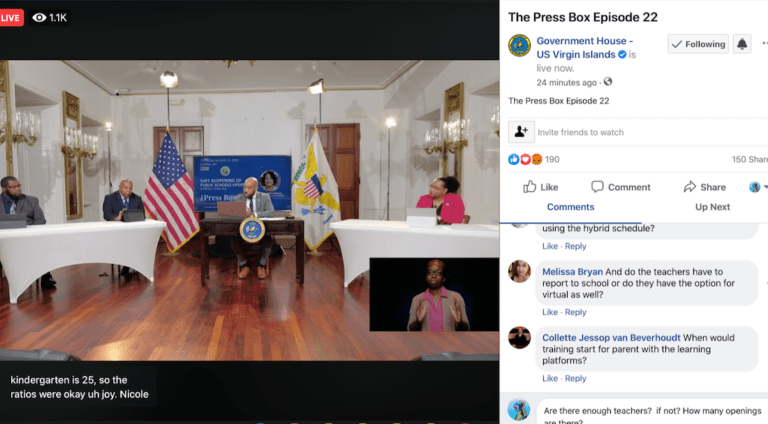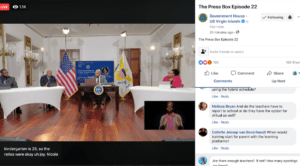 Because the entire school system will be moving to an online format, it's imperative that parents complete a Home Technology Information Form by the end of the business day on Friday, Aug. 14.
Parents who do not have access to the internet can call the Department of Education to complete the form. On St. Croix, the phone number is 340-778-1600; on St. Thomas, the number is 340-775-2250.
This form will allow parents to request computer and MiFi internet devices for their children to continue their learning at home.
The Department of Education has ordered 12,000 Chromebooks, enough to distribute to each student so that all will have equal access to technology. Until those Chromebooks arrive, however, the department has a limited number of laptop computers to lend to families most in need of equipment.
Berry-Benjamin thanked the families for their honesty when they filled out the technology survey form. Of the 2,073 parents who responded, 1,523 said their households had access to the internet, while 550 said they did not.
Fewer families said they had enough laptops for their children to use – 1,484 said they had a laptop in the home, while 589 parents said they did not.
In addition to borrowing computers and internet devices, parents will also be able to come to their children's school and borrow desks and chairs so that every child would have a proper workspace at home. All equipment will eventually be returned, and parents will be held fully responsible for any equipment that is lost, stolen or damaged.
Friday, Aug. 14, is also the day that the Department of Education plans to publish details about each school's daily schedule.
When school begins, the department is planning full days of direct, live instruction. Students Pre-K through second grade will be engaged for four and a half hours each day. Students in grades four through six will receive five hours of instruction, and students in grades seven through 12 will receive five and a half hours of instruction.
The uniform policy will be relaxed in certain ways. Students will be required to wear their school shirts but can choose their own pants or skirts to wear with them. Wearing hats, sunglasses, and excessive jewelry will not be permitted.
Officials said they were excited by their new hub platform Schoology, which will manage the school calendar and serve as a communication tool among parents, students, administrators and teachers.
Schoology can be integrated with Power School, the department's grading platform, and also with Microsoft Teams, a program similar to Zoom. It will support teachers as they present lessons using iReady, Edmentum, and Ecellus.
Parents will receive training in using these platforms so that they may assist their children, and textbooks will be available online.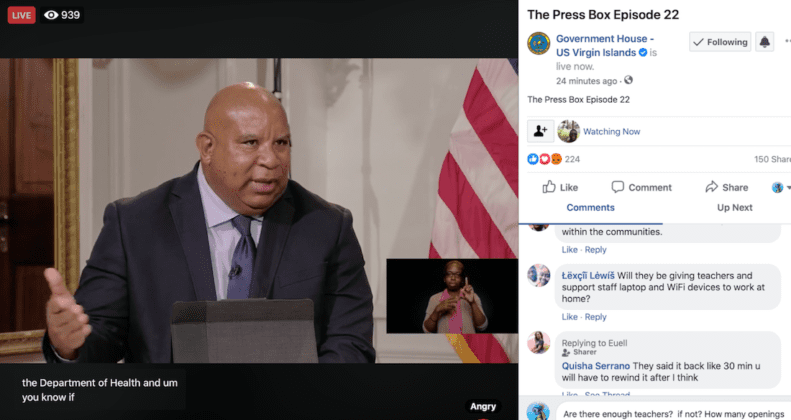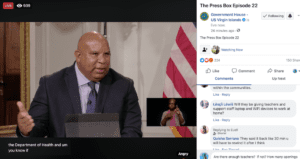 St. Croix Superintendent McGregor said parents will need to have conversations with their employers so they can arrange their time to assist their children.
"Aunties, uncles, grandparents – the whole village – will have to come through," he said. "We need all hands on deck, with suggestions, ideas, prayers, and support."
Berry-Benjamin said the new term will begin with a soft opening for the first two weeks during which students, teachers and parents can practice the logistics of full-time online learning.
Teachers, custodians, nurses, monitors, and other school staff members have already begun training for changes expected for the new school year. The move to full-time distance learning for the coming term also means all school kitchens will remain closed, said Berry-Benjamin. Plans for breakfast and lunch service were not discussed at Thursday's session.
Special provisions are being made for English Language Learners and students with special needs, but details about the plans were scant. Berry-Benjamin said Individual Education Plans will be followed, and occupational and physical therapists will demonstrate to parents online how to provide this kind of care at home. "There will be challenges; parents are not trained professionals," she said.
Although parents called in with questions about when children might return to the classroom, Berry-Benjamin said the Department of Health will determine when it's safe for teachers to return to their schools and when children can begin to phase into a hybrid model of education if they choose.
With the pandemic surging, back-to-school policies have also been changing, sometimes within a matter of days. Several weeks ago, the Department of Education announced that students could choose to take all their classes online, or follow a hybrid model – where students attend classes on campus on certain days and use distance learning platforms on other days.
This policy was changed when the Department of Education announced Aug. 6 that instruction would take place solely online through the first semester of the 2020-2021 school year; at that point, although students were to remain at home, school personnel would be reporting to their respective campuses.
Now everyone will be at home, dealing with the challenges of online instruction for the foreseeable future. Although parents called in with questions about when children might return to the classroom, Berry-Benjamin said the Department of Health will determine when it's safe for teachers to return to their schools and when children can begin to phase into a hybrid model of education if they choose.
"Our goal is to transition into a true 21st century education," said Berry-Benjamin. "Robust and comprehensive distance learning is the end goal. This is a practice run."
"At the other side of all this, it's really going to be beneficial," said St. Thomas-St. John Superintendent Jurgen.