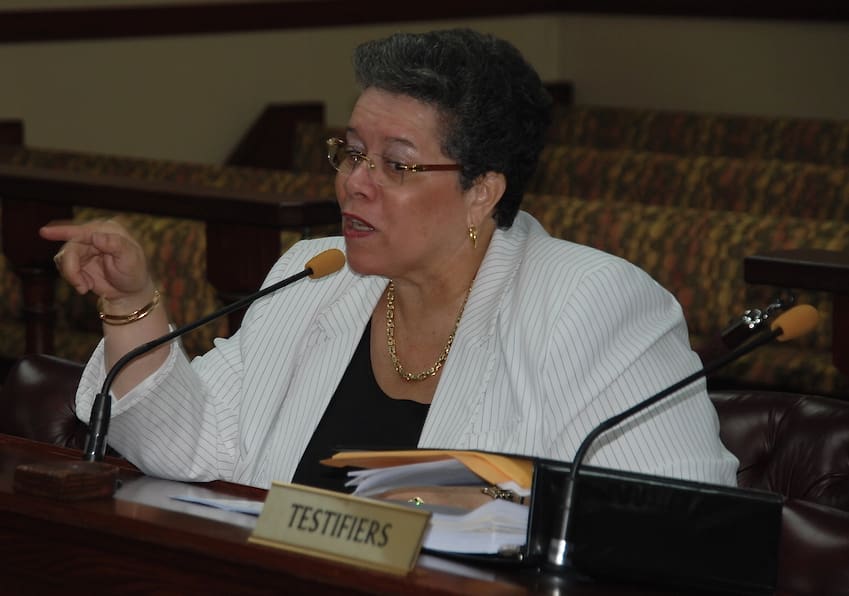 A public official who admitted to taking thousands of dollars from the Casino Control Commission was sentenced to 24 months in prison on Thursday. Former Commission Chairwoman Violet Anne Golden appeared in a teleconferenced hearing before District Court Judge Robert Molloy.
Golden was indicted by federal authorities in July 2019, along with associate Stephanie Barnes. As head of the agency that regulates casino gaming operations in the Virgin Islands, Golden hired Barnes to conduct workshops for problem gamblers.
But a 2018 audit published by V.I. Inspector General Steven van Beverhoudt revealed an agency with no accounting systems in place and a pattern of unauthorized spending. Investigators found that most of the spending was done by Golden on trips to deluxe hotels, clothing and personal purchases. Barnes came along on some of those trips – sometimes with a relative – at the government's expense. There were payments made to relatives and the use of a government-issued credit card for unapproved purchases.
Charging documents in the embezzlement case listed 18 separate acts committed in 2015, 32 in 2016, 22 acts in 2017 and four in 2018 as the inspector general's auditors closed in. Purchases included admission to Walt Disney World, tickets in Las Vegas to Cirque de Soleil, the St. Kitts Music Festival and Broadway tickets for three to the hit musical, Hamilton.
Expenditures included cash advances to a relative of Barnes and a purchase of lingerie at TJ Maxx. There were first-class air travel and several car rental bills, including one for $3,009.35.
At the sentencing on Thursday, Molloy called the defendant's acts a textbook example of government corruption. The judge told Golden the court would send the wrong message to the community if those misdeeds were not punished.
The defendant received 24 months for federal program fraud and a one-year sentence for failing to file income taxes on an annual salary of $105,000. Golden pleaded guilty to the two offenses at a hearing held in January.
Molloy also ordered Golden to pay restitution and turn over her Jeep Wrangler and other property purchased with stolen funds.
Golden surrendered to authorities after the January hearing and has been held in custody since then. When given a chance to make presentencing remarks, Golden apologized to the court and said she takes responsibility for her actions.
The defendant wept when she recalled the death of her mother from cancer during the months she was in detention. Before pleading guilty, she said she served as her mother's caregiver.
Accepting the blame earned her a reduction of penalty points as Molloy calculated the factors adding up to a prison term. But the amount of pilfered funds – more than a quarter of a million dollars – weighed heavily against her.
"Two hundred ninety-four [thousand] dollars is a significant amount," the judge said. Defense attorney David Cattie argued against including the $45,500 salary given to Barnes by Golden as part of a consultant contract. Barnes was trained to conduct the problem gamblers' workshops and, while there was no record given to the court about the number of people who attended, she did perform the work, Cattie said.
While Golden and Barnes began their legal battle as co-defendants, they parted ways after the casino chairwoman pleaded guilty. Barnes is now scheduled to stand trial on charges of money laundering and conversion of government funds in September.