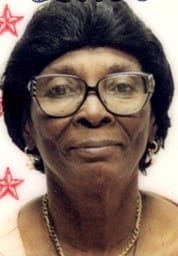 Geraldine Justina Elizabeth Solomon, affectionately known as "Nenen" or "Ms. Ruby," was born on Feb. 10, 1927, in Sea View Farm, Antigua.  She completed her education in Antigua before relocating to St. Croix in mid-adulthood.  She worked for many years in the St. Croix community helping families manage their households.  She was also a seamstress.  Many people can remember that she often sewed and charged nothing or very little for her services.  She saw sewing mainly as a hobby and enjoyed seeing people dressed nicely in the clothes she made.
Ms. Solomon was a foster parent for over 20 years.  She cared for children from early childhood to adulthood.  After leaving her home, many of the children continued to call, visit and send gifts as a form of remembrance and appreciation.  Two extra special children, Leona Miller and Leroy Woodrup, who are now both adults, fondly remembered Ms. Solomon for every birthday and on many special occasions.  She always had a joyful heart whenever their names were mentioned.
Ms. Solomon had specific wishes for what she wanted her loved ones to know.  First, that she loved them.  She wished to be forgiven for the times that she hurt her family, friends and others.  Secondly, she never feared death itself because she saw it as a beginning, rather than an end.  Thirdly, she wanted all of her family and friends to make peace with each other. Fourthly, she wanted everyone to remember her the way she was before she became ill; she wants memories of her life to give everyone joy and not sorrow.  Lastly, she wanted to be remembered as someone who did her best to serve the Lord and to help people.
Ms. Solomon was a very spiritual person.  She had a lovely voice and found great delight in singing praises to the Lord.  She was a member of the Women's League at the Ebeneezer Methodist Church and the choir at the Ebeneezer Methodist Church.  She delighted in singing solos.
On July 19, 2017, Ms. Solomon was placed at the Herbert Grigg Home where she remained until her passing on Aug. 4, 2020.
Ms. Solomon lived a long life, dedicating it completely to Jesus.  She believed in Phillipians 1:21: "For me to live is Christ and to die is gain."
Ms. Solomon was 93 years old. She is survived by her nephew, Allonso Solomon; cousins: Garfield and Jeneva Lawrence; god-son and wife: Basil and Beverly Richards; caregivers: Theresa Gibbs Jackson and Wanda Wright Hamilton; special friends: Francil Stanley, Gerarda Gibbs, Sherly Jackson, Wilda Emmanuel, and friends from D. Hamilton Jackson Terrace; special children: Asha Lee Cadogan, Jennah-Li Jackson, Brandon Lee Spencer, Noel Alicea, Leona Miller, Sgt. Leroy "Junie" Woodrup Jr. (U.S. Army), Letisha G. Rodney (god-daughter), Michael Bridgewater and Ebony Emmanuel.
Special thanks go to Dr. Hwa Jong Park, Staff at the Herbert Grigg Home, Reverend Gilbert Laban of the Ebeneezer Methodist Church, Ebeneezer Women's Club, Mary Benjamin, Amorite Connor, Elmeda Stanley, Alicia Jones and Gem Romney.
Cremation services are entrusted to Schuster's Crematorium LLC.