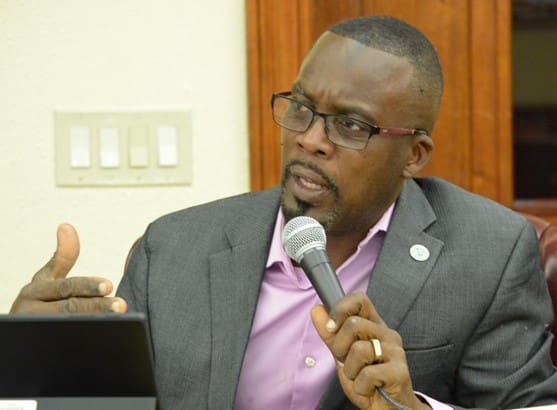 Agriculture Commissioner Positive Nelson told his former colleagues in the Senate Tuesday, "It is time we once again take Agriculture seriously. We have to put our money where our mouth is." He said it is time the government prioritizes the expansion of Agriculture for the benefit of farmers, families, the community at large and the V.I. economy.
Nelson said at a budget hearing the Department of Agriculture is operating with "less than a skeleton crew." He said the department once employed as many as 400 people but is now down to less than 50.
Agriculture is requesting $4.3 million from the General Fund for the fiscal year 2021. Of that, $3.6 million is for personnel costs. The other $650,000 is for animal service contracts ($400,000) and startup for hemp regulation ($250,000). Personnel costs alone in the last budget were almost $4.3 million.
The department's Post Audit Report said eleven vacant positions totaled $387,890 in the budget. The report added, "Considering the reduced economic activity within the territory and the reduction of revenue collections, the Post Audit Division cannot recommend the funding of vacant and/or new positions at this time. It is our recommendation that the Department of Agriculture personnel services and fringe benefits be reduced to reflect such."
Senators expressed concern that money had been set aside to give employees raises, but the raises had not materialized. Nelson said in his testimony that his department has "ongoing struggles working through the bureaucracy of central government as it relates to the timely onboarding of personnel; the procurement of much-needed supplies, equipment and services; and prompt payments to vendors. Because these issues significantly impact the management of day-to-day operations, the hindrances created are at times overwhelmingly frustrating."
Nelson added Agriculture anticipates receiving non-appropriated funds from the Veterinary Medicine Fund ($14,663), the Agriculture Revolving Fund ($88,277) and the Tourism Advertising Fund ($1 million).
The money in the Agriculture Revolving Fund is generated from the sales and services of planting materials such as seeds, seedlings and trees.
Tanya-Marie Singh, chief executive director of the Virgin Islands Public Broadcasting System (WTJX), also testified at Tuesday's hearing, in support of General Fund appropriation of $3.6 million for 2021. This is $400,000 less than recommended by the governor.
"I believe the budget request is reasonable and [we] will support it," Sen. Novelle Francis Jr. said.
Sen. Janelle Sarauw said she is supportive of WTJX and asked if the station could do anything more to help educate students who have been missing school time due to the hurricanes of 2017 and the COVID-19 pandemic.
The Post Audit Report listed WTJX as having 36 full-time positions, with two of them vacant.
Senators at Tuesday's Finance hearing were chairman Kurt Vialet, Sens. Marvin Blyden, Donna Frett-Gregory, Myron Jackson, Sarauw, Athneil "Bobby" Thomas, Dwayne DeGraff, Allison DeGazon, Francis and Oakland Benta.