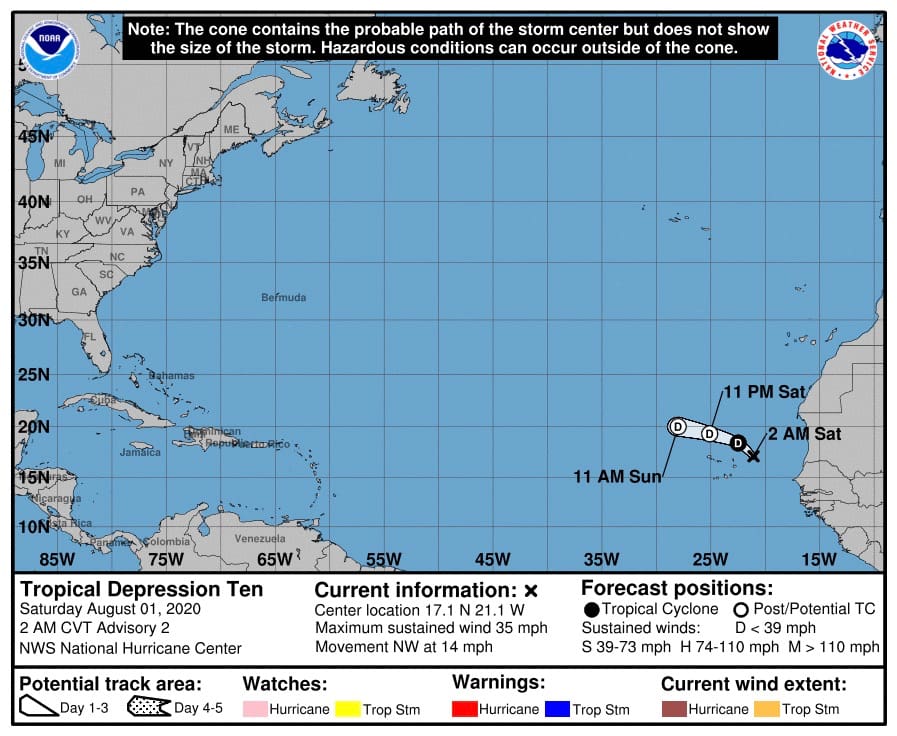 UPDATE – The National Hurricane Center on Sunday issued a final advisory on Tropical Depression Ten, which developed quite rapidly over the far eastern Atlantic. The system no longer has a well-defined center and has dissipated. 
A weather system that is still east of the Cape Verde Islands off the coast of Africa has already blossomed into Tropical Depression 10 and moving west, according to the National Hurricane Center.
In its 2 a.m. Saturday update, the area of low pressure located a couple of hundred miles east-southeast of the Cape Verde Islands had experienced a burst of convection and reached tropical depression status.
The depression is moving northwestward and a turn toward the west-northwest is expected later Saturday as it moves around a larger cyclonic gyre. Conditions do not appear to be favorable for any strengthening, and the dynamical models indicate that deep convection will dissipate later Saturday due to cool underlying SSTs and a drier surrounding environment. The NHC track and intensity forecast is based on the TVCA and IVCN consensus aids and has not been changed significantly.
A westward-moving tropical wave was about 700 miles east of the Lesser Antilles as of early Sunday but was producing few disorganized showers and was given no chance of further tropical development in the next 48 hours and only a 30 percent chance of development in the next five days.