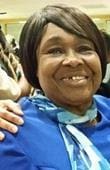 The first viewing for Catherine Daniel will be held from 3-5 p.m., Thursday, Aug. 6, at Turnbull's Funeral Home. A second viewing will be held at 9 a.m. followed by a funeral service at 10 a.m., Friday, Aug. 7, at Christian Unity Church. Interment will be at Western Cemetery No. 3.
She was preceded in death by spouse, Earl Daniel; mother, Mary Samuel; father, Joseph St. Luce, and sibling, Selasie St. Luce.
She is survived by her children: Paul Daniel, Sharon Daniel-Francis and Earl Daniel Jr.; grandchildren: Kebra Daniel, Jaron Francis, Jaheim Francis, Jada Francis and Jinyla Daniel; siblings: Everette Benjamin, Elaine Hopkins, Clemencia St. Luce, St. Claire St. Luce, Maria St. Luce, Evelyn St. Luce, Ina St. Luce, Joseph St. Luce Jr.(Bobby), Theresa St. Luce-Lynch and David St. Luce; as well as many nieces and nephews, cousins and friends too numerous to mention.