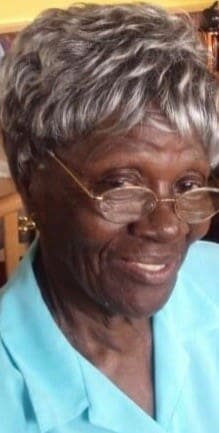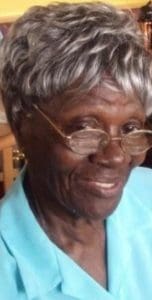 Marie T. Gifford was born on April 23, 1930, and died on July 17, 2020. She died peacefully in her home in Mt. Pleasant, Frederiksted. She was from the island of St. Lucia, West Indies, but a long-time resident of St. Croix.
The viewing will take place at 9 a.m. followed by a funeral service at 10 a.m., Sunday, Aug. 2, at Central Seventh-day Adventist Church, 17-A Estate Plessen, Frederiksted, Virgin Islands.
She was predeceased by her daughter, Margaritta Gifford; sister, Josephine James (better known as Bethaline); and grandchildren: Sirma "Tita" Frederick and Ray Frederick.
She is survived by her daughters: Cynthia Frederick Julian (St. Lucia, W.I.), Madeliene Frederick, Suzan Gifford and Lucy Gifford James (Texas); sons: John Frederick, Paul James (N.J.), Hilarion "Alison" Gifford (Texas), Allen Gifford (St. Thomas) and Alain Gifford; sisters: Mary Philbert (better known as Elaine), and Marie Gustave (better known as Etrina); and brother, Raymond James (better known as Albert).
She is also survived by grandchildren: Matthew Frederick, Crystal Bicar, Ellie "Porsha" Joseph, Tatiana Kadoo, Theresa Gifford, Sherlin Gifford, Joseph Gifford, Ryan Evans James, Omairie James, Brendaline Frederick, Glentis Frederick, Joseph Gifford (Texas), Duran Gifford, Arron Gifford, Glenda Randolph, Laura Randolph-Victor, Maisha Randolph, Angelique Gifford-Hughes, Sherry Gifford, Asha Tavernier, Abel James, Kevin James, Kasious James, Dondre Gifford, Erica Bikar-Nelson, Menshus Bikar, Stacy Frederick, John Frederick Jr., Jahnet Frederick, Bruline Bikar-Lindquist, Beny Bikar, Tex Gifford, Isaiah Gifford, Alain Jacob Gifford Jr., Mechel Frederick and Allen Gifford Jr.
More survivors include great-grandchildren: Deannee Santiago, Keyana Santiago, Meleena Santiago. Jaron Frederick, Walter Frederick, Aden Frederick, Jahniyah Frederick, Marquise Nelson, Miyah Nelson, Shania Lewis, D'Vaughn Randolph, Dillion Testamark, Syenne Wilkinson, Sanai Wilkinson, Leah Hughie, Malik Hughie, Hannah Victor, Danial Drigo, Roan Lindquist II, Jacobe Frederick, Beniah Bikar, Beny Bikar Jr., Myles Carter Bikar, Tex Gifford Jr., Kadin E. Joseph, Kaylie W. Joseph, Tyler Randolph, Leondre Callaghan, Lyric Callaghan, Tayonia Frederick, Kendrick James, Miah James, Karmen James, Royalty James, Chandler Hughes, Dianne Evans, Gianie Evans, Aniah Evans, Shanyia Evans, Ariana Bikar and Kervin Bikar.
Other survivors include nieces: Coltilda Randolph, Lucille Augustin, Romana James, Uline James, Maryanne Philbert, Sylvia Gustave, Marie Gustave, Ena Gustave and Roseline Gustave; nephew, Robin Gustave; daughters-in-law: Claudia Frederick, Iona James, Tricia Gifford and Colinia Gifford; son-in-law, Joseph Julien; closest relatives: the children of her late brother Stanley Karlo Gustave, Mr. Camille Frederick and family, Marie "Sais" Frederick and family, Katerine Camille and family, Agee Frederick and Pascal "Chester" Frederick and family, and Frederick and James family; as well as close friends: Glory Edgar, Mercedes "TIDO" Saltibus and Andrew "Nicious" Wilton.