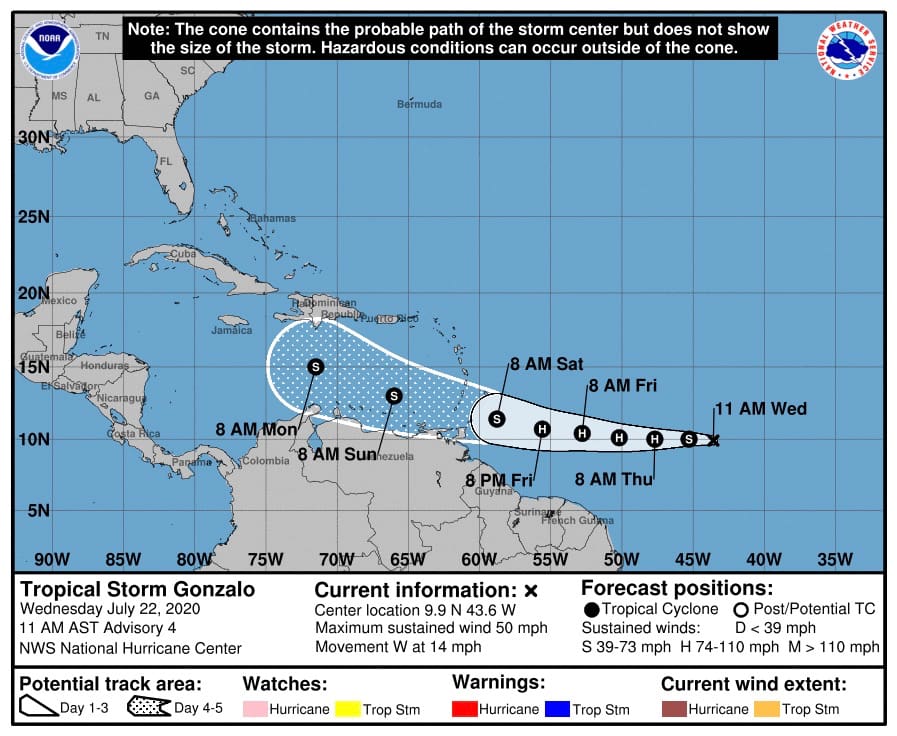 A tropical wave moving across the Atlantic reached storm status Wednesday morning, and is now Tropical Storm Gonzalo, which is expected to reach hurricane strength Thursday as it moves towards the southern Windward Islands, the National Hurricane Center reported.
In its advisory issued at 11 a.m. Wednesday, the NHC reported that satellite imagery indicates that the cyclone had become significantly better organized since an advisory issued earlier in the morning. Visible imagery showed a well-defined central dense overcast with a hint of an eye and an outer convective band in the western semicircle, the report said.
At 11 a.m. AST, the center of Tropical Storm Gonzalo was near latitude 9.9 North, longitude 43.6 West. Gonzalo is moving toward the west at about 14 mph. A general westward motion at a faster forward speed is expected during the next few days.
Gonzalo is a small tropical cyclone, as tropical-storm-force winds extend outward only up to 25 miles from the center, the report said.
"Gonzalo is on the south side of a low- to mid-level subtropical ridge, and this feature should steer the storm generally westward at a faster forward speed for the next three days or so, the NHC said. "After that time, a motion toward the west-northwest is expected."
The agency's meteorologists noted the cyclone has been strengthening quickly and the good organization suggests additional and possibly rapid, strengthening should occur. At the same time, it notes that other forecasting models downplay the possible intensity of the storm, so the NHC compromises between the extremes, showing Gonzalo peaking as a hurricane in 36 to 48 hours, followed by weakening.
No storm warnings are alerts have been issued, but the NHC said interests in the southern Windward Islands should monitor the progress of this system.
Gonzalo is the earliest seventh-named storm on record in the Atlantic basin, beating Gert of 2005 by two days.