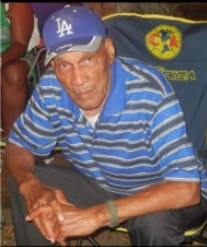 Camille Washington King Sr. died on June 29.
He was preceded in death by his daughter, Merel King.
He is survived by his daughter, Glenda James; sons: Myron King Sr., Norian King and Camille King Jr.; son-in-law, Orville A. James Sr.; daughters-in-law: Roylieen King, Rose Samuel King and Michelle Smith; and grandchildren: Lisa Venzen, Lorna, Rita, Rodney James and Orville James Jr., Myron King Jr., Renee, Melissa, Bryon King, Melanie King-Stewart, Silvia, Almasi King, Cherise, James, Tiffany, Craig and Camille King III.
He is also survived by grandsons-in-law: Delroy Venzen Sr. and Idris Stewart Sr.; special granddaughter-in-law, Jennifer King; favorite cousin, Lilian Aubrey; special neighbors and friends: Calhern George Sr. and Juliet George; and many great-grandchildren, nieces and nephews too many to mention; and special thanks to Roy Lester Schneider Hospital and Continuum Care.
The first viewing will be held from 3-5 p.m., Thursday, July 23, at Turnbull's Funeral Home. The second viewing will be held at 9 a.m. followed by a funeral service at 10 a.m., Friday, July 24, at Lutheran Reformation Church. Interment will be at Coki Point Cemetery.