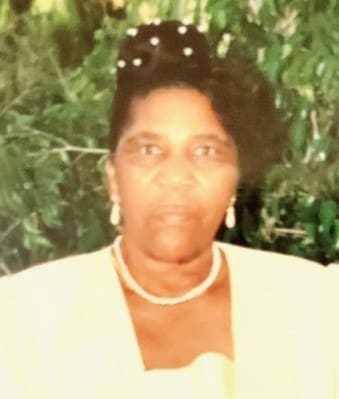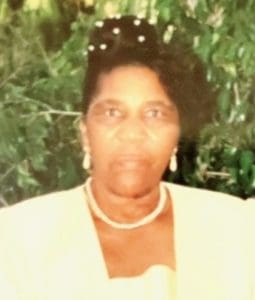 Mavis H. Charles of Ginger Thomas died on Wednesday, June 24. She was 86 years old.
She was preceded in death by her husband, Johnie Charles; mother, Henietta Weatherill; father, Raymond Weatherill; son, Gibson Charles and brother-in-law, Noel Coates.
She is survived by her daughters: Brenda Richardson, Sharon Charles, Anni Charles and Judith Charles; sons: Bernard Small, Donald Warden, Leroy Charles, Kenneth Charles, Christopher Charles and George Charles; and grandchildren: Charon, Vicky, Denise, Joyon Harex, Amanda, Rekiel Reid, Raymond Charles, Marlon Charles, Jermey Richard, Collin Small, Kenneth Charles, Kenisha Charles, Ashley Charles, Gibson Charles, Jared Celia, Ashanti Charles, Christopher Charles, Caitlin Charles, Simone Charles, Doniqua, Nykeshia, Chanae and Tatiana Warden.
She is also survived by great-grandchildren: Phylicia Preston, Natasha Adams, Anthony, Alfred, Tyonna, Jones, Jabel and Jackson Hare, Kenslee Charles, Malaysia Charles, Zariah Charles, Malon Smalls, Maliayah Charles and Kato; sisters: Evelyn Joseph, Edris McFarlande, Sarah Dover Thomas, Jenita Kelly, Blondelle Weatherill and Mignonette Coates; brothers: Secky Weatherill and Selwyne Weatherill; and nieces: Patricia and Pricilla McFarlande, Cerene Jordan, Kathleen Joseph, Cardella Victor, Nickesha Joseph and Shenique Coates.
Other survivors include nephews: Kevin Matthew, Delroy Tonge, Tyrone Johnson, Vivian Ramsey, David Willock, Melrose Joseph, Phillip and Frederick McFarlande; daughters-in-law: Yvonne Small and Cathy Charles; brothers-in-law: Bernard Thomas, Clement Kelly and Leonard McFarlande; sisters-in-law: Joan Weatherill and Yvonne Weatherill; special friends: Ona, Orr, Edris Wiltshire, Ruth Pierre and Janet Liburd; cousins and other relatives: Norma, Errol, Dalman Hector, the Dublin family and Stedman Robertson; as well as other relatives and friends too numerous to mention.
Funeral service will be held at 9 a.m., Thursday, July 9, at Kingshill Cemetery. The family requests that attendees wear a face mask and adhere to social distancing guidelines.