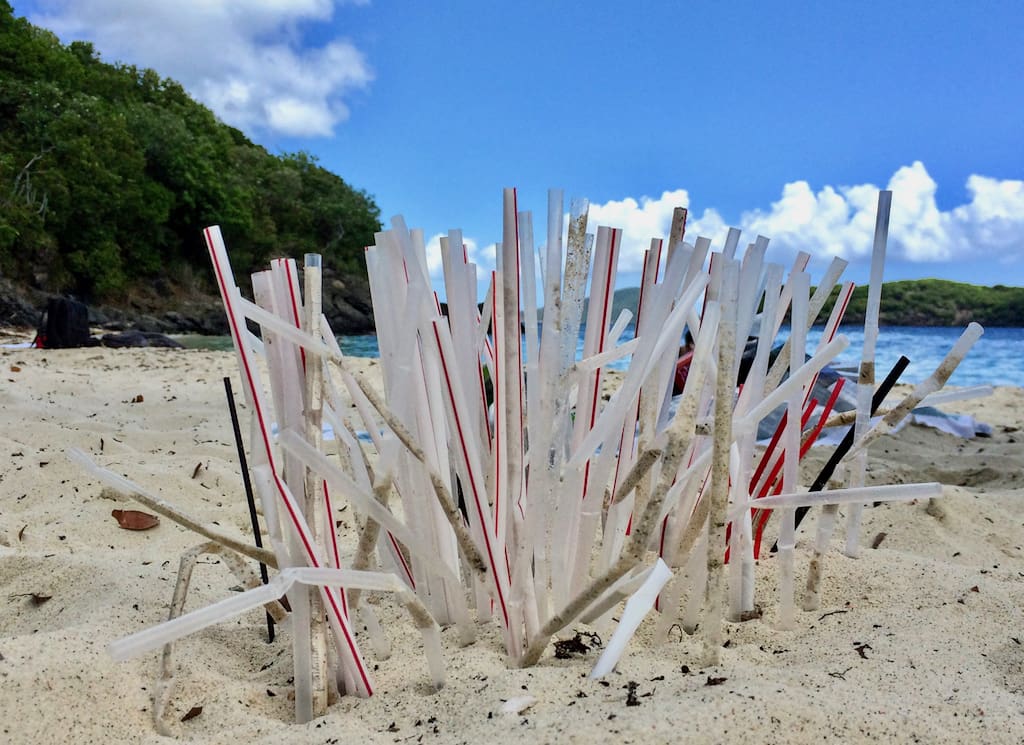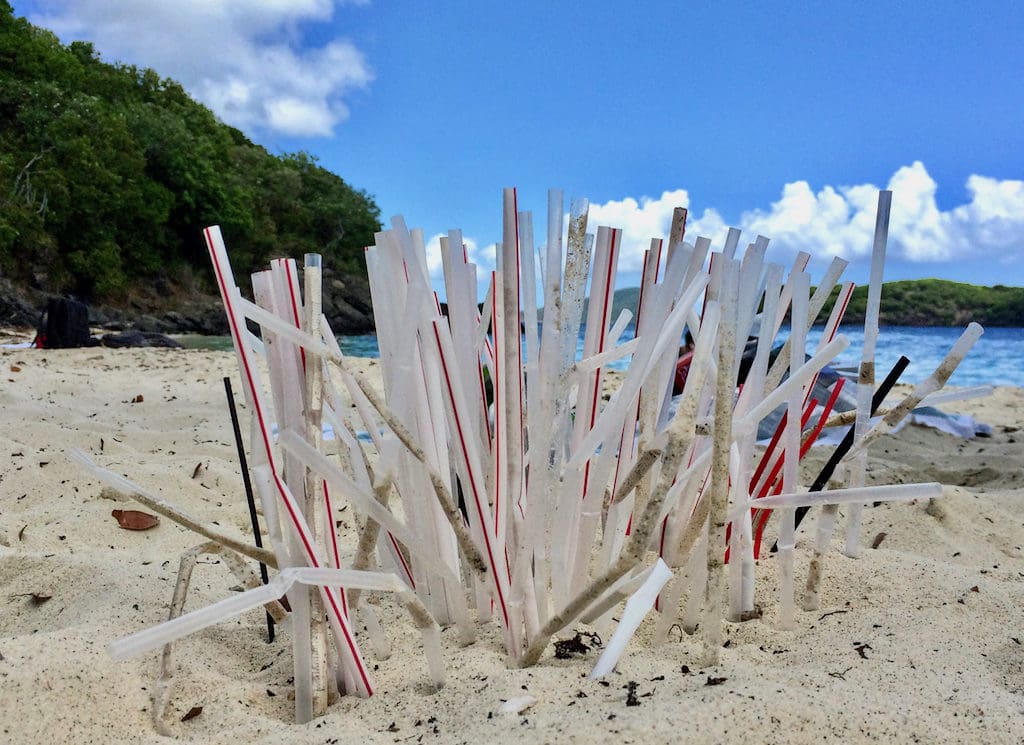 As the world's population crawls through the first half of a most unusual year, many people may not think about observing Plastic Free July. Some Virgin Islanders are mourning the loss of prior lifestyles – like meeting friends at restaurants – while others are sad to see the slow death of their recycling programs and the promise of more plastic debris in months to come. Some diehard tree-huggers are stockpiling plastic bottles, hoping their program will reopen someday.
Those who hate to see plastic waste go to the landfill are saddened with the prospect of more plates, forks, spoon and bottles than ever ending up at the dumps – or worse – in the sea. A government mandate was issued in June for restaurants in the territory to serve all food on disposable dishware, a precaution recommended by the Centers for Disease Control. Even restaurants with high temperature sanitizing dishwashers are not allowed to use their usual plates, silverware and glasses.
It will take a little more dedication than usual to eliminate plastic waste this summer, but Plastic Free July, an international movement that began in Australia in 2011, is here to help.
Last year, approximately 240 million people from 177 countries participated in Plastic Free July in a variety of ways. They brought reusable cups to work or to a restaurant and refused plastic cutlery by bringing their own from home. They used plastic-free toothbrushes, toothpaste, soaps and lotions, and they made their own shampoos, soaps and lotions and stored them in recycled bottles.
Virgin Islanders have trained themselves to bring reusable shopping bags to stores since plastic bags were outlawed last year – although some stores miraculously still have plastic bags. Many have sworn off plastic straws, buying metal or using paper instead. Many people walk with their insulated water bottles, and some schools have added water fountains to fill reusable bottles.
Howard Forbes Jr., St. Thomas coordinator for the V.I. Marine Advisory Service, offered several more permanent ways to reduce waste this July. He mentioned Sawyer water filters, which were sold on St. Thomas by Rotary East for a time. These filters come in several sizes, including one to fit a water bottle sold for $20-40. Larger filters fit a sink for about $50-60 and make cistern water drinkable.
"I don't see why you would spend money on something you have been collecting," Forbes said.
Reducing the use of plastics can be difficult for consumers, Forbes said. Eschewing food and drinks wrapped in plastic for glass or cardboard can be costly. He suggested "going small," perhaps just eliminating plastic bottles or plastic wrap and using waxed cloth food wraps. Buying in bulk is another way to reduce plastic usage, he said.
Forbes said people should not expect to have plastic recycling back in the territory anytime soon. They should change their behavior rather than hoping for that "panacea or silver bullet." Instead of shipping waste to be dumped somewhere else, the goal should be to reduce waste in the territory, he said.
The plastics recycling programs at Plaza Extra shut down on St. Thomas and St. Croix because volunteers didn't want to risk getting coronavirus while collecting items. Volunteers on St. Croix and St. Thomas say they would like to reopen in the fall if possible.
The designated recycling center on St. Croix, which recyclers thought was promised to the program a year ago, has been leased by the V.I. Legislature to a trucking company to open a car wash.
Forbes said there is a "silver lining," to the Virgin Islands' recycling woes. Recently, his division received a grant from the Community Foundation of the Virgin Islands to purchase several glass crushers that will turn wine and beer bottles into sand that can be used to fill sandbags for hurricane season. Crushers have been ordered for St. Thomas. On St. Croix, the land is needed for the small (four feet by a half foot wide) crusher, and to store sand until it is needed.
More ideas from PlasticFreeJuly.org include making party decorations or buying at a secondhand store instead of flying balloons that can choke children and animals. Dried leaves can make an interesting alternative for glitter that clogs drains and remains in the ocean forever.
Plastic Free July invites people to sign up on their webpage to receive ideas that can be used around the world to reduce polymer waste.