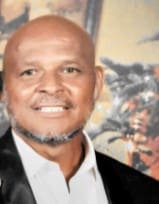 Friends and relatives are advised of the passing of Ronald Rivas, affectionately known as "Ron," on Friday, June 5.
He was preceded in death by his daughter, Rhondi Rivas.
Ron took enjoyment in keeping busy and helping people. With his ready and winning smile, he was very easy to talk to and loved to laugh. He gave generously and served the territory well.
He is survived by his significant other of almost 15 years, Dayna Clendinen; brother, Frank Gonzalez; sisters: Karen Rivas-Stubbs and Denise Rivas Concepcion; stepson, Oren Stephen; sister-in-law, Marilyn Gonzalez; nieces: Hiromi Gonzalez-Racanelli, Brittany Stubbs and Christina Concepcion; nephews, Frank Gonzalez, Ivan Stubbs, Jason Concepcion and Eric Concepcion; best friend, Theodore "Ted" Rohan; and many other caring and loving relatives and friends too numerous to mention.
The funeral services will be held Thursday, June 18, at Turnbull's Funeral Home Chapel. The viewing will be from 10:30 a.m. to 11:30 a.m., followed by the service at 11:30 a.m. Interment will be at Western Cemetery No. 1.