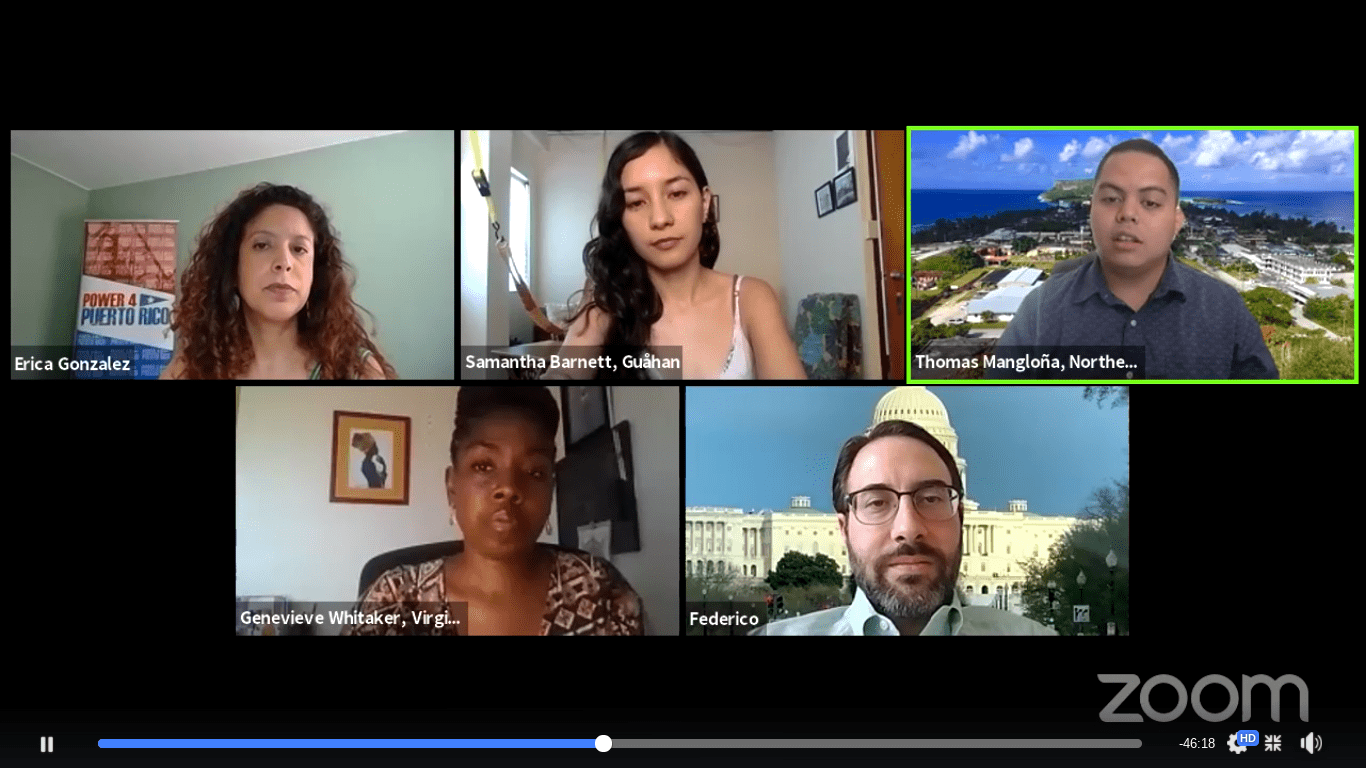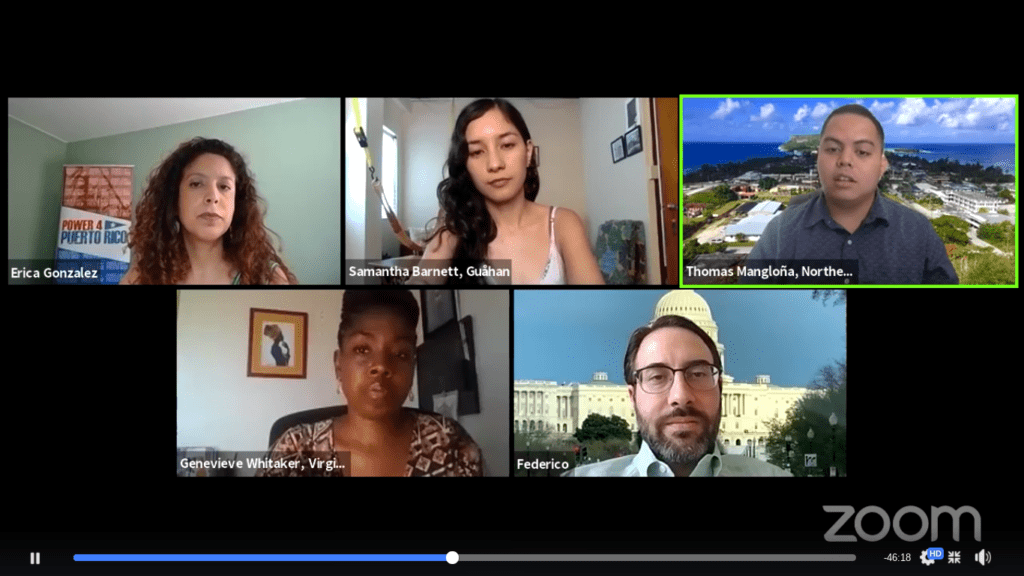 The coalition of organizers Power4PuertoRico hosted a virtual panel of activists from U.S. territories on Tuesday night to discuss the subject of U.S. colonialism.
The panel featured Genevieve Whitaker from St. Croix, president and co-founder of the Virgin Islands Youth Advocacy Coalition; Samantha Barnett, a graduate student and activist from Guam; and Thomas Manglona, a journalist from the Northern Mariana Islands. It was facilitated by Erica Gonzalez and Federico de Jesus – both of whom worked for President Barack Obama – of Power4PuertoRico.
Barnett said there are few opportunities to have similar conversations among people from the territories, and an ethic of solidarity is needed now. "I see empires and colonialism as structures of global white supremacy which were built and strengthened by the dispossession of indigenous people and our land," she said. "[When] our organizing is limited to ourselves and our own issues we are only speaking to the United States and miss out on this opportunity to talk together and respond globally to what is really a structure of white supremacy."
"The root cause of it [colonialism] is racism and prejudices that say we somehow belong to the federal government. That's insulting, and we need to overcome that," de Jesus said.
Whitaker had the opportunity to discuss how to bring colonialism to the forefront of the conversation in the V.I. "It really comes down to education," she said. "If you look at the textbooks and information that we received growing up, that the children are receiving now, structurally it discourages them not to get into activism … It really does start with the curriculum in our schools and higher education."
She also suggested that the media make public service announcements to get the community closer to an understanding of the topic of colonialism.
The panel also touched on the state of COVID-19 in each of the territories, and the lack of coverage of the pandemic in those places.
Whitaker said the biggest problems in the USVI during the pandemic have been the "archaic system" of the tax bureau resulting in a number of residents not receiving their stimulus checks, and that the territory is not counted in the overall count of coronavirus cases in the United States.
Barnett said there have been around 200 cases and about five deaths in Guam, and they have noticed increased U.S. militarism. She said the USS Roosevelt, a warship that was at sea and had a number of coronavirus cases on board, docked in Guam without consulting the local government.
Barnett explained the U.S military owns about one-third of the land in Guam, but instead of housing the soldiers on bases, they housed them close to the local community which posed a health danger.
Manglona said the Mariana Islands have acquired enough test kits to test every resident at least once, and that they have had 30 cases and two deaths.
That territory suspended flights for a month which resulted in a 40 percent dip in their overall economy, he said.
He also said mainstream media covers the territories with "parachute journalism" that only covers the territories "as a paradise destination or a war-torn zone after a disaster." He said an example is how networks sent their A-list reporters to Guam when North Korea sent out missile threats but left just a week after.
He issued a call to action to diversify news sources and cover events with deeper context – for example, explaining more of the history of how the territory is involved in U.S. military operations when a military event happens.
De Jesus spoke about Puerto Rico, where there is a problem distributing unemployment checks to the proper addresses, resulting in people having to sleep in convention centers. He said some unemployment call centers broke down because they didn't have enough people to take calls and process claims.
The panelists also added information about each territory's relationships with the United States.
Manglona said the U.S. military is trying to increase training efforts in his territory.
Whitaker said when the USVI was purchased it took over 10 years for the residents to gain citizenship. The territory was under naval rule until 1931 and residents are still disenfranchised and without full rights, she said.
"We can really see the global patterns that have affected our homelands," Barnett said. "Even though we are situated differently … in terms of relationship with the U.S., that was crafted politically to benefit them, but never us."
When the U.S took over Puerto Rico, it installed a military government and shut down freedom of the press by closing one of the leading papers at the time. It took until 1917 for Puerto Ricans to become non-voting citizens of the United States.