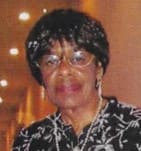 On April 29, Noel Rabsatt died.
She was preceded in death by her brother, Roy Francis; sisters: Idris Sebastien and Alda Christenson; son, Sheldon Rabsatt; and goddaughter, Annette Prince.
She leaves behind her sons: Keith S. Canton, Arnet Rabsatt and Leslie Rabsatt; 10 grandchildren; 30 great-grandchildren; sister, Asta Celine Francis (Baker); and many nieces, nephews and cousins.
Due to the COVID-19, coronavirus, there will be no viewing at this time. We, her family, are thankful for your love, prayers and support during this time of grief.