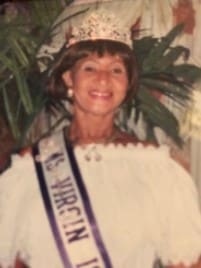 Lucille Perez Solomon, better known as Ms. Virgin Islands American Classic, passed away quietly and peacefully at her residence on May 24, at the age of 80.
Born in Trinidad on Aug. 28, 1939, she later migrated to St. Thomas, U.S. Virgin Islands, where she resided for more than 57 years.
In 2001-2002, she captured the Ms. USVI American Classic title and was second runner up in the international pageant. She wore the crowns with pride and dignity. She performed her limbo shows at various hotels such as Carib Beach, Pineapple Beach and V.I. Hilton for many years. She worked at The Hole In The Wall Record Shop, Franklyn's Department Store and the V.I. Human Services Department. She was employed at Human Services for many years, retiring as a nutrition supervisor.
The viewing will be held from 9-10 a.m., Wednesday, June 10, at Turnbull's Funeral Home, followed by the service at 10 a.m. Interment will be at Western Cemetery No. 3.
She was preceded in death by her mother, Anita Perez; father, Roderick Gibson; grandson, Lashawn Perez; son-in-law, Joseph "Captain" Ferdinand; aunt, Jessie Parke; uncles: Joseph Archer and Claudius Parke; and ex-husband, Hayden Solomon.
She is survived by her two daughters: Judy Perez Ferdinand and Deborah "Debbie" Reynolds; one son, Stanley "Kashaka" Perez; nine grandchildren: Natasha and Nicole Smith, Stanley "Ricky,"  Laquan, Jendayi and Lamy'r Perez, Akin, Jabari and Sharifa Reynolds; nine great-grandchildren; Dejanique, Lasharel and Ladell Perez, Natalia Charles, Leyon Monsanto, Davayi Gooden, Malachi, Isaiah and Graeson Reynolds; son-in-law, Heartsille Reynolds; aunts: Sylvia Frederick, Emelia Burton and Catherine King; and special cousin, Anna Bootman. Also special to her was Stafford Smith.
She is also survived by many family members, cousins, nieces, nephews and friends too numerous to mention from the United States, St. Thomas, St. Croix and Trinidad; special thanks and appreciation to the families of Selwyn and Sharon Alexander, Earla McKnight and family, Ignatius Lawrence, Alex Swift, Brian Hodge, Covey Charles, Leny Monsanto, Trevor, Marlon and Michelle Graham, the Archer family, Knolah and Austin Thomas, Denyse Charles, Cheryl White and family, Lavern Francis and family, Allison Alexander, Claudette and Pastor Andrew George and family, Heather Hopkins, the James family, the Dowers family, the V.I. Head Start Office family and WSTA radio station.
Tributes can be sent to sharifareynolds@gmail.co no later than Wednesday, June 3. The family requests festive colors be worn at the funeral service.