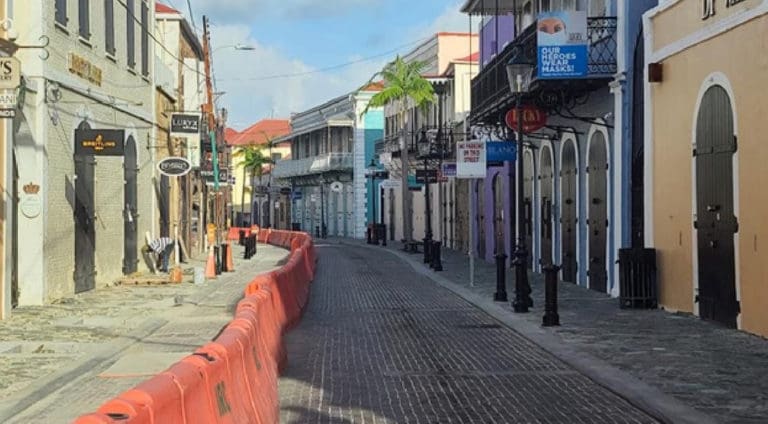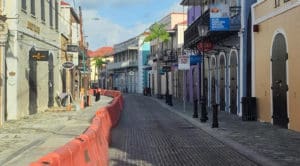 Not only did the novel coronavirus outbreak not delay progress of major revitalization projects taking place in the territory, it actually helped move some of the work along, Department of Public Works Commissioner Nelson Petty Jr. told Wednesday's meeting of the Senate Committee on Culture, Historic Preservation and Aging.
The first phase of the Veterans Drive Improvement Project, which entails roadway widening, pavement reconstruction, seawall construction, drainage improvements, lighting, installation of a new expanded promenade and landscaping, is ahead of schedule and already 75 percent complete Petty said. This phase should be completed by July 2021.
The second phase of the Veterans Drive Improvement Project, which begins on the eastern side of the legislature building and goes around Capitol Grounds and then west to Edward Wilmot Blyden Terminal is still in the design stage, Petty said.
Though many senators were pleased with the progress of the projects, Sen. Athneil Thomas said he was disappointed with some parts of the project and felt the space was not monetized properly.
"It was an opportunity missed," Thomas said, referring to the large walkways and stepped plateaus with cut-outs to view the ocean. Instead he would have rather seen parking stalls or another form of monetization for the space.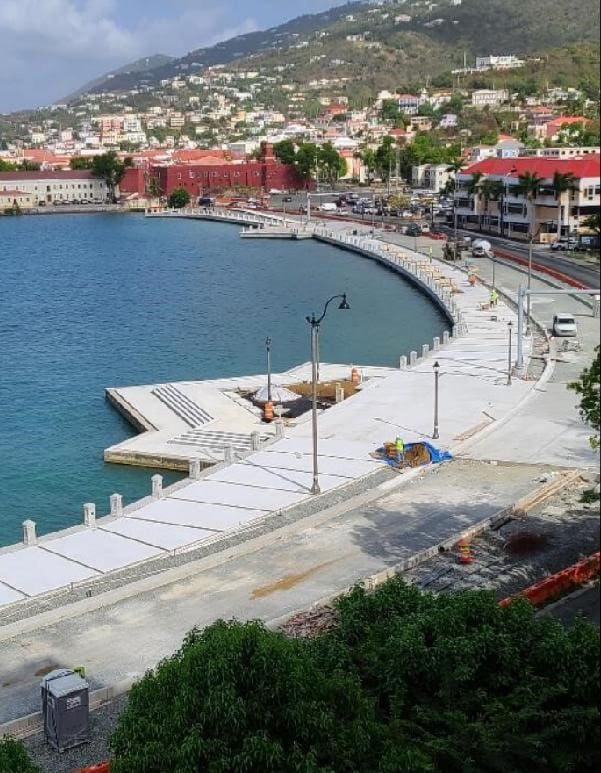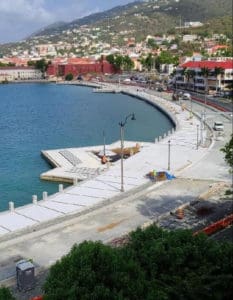 "It's gorgeous, but guess what, when you are done building it ain't going to make a dime for you, not a penny. All it does is give tourists a wonderful view when they walk downtown," Thomas said.
The Main Street Enhancement Project will also provide visitors and locals alike with a beautiful road to traverse. The project is still on schedule and Petty estimates it will be finished in August. It is already 85 percent complete.
"Following the closure of stores on Main Street due to the COVID-19 pandemic, the contractor was able to remove the top of the concrete box culvert located on the most eastern side of Main Street, near Cardow. The store closures also allowed the contractor to continue the installation of blue bit sidewalk from Hibiscus Alley easterly to Cardow on the southern side of Main Street," Petty said.
Improvements are also afoot on St. Croix.
The Christiansted Town Road Repair Project is scheduled to break ground once utility companies replace the existing sewer and water lines with new utility lines. Petty said both the V.I. Water and Power Authority and Waste Management Authority have posted requested bids to replace the infrastructure.
The roads set for repairs are Queen, Hill, East, Market, Prince, Strand, West and Smith streets.
The Frederiksted Town Road Repair Project is still going through the procurement process, and Petty said it is expected to last six months.
The roads set for repairs are Queen Cross, Hill, Hospital, New, King Cross, Customs, Lagoon and Market streets.
Committee members who were present for the meeting were Sens. Myron Jackson, Javan James, Oakland Benta, Dwayne DeGraff, Steven Payne Sr. and Athneil Thomas. Sen. Alicia Barnes was excused for a graduation ceremony.