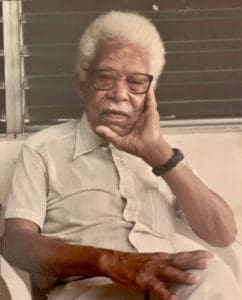 Ogese Theophilus Mackay was born on November 23, 1896 on St. Croix, Danish West Indies, to Ellen Benjamin and William Henry Mackay.
Ogese's father did not marry his mother nor did he support him financially, or in a fatherly manner. He only saw his father three times in his life. He always said his father was a father in name only. Because of that, Ogese legally changed his name from Mackay to McKay in 1917. He also said that if he ever had children, he would be the best father he could be.
He did, and I'm the youngest of his children.
Daddy's godfather, Osmond Roberts, raised him and taught him the trade of carpentry as he was growing up. He worked for Pepe Roberts and earned an adequate salary of 20 cents a day, until he found that he could elevate his skills and income. He left his godfather for a better job.
Daddy began working at the Bethlehem Sugar factory for 45 cents a day. He later found jobs on his own and moved up to $1 a day without the arduous task of walking seven miles to and from his job. There was a period where he worked at the agriculture experimental station, always seeking to find a new interest in his life work.
Daddy began to learn music and played several instruments with the Christiansted Native Brass Band, led by Fred Jackson. In March 1917, the United States bought the islands from Denmark. In June of that year, daddy enlisted in the U.S. Navy as a World War I naval musician, second class, and was soon elevated to naval musician first class.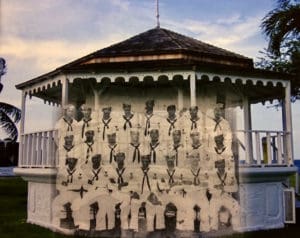 There were three naval bands in the U.S. Virgin Islands, one on St. Thomas and two on St. Croix – in Christiansted and Frederiksted. Alton Adams Sr. was the bandmaster and the bandsmen were responsible for helping construct the bandstands on both islands.
Daddy was stationed on St. Croix then on St. Thomas. He played the tuba for afternoon concerts and decided that music was what he wanted to do in his life. He learned to play the clarinet, French horn, upright bass and the drums. When he began to play the tuba, he fell in love and it was his instrument for the rest of his life.
The three bands were shipped to Panama in August 1917 for six months and later to Cuba. The 66 musicians under Adams' direction played classical and concert music to entertain the troops and boost their morale.
In Balboa, the band played colors and a short concert in the morning. Twice a week they played an afternoon concert. They were also called to play at baseball games. The bands traveled back to the Virgin Islands before shipping out to Cuba.
When daddy met my mother, Hedwig Ingeborg Rasch, he was smitten. He said it was love at first sight and that she was the prettiest nurse on the island. They were wed at the Lord God of Sabaoth Lutheran Church in Christiansted on November 7, 1919. He was 22 and she was 17. My parents were married for 65 years with eight children from their union.
My parents moved into an apartment on White Oak Hill on Strand Street in Christiansted. The bandsmen did not live in barracks, so having the apartment was a comfortable arrangement for my parents. They grew tomatoes and other produce and daddy taught mommy how to cook.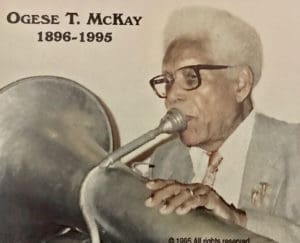 Daddy reenlisted for a second stint in the Navy. The band toured the eastern part of the U.S., Washington, D.C., Pennsylvania, Boston and New York. They played in the city's television station, WNYC, and at the Renaissance Casino. Their host was Casper Holstein, "the godfather" to a lot of charities for the people of the Virgin Islands.
At the end of his second stint, daddy sent for my mother and my brother George, who was five years old. They settled in Harlem, New York in 1925. That time was the blossoming of the Harlem Renaissance and a time for the social and intellectual turning point in the African American community.
Daddy joined the New York musician's union Local 802. This membership was his steppingstone to securing music jobs throughout his musical career. He was always working at his craft and played for Italian feasts, in symphony orchestras, on Coney Island and dance halls. He was a carpenter, furniture refinisher and upholsterer by day, and a musician at night. Daddy played with W.C. Handy and for Marcus Garvey's Universal Negro Improvement Association meetings.
When World War II broke out, he reenlisted as a naval musician first class and later joined the U.S. Army Reserves.
My parents returned home to St. Croix in 1962. Daddy played with the St. Croix Community Band. After mommy passed in 1985, I encouraged him to take art classes to ease his mourning. He excelled at acrylic painting and exhibited and sold many works of art. He also published his autobiography. He passed in 1995, shortly before his 99th birthday. Until that time, he was the oldest living veteran in the Virgin Islands.