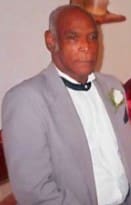 Frederick Roosevelt Jones of St. Thomas, Virgin Islands, was born on Nevis, West Indies, on Jan. 29, 1927, and died on May 4. He was 93 years old.
He was preceded in death by his parents: Joseph Bobby Jones and Elizabeth Annie Liburd Jones of Nevis, W.I.; and son, Charles Jones Sr.
He is survived by his wife, Idalia Rhymer Jones; sons: Wingrove, Robert (Warren), Anthony (Chuck), Paul (Ted) and Clarence (Andy) Jones; daughters: Annette Jones-Browne, Patricia (Patsy) Jones-Fitzpatrick, Sheryl (Jackie) Jones and Shirley (Pat) Jones; daughters-in-law: Pamela Jones, Andrea (Debbie) Jones, Lisa Smith-Jones and Connie Jones; son-in-law, Donald Browne; and grandsons: Kirk Fitzpatrick, Jahmal, Jeremy and Jariel, Christian, Stanley, Tyler and Tyvaughn Jones, Jerome Davis, Jevauhn Jones, Troy Harrigan, Charles Jones Jr., Davionte Jones, Samuel Jones, Shurad Todman, Quentin and Andrew Jones, and Anthony Jones Jr.
He is also survived by granddaughters: Jasmine Monsanto, Jabez Harrigan, Kami Fitzpatrick, Shenelle Harrigan, Tiffany, Tiana, Jeneen and Carolyn Jones, and Shiryra Crabb, Charlotte, Brenda, Ebony and Tyra Jones; 19 great-grandchildren; brother-in-law, Ernest Rhymer; nieces: Judy Jones, Shirley Jones-Peters, Cheryl Jones-Gage, Carmen Phillips, Aline Jones-McLean, Olga Allen-Webbe and many more too numerous to mention; special great niece, Gail Frett; and nephews: Dalton, Stanley, Raymond, Larry, Calvin, Howard and Steve Jones, Simon Jones-Hendrickson, David Liburd, Ervin Jones and many more too numerous to mention.
Other survivors include the descendants of the Arthur, George, Mac, Robert, Emily and Charles Jones families; friends and family: Edmund Maynard, Charlene Gumbs, Gloria Brown, Donald Industrious, Cane Garden Bay Methodist family, Christ Church Methodist family, Eria Raymond and family, Claude Richardson and family, Lawrence and Ida Dawson, Doris and Edwardo Smith, Christine Dawson-Hodge, Dede George, Lyra Hodge, Celia Hill, Jenny Liburd, Yvonne and Lorna Dawson, Mr. and Mrs. Muriel Sterrod, James and Diana Hedrington, the Myers and Rhymer families of the British Virgin Islands and The Voices of Love; caretakers: Rhona, Ms. Reed, Victoria, Ms. Vigilant, Raquel, and Sheryl and Paul Jones.
The viewing will be held at from 8:30-10 a.m., Friday, May 29, at Turnbull's Funeral Home followed by a funeral service. Interment will be at Western Cemetery No. 2.