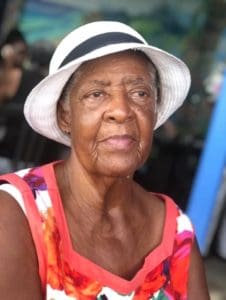 Gaynel M. Turner died on May 7 at the age of 86.
She is preceded in death by her parents: Loretta Phillipus and Alfred A. Turner Sr.; nephew, Ray Thomas Sr.; and grandchildren: Kasaun K. Baptiste and Inimba A. Lopez.
She is survived by her children: Beryl A. Watson-Shaw, Annette L. Henry, Joyce E. Henry Baptiste, Georgito P. Lopez and Luis A. Lopez; sisters: Alice Maynard, Karen Rabsatt (St. Thomas) and Eleanor Thomson (Va.); brother, Alfred Turner Jr. (St. Thomas); grandchildren: Alwyn A. Baptiste Jr., Latoya Lopez, Kenya K. Henry, Sr., Rashida Z. Shaw-McMahon Ph.D., Moreba Lopez, Malika Lopez, Shakuwra T. Shaw Esq., Yanique Javois and Aquanette Clarke-Gumbs; and 27 great-grandchildren.
She is also survived by two great-great-grandchildren; nieces and nephews: Marcy Encarnacion, Angela, Jeffrey and Harry Maynard, Cheryl, Walter and Michael Thomson; grandchildren-in-law: Shameila Audain Baptiste, Odari McMahon, Christina Henry and Anthony M. Gumbs; special friends: Eglantine Romney, Dorothy Benjamin, Vera Falu, Pauline Miller, Loleen Christian, Lourdes Baez and Allan Simmonds; as well as other surviving family and friends too numerous to mention.
May she rest in eternal peace.
The family appreciates your support and condolences; however, due to the current situation and mandates, a private service will be held. Your understanding is greatly appreciated.