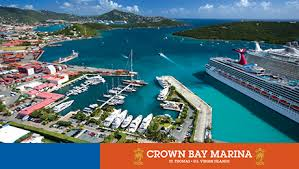 The U.S. Department of Commerce's Economic Development Administration (EDA) is awarding a $562,000 grant to the Virgin Islands Professional Charter Association of Saint Thomas to support the tourism sector by installing moorings in the bays of the U.S. Virgin Islands as part of the recovery effort following hurricanes Irma and Maria. The EDA grant, to be matched with $308,400 in local investment, is expected to create or retain more than 170 jobs.
"The Trump Administration is keeping its promise to support the U.S. Virgin Islands in its recovery after the devastation caused by hurricanes Irma and Maria," said Dana Gartzke, who is performing the delegated duties of the assistant secretary of commerce for economic development.
"Providing much needed boat anchoring moors will protect the territory's important natural resources and give the U.S. Virgin Islands marine tourism industry an advantage to appeal to new transient vessels necessary to strengthen the tourism industry," said Gartzke.
When Irma and Maria hit the U.S. Virgin Islands in 2017, the storms significantly damaged day moorings and anchors, deterring vessels from visiting the territory. The installation of new day and transient moorings will boost the local tourism industry, make the U.S. Virgin Islands more economically resilient, and reduce anchoring near ecologically important coral reefs.
This project is funded under the Bipartisan Budget Act of 2018 (PL 115-123) (PDF) in which Congress appropriated to EDA $600 million in additional Economic Adjustment Assistance (EAA) Program (PDF) funds for disaster relief and recovery as a result of hurricanes Harvey, Irma and Maria, wildfires and other calendar year 2017 natural disasters under the Stafford Act.
To find out more about the U.S. Economic Development Administration, visit www.eda.gov.