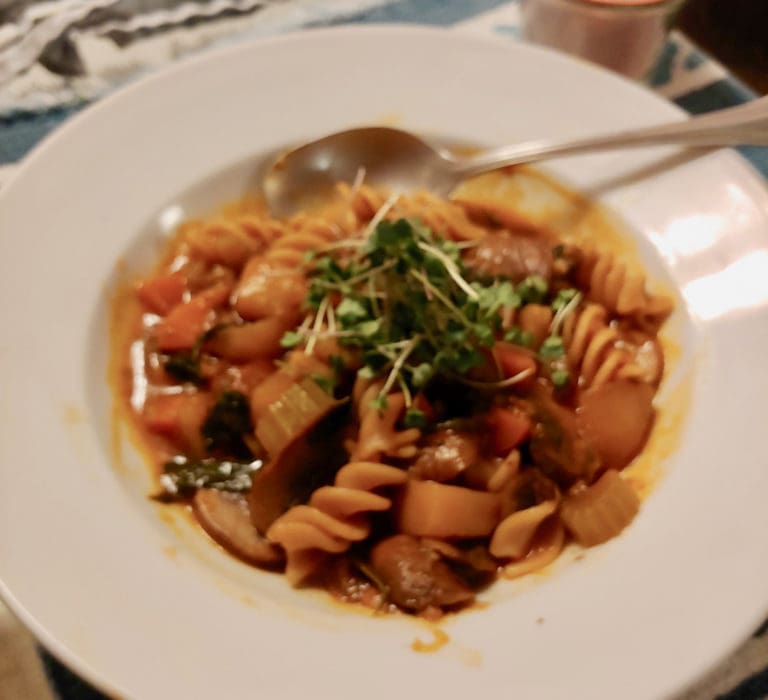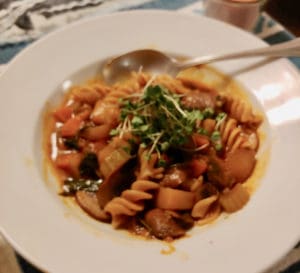 I am not a big fan of raw mushrooms, but cooked, they are a hearty meal with a lovely wild taste that a vegetarian rarely finds. They are also high in niacin and potassium. The other attraction to this recipe are the potatoes. Because of the high glucose content in white potatoes I rarely eat them. But I buy red skinned organic when I do indulge and I love them and right now they are comfort food. So …
Ingredients:
1 tablespoon olive oil
1 onion, roughly chopped
2 celery stalks, chopped
1 pound mushrooms, stems removed and chopped
4 cloves garlic, minced
2 carrots, roughly chopped
1 1/2 pounds potatoes, quartered
2 tablespoons fresh thyme leaves
1 tablespoon chopped fresh rosemary
3 cups vegetable broth
1 cup brown rice pasta
1 tablespoon tomato paste – I use dehydrated tomatoes from Frontier Foods and add water, but I go to a lot of trouble around some things.
Directions:
Add olive oil to a large pot on medium-high heat and add the onion. Cook for 3 to 5 minutes, until it starts to soften, adding a spoonful of water if needed. Add the celery and cook for another 2 minutes. Add the mushrooms and cook until softened and browned, about 5 to 7 minutes. Then add the garlic, carrots, potatoes, thyme, and rosemary. Stir well. Pour in the veggie broth and tomato paste and bring it to a boil. Cook uncovered for 10 minutes and add pasta. Cook another 10 minutes, until the potatoes and carrots are soft and pasta is cooked.
Remove from heat and serve, topped with fresh parsley, or homegrown sprouts and maybe some grated cheese.
Makes 4 to 6 servings.