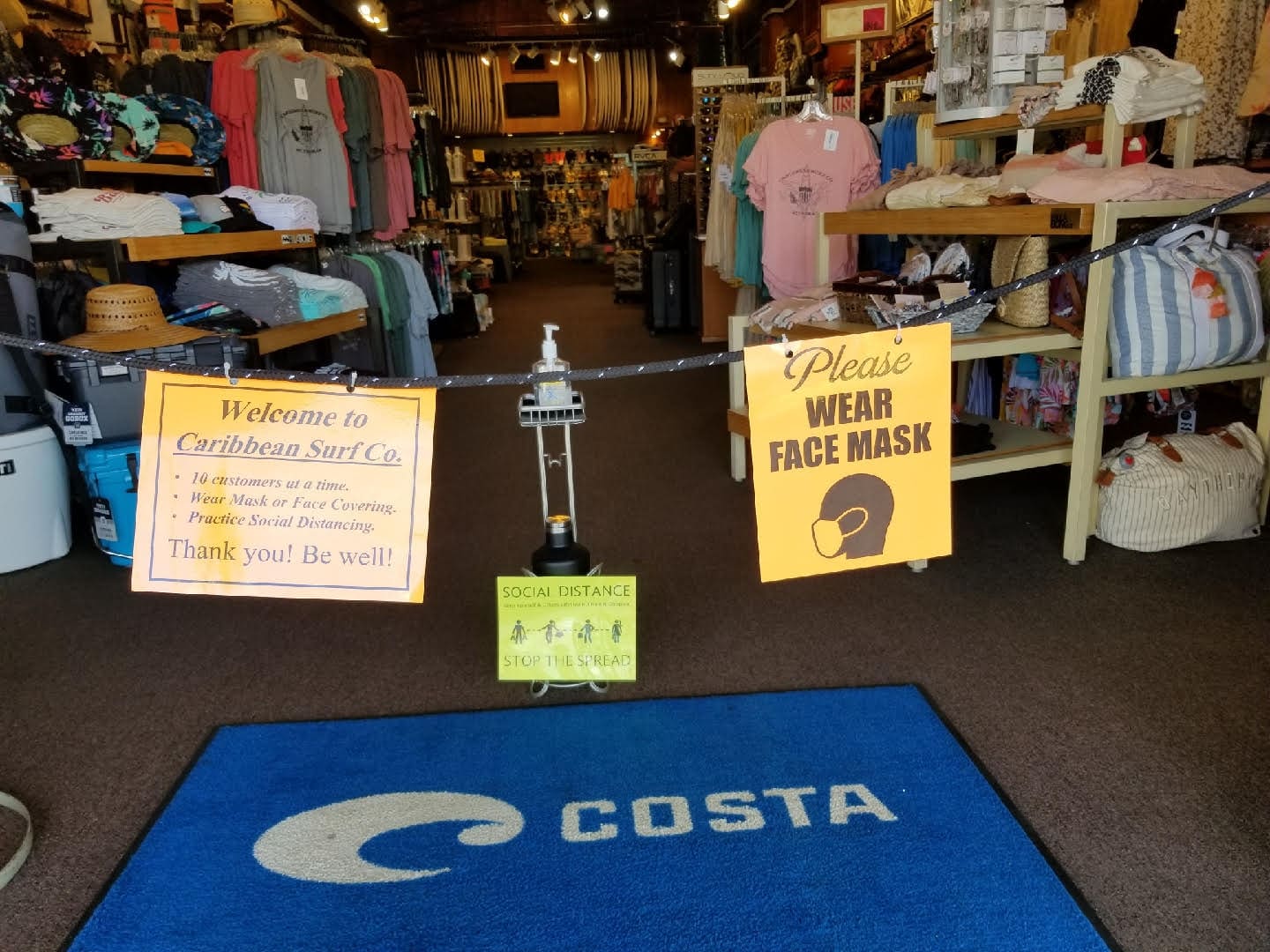 Jose Belcher, owner of Caribbean Surf Co., said he was "really stoked" after Gov. Albert Bryan Jr. announced that non-essential businesses could reopen. He said he was "anticipating that was going to be the announcement, so we were working in our stores for the whole week prior to get ready to reopen."
Belcher said he and his staff appreciate the governor's efforts to guide the U.S. Virgin Islands through the pandemic.
"Janelle [Belcher's wife and Caribbean Surf Co. co-owner] and I are very grateful to the governor and his administration for the way he is handling this thing and getting our stores back open as soon as possible, and that means a lot to us."
The biggest hurdle and the most rewarding thing Belcher said he was able to work on while the store was closed was securing an SBA Paycheck Protection Program loan that allowed him to pay his employees.
Since the reopening, Caribbean Surf Co. is "following the rules because we are super excited to be open," Belcher said. Everyone is required to wear a mask, and the store puts extra emphasis on staying clean, keeping customers and staff under 10 people and providing hand sanitizer, he added.
There hasn't been any push-back from customers on following the new guidelines, Belcher said, and "most people are very happy to be able to get what they want."
The reopening process got off to a rough start when there was an islandwide power outage on the first day, which caused problems with the business's credit card servers and tracking inventory.
Other than that, Caribbean Surf Co. "had a nice first week" and were able to conduct a weeklong sale that ended on Sunday, Belcher said.
Belcher said he thinks the first week might not be representative of things to come and the next two weeks will give him a better indication of the new normal.
He said he appreciates the local customers, but "most of the business is tourism so the numbers are off, and they are going to be off until the tourists come back."
As of now, Caribbean Surf Co. operates in Red Hook and Havensight under its usual hours, 9 a.m. to 5 p.m. daily, but the stores may have to adjust in the near future depending on business. Belcher said he has no idea when the third store in town will open up.
The governor has urged anyone who knows of businesses that violate the "No Mask, No Service" policy to report them to the Department of Licensing and Consumer Affairs at 340-713-3522 on St. Croix or 340-714-3522 on St. Thomas.