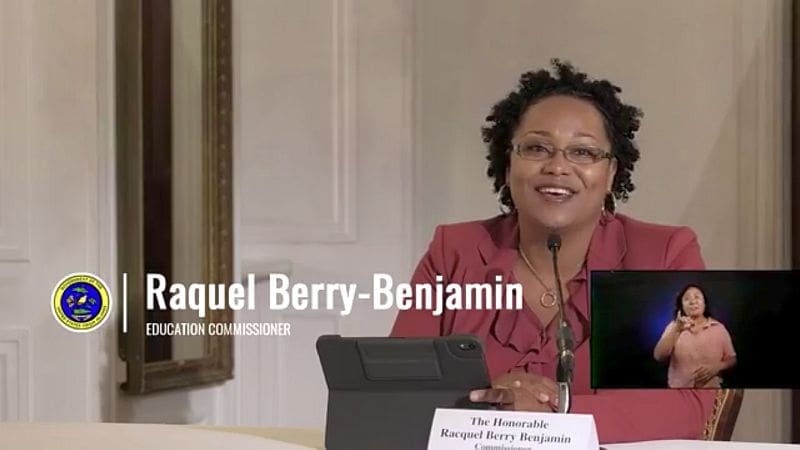 Virtual graduations are planned for public high schools at the end of May in both districts, making this year's crop of seniors part of a "unique class graduating in a year unlike any other," according to Education Commissioner Racquel Berry-Benjamin.
As part of the governor's weekly press briefing Thursday, Berry-Benjamin said while she understands there is "nothing that compares to the experience of walking across the stage" and receiving a diploma in front of friends and family, the end-of-year events won't "be any less special" and it is a necessary move to keep both students and their families safe as the territory continues to maintain social distancing in a world with COVID-19.
"You are pioneers in the Virgin Islands and in the Caribbean … which is something I believe will become a part of our society's new normal," Berry-Benjamin said of the virtual graduations. Former U.S. President Barack Obama will be joining celebrity guests for an hourlong commencement special on YouTube on May 16, and the commissioner said Education will be providing details so families can tune in.
Otherwise, virtual graduations are planned for: May 26 for St. Croix Central High School; May 27 for St. Croix Educational Complex; May 28 for Ivanna Eudora Kean; and May 29 for Charlotte Amalie High School.
In the meantime, Berry-Benjamin said the department has continued to work in tandem with the V.I. Board of Education to make sure students' final grades are issued in a "fair and equitable process." Given the change in the school year and shift to remote learning, the board changed its guidelines on retention and promotion, and Berry-Benjamin said that students' overall final averages will be calculated using only the final averages from the first through third marking periods.
The required minimum passing grade for all students is 70 percent, and an academic enhancement recovery period that will allow them to improve their average will begin on June 4 if they choose, she said. Students with grades below 70 percent can also use the academic enhancement period to bring up their final scores, and those students who failed a first semester class should contact their guidance counselors to set up a plan, Berry-Benjamin added.
Wrapping up, the commissioner said three new feeding sites have been set up for public school students on St. Croix at Arthur Richards Junior High, Whim Ballpark and William's Delight Community Center. Breakfast and lunch can be picked up daily from 9:30-11:30 a.m. during the week.